In a fresh flare up of violence between Kukis and Meiteis, at Pallel in Kakching district around 6 am on September 8, two people were killed and over 100 injured in scuffle with Assam Rifles personnel in the area.
The two deceased along with 14 others including three personnel of Kakching District Police Commando were struck by stray bullets fired by AR. Of the two deceased, one has been identified as Yengkhom Jiten, 43, of Kakching Chumnang Leikai. He was a daily wager. He was struck by a bullet on his back and succumbed to his injuries. The other deceased has been identified as Soibam Nanao, 32, of Salungpham.
A leader of the UKLF, which is under Suspension of Operation (SOO) is suspected to be among those who suffered injuries. As many as three commando personnel of Kakching District Police, one IRB personnel and an Army officer sustained injuries.
Immediately upon receiving information, village volunteers rushed to the site and exchanged heavy gunfire with Kuki militants. Many others also rushed to provide assistance but they were blocked allegedly by a team of 26 AR near Pallel Laimanai Chingjin Forest beat office, resulting in a major confrontation.
In an attempt to reach Pallel, the mob attempted to break through the barricade put up by the Assam Rifles. The AR personnel resorted to firing live bullets, tear gas, and mock bombs. One of the bullets allegedly fired by AR killed one civilian while more than 80 women protesters sustained injuries.
The three injured commando personnel are Md Riyaj khan, 41, son of Ibocha from Yairipok Tulihal in Imphal East; H Gunamani, 41, son of Thoithoiba from Yumnam Huidrom Makha leikai in Imphal West; Athokpam Thoithoi, 35, son of Ashokumar from Serou makha leikai in Kakching district.
The injured IRB personnel is identified as one Somorjit Salam, 37, from Kakching Wairi Salam. They have been admitted at several hospital including Jiban Hospital, Kakching and RIMS, Imphal, Raj Medicity, etc.
Girl Injured in Kuki Attack at Koutruk
Once more, suspected Kuki militants unleashed a terror attack at Koutruk village, located 14 km north of Lamshang Police Station in Imphal West district, presumably in an attempt to divert the gun battle that broke out between unknown armed militants and Kuki militants at Molnoi in Pallel under Kakching Police Station in Tengnoupal district on September 8 morning, sources said.
A girl was injured when Kukis opened indiscriminate firing at the village around 11:30 am. The miscreants reportedly launched the attack from three sides atop Koutruk Hill, sources said.
The injured girl has been identified as Ningthoujam Jina, 15, daughter of one Ningthoujam Bokul from Koutruk Mayai Leikai. A bullet that pierced through the roof of her house during the shootout hit her near her left ankle. She is undergoing treatment at Shija Hospital.
Nagas Will No Longer Tolerate, UNC Warns
While strongly condemning the beating of a Liangmai Naga man by Kuki Revolutionary (KRA) cadres along IT Road under Kangpokpi district on September 5, the United Naga Council (UNC) warned that the "Naga people will no longer tolerate such unholy and provoking activities in the Naga villages".
One Liangmai Naga, Z Hotngambou of Rianglong village, Tamei subdivision, Tamenglong district, was assaulted on September 5 in Kangpokpi district by the Kuki Revolutionary Army (KRA), which is under Suspension of Operation (SoO) with the government, at Chalwa along I T Road under Kangpokpi district, according to reports.
"Be it armed Kuki militants or civilians, such wanton and reckless showdown should be stopped in order to avert from further misunderstanding and unwanted escalation," the UNC said.
The UNC, in no uncertain terms, condemned the "brutal assault" meted out to Zuina Hotngambou of Rianglong village, Tamei sub-division, Tamenglong district by the Kuki Revolutionary Army, which is under Suspension of Operations (SoO).
"It is shocking to learn the undesirable act of savagery violence occurring at regular intervals targeting Naga villagers while travelling and ferrying goods along the IT Road," the UNC said.
"Such blatant act of extortion or unabated imposition upon the Nagas is a matter of serious concern and UNC has taken strong exception over the matter," the UNC also said.
"The Naga people will no longer tolerate such unholy and provoking activities in the Naga villages. Be it armed Kuki militants or civilians, such wanton and reckless showdown should be stopped in order to avert from further misunderstanding and unwanted escalation," the UNC said.
UNC Asks COTU To Lift Economic Blockade
The United Naga Council (UNC) on September 6 said that the "persistent ongoing economic blockade being imposed by COTU along the highways be lifted immediately in the interest of all communities living in the state".
In a statement issued on September 6, the UNC said it was necessitated to draw certain concerns from the state authorities and the two warring communities for immediate redressal in the greater interest of all the communities living in the state of Manipur.
The UNC said the state government and the central government should initiate necessary steps to ensure the uninterrupted supply of essential commodities throughout the length and breadth of the state.
The UNC further said that "unwarranted checking/frisking/detentions/unloading of essential commodities and various strictures imposing upon Naga people in sporadic areas and unabated illegal taxation/extortion towards the commuters and suppliers of essential commodities along the national highways and inter-district highways should be stopped once and for all".
The UNC then said that four months have well passed ever since the "mayhem" broke out on May 3, 2023, and all the ethnic communities living in the state of Manipur, including Nagas as the third parties, have been suffering untold miseries in every sphere.
ANSAM Demands Internet Ban Lift
The All Naga Students' Association, Manipur (ANSAM) has expressed its concern over the continuing banning of internet services in Manipur and demands to lift the ban.
In a statement issued on September 7, the ANSAM said the order of the state government suspending the internet services was promulgated on May 3, 2023, due to the ongoing ethnic violence between Kuki-Zo community and Meitei community to curb the spread of rumours, videos, photos and social media comments which may further escalate the prevailing situation and deteriorate the law and order situation in the state.
Lifting the order only for a few broadband users and government offices for administrative purposes with exorbitant rate does not provide a solution to the necessities in times of urgency and cannot be a justification to its proportionality of the ongoing violence and prevailing situation, the ANSAM also said.
India Rejects UN Experts' Statement on Manipur Violence, Calls It 'Unwarranted'
India on Monday September 4 rejected a statement issued by a group of UN experts on the ongoing ethnic violence in Manipur, calling it "unwarranted, presumptive and misleading" and said that their comment betrayed a complete lack of understanding on the situation in the northeastern state and the steps taken by the Government of India to address it.
A release titled 'India: UN experts alarmed by continuing abuses in Manipur' said that the recent events in Manipur were another tragic milestone in the steadily deteriorating situation for religious and ethnic minorities in India.
It may be mentioned that a release issued on September 4 by the Special Procedure Mandate Holders (SPMH) titled 'India: UN experts alarmed by continuing abuses in Manipur' had said that the recent events in Manipur were another tragic milestone in the steadily deteriorating situation for religious and ethnic minorities in India.
"We have serious concerns about the apparent slow and inadequate response by the Government of India, including law enforcement, to stem physical and sexual violence and hate speech in Manipur," the experts said.
Urging the government to step up relief efforts for those affected and take timely action to investigate acts of violence, they also raised concerns about reported criminalisation and harassment of human rights defenders documenting the cases of violence.
The UN experts said, "We are appalled by the reports and images of gender-based violence targeting hundreds of women and girls of all ages, and predominantly of the Kuki ethnic minority. The alleged violence includes gang rape, parading women naked in the street, severe beatings causing death, and burning them alive or dead."
"It is particularly concerning that the violence seems to have been preceded and incited by hateful and inflammatory speech that spread online and offline to justify the atrocities committed against the Kuki ethnic minority, particularly women, on account of their ethnicity and religious belief. We are further alarmed by the reported misuse of counterterrorism measures to legitimize acts of violence and repression against ethnic and religious minorities," the UN experts said.
The UN experts further said, "By mid-August 2023, an estimated 160 persons had reportedly been killed, mostly from the Kuki ethnic community, and over 300 injured. The conflict also reportedly resulted in tens of thousands of people from the communities being displaced, thousands of homes and hundreds of churches being burnt down, as well the destruction of farmland, loss of crops and loss of livelihood."
Countering to what the UN experts said, India's Permanent Mission to the United Nations Office and other International Organisations in Geneva, in a statement, said, "The Permanent Mission of India completely rejects the news release as it is not only unwarranted, presumptive and misleading but also betrays a complete lack of understanding on the situation in Manipur and the steps taken by Government of India to address it."
"Indian law enforcement authorities and security forces are committed to dealing with law-and-order situations strictly in accordance with the principles of legal certainty, necessity, proportionality, and non-discrimination," it added.
Thawai Mirel Calls For Unity Of CSOs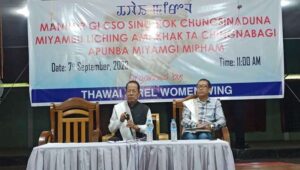 A public convention by Thawai Mirel Women Wing on September 7 at Iboyaima Shanglen has urged all civil society organisations in Manipur to unite in strength under one ideology and leadership. Advocate Khaidem Mani, Head of Law department MU, Y Premananda, advisor Thawai Mirel, Lourembam Nganbi Leima attended the convention.
The convention aimed to unite the civil society organizations (CSOs) of Manipur and lead the people under one leadership.
Thawai Mirel Women Wing Co-Convenor expressed disappointment that the CSOs of the state are not showing their concern in the Fast-Unto-Death agitation initiated by the wing.
The public convention organized by Thawai Mirel resolved to collaborate with the various CSOs present at the meeting and urge all CSOs in the state to unite together.
COCOMI Says Coming Together of CSOs Would Take Time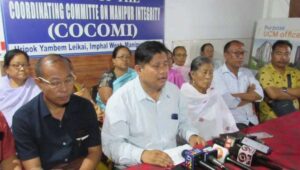 Coordinating Committee on Manipur Integrity (COCOMI) Coordinator Jeetendra Ningomba on September 7 expressed that the attempt to push back the security barricades by the people coming from various parts of the State at Phougakchao Ikhai on September 6 was a moral victory.
COCOMI is an apex body originally formed by different civil society organizations, including AMUCO, CCSK, HERICOUN, LIPUL, UCM and others.
While welcoming the call for unity among different CSOs from different sections of the society, Jeetendra said, coming together of CSOs would take time.
COCOMI Removed Central Security Barricades Upto Kangvai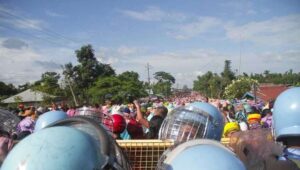 The Coordinating Committee of Manipur Integrity (COCOMI)'s attempt to march up to Torbung along with Meira Paibis and volunteers on September 6 met with stiff resistance from the State and Central forces and had to turn back at Kangvai 9'9 point.
Earlier, COCOMI had announced its intent to remove security barricades along the Tiddim highway to reclaim Meitei territories at Torbung Bangla while the state government had appealed to them to 'cease and desist' from the move with the assurance that around 700 Meiteis had already been at Torbung.
At least 90 individuals were injured and taken to hospital on September 6 after security forces fired tear gas and rubber bullets at thousands of protesters marching towards barricades placed by the security forces between Moirang and Churachandpur districts with an intention to remove it.
Bomb Dropped From Drones Found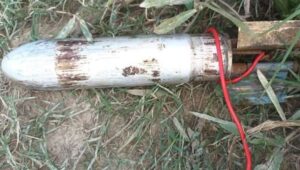 An IED suspected to have been dropped from a drone by Kuki militants was found at Oksongbung Makha Leikai near Hotel Elegance under Moirang Police Station in Bishnupur district on September 5.
The bomb was discovered in the said area in the morning on September 5. Fortunately, the explosive did not detonate. This would be the first reported case of such a kind of drone warfare if the explosive was indeed dropped by a drone, reports said.
However, there was no eyewitness account to confirm if an attack was carried out using drones. Upon receiving information, the CID (Technical) Bomb Disposal Squad rushed and inspected the device.
Later, the bomb was safely defused at Tronglaobi Mamang Paddy field around 12:28 pm. Meanwhile, intermittent firing was reported at Naranseina Maning under Moirang Police Station in Bishnupur district on September 5.
According to sources, suspected Kuki militants continued to attack the second IRB Headquarters located in the area from morning till late afternoon.
MHRC Team Visits Relief Camps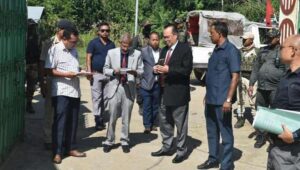 The Manipur Human Rights Commission (MHRC) chairperson UB Saha along with its member KK Singh and law officer visited relief camps at Kakching and Thoubal districts to get first hand information about the facilities and living conditions being provided to the displaced persons.
The chairperson had an interaction with deputy commissioner Kakching and additional SP along with other officials. On enquiry, additional SP (Ops), Bonoy informed that 204 guns were looted from some police stations and outposts, of which 164 guns have been recovered.
MHRC team accompanied by DC Kakching Somorjit and Kakching ASP (Ops) Binoy visited Serou. The team found 850 houses burnt, of which 450 belonged to Meiteis and 400 houses belonged to Kukis.
MHRC chairperson interacted with some residents of Serou who are at present taking refuge at the house of local MLA Ranjit. The residents informed that they have been taking refuge as their houses were burnt after being looted by Kuki miscreants.
Rajeev, a BSF Commandant of MNC 4 and 1 briefed the MHRC team about various security measures being undertaken in and around Serou and Sugnu.
On the way back, MHRC chairperson visited the relief camps at Sugnu Municipal Building where more than 100 displaced persons from Serou and Napat village are staying. Anuradha Malik, a Bengali woman from Serou whose house was burnt down, shared her story with MHRC chairperson. She expressed that she is ready to return any time, if the state government provides her a house and security.
Some inmates of the camp complained about the lack of medical facilities and claimed that doctors visit only once a while. MHRC chairperson advised the DC to make sure that doctors visit the relief camp at least once a week.
The team further interacted with the displaced persons mostly from Serou and Nepat village who are lodged at Khomdonbi Memorial School, Kakching Khunou and Langmeidong Higher Secondary School.
MHRC chairperson also advised DC to provide job cards under Mahatma Gandhi National Rural Employment Act (MGNREA) so that the displaced persons may earn some extra livelihood.
In Thoubal, the MHRC team visited the relief camp opened at Wangjing Kodompokpi Sport Complex. As many as 722 displaced persons from Moreh are being lodged at the relief camp.
DC, Thoubal Ahanthem Subhash informed that the district administration provided 10 days work under MGNREA. Besides providing jobs under MGNREA, the intimates are also making candles to support their livelihood.
The MHRC chairperson noticed that other than the health care facilities, both the district administrations of Kakching and Thoubal are providing daily requirements to the displaced persons. Displaced students are also sent to nearby schools to attend their education.
Manipur Girl Wins President's Post At MCM DAV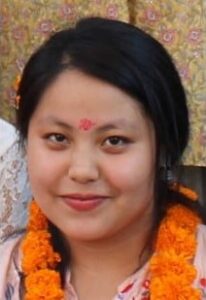 A Manipuri girl named Benazirsana Yumkhaibam, 19, has been elected President of the coleege students' council of MCM DAV, Chandigarh.
Benazirsana Yumkhaibam, 19, polled 327 out of the total 802 at MCM DAV, Sector 36, to become the college's student council president. Others in the race with her were Charanpreet Kaur, Jasmine, Shaista Magra and Zoha Mufti, reports said.
A third-year student of History Honours, Benazirsana, lovingly called Sana by her friends, hails from Imphal and came to Chandigarh two years ago to pursue graduation.
Though not very fluent in Hindi, Sana, who is described as affable by her teachers, managed to make friends quickly and build a considerable support base around the campus. Her hostel friends are now teaching her Hindi as well as Punjabi.
Even while canvassing, she focused on approaching the voters personally instead of taking the social media route.  However, it was not all cakewalk for her.
When the ethnic clashes erupted in her hometown Imphal earlier this year, Sana was stuck there for almost a month. Sana says,"I wondered how I will catch up with my studies but my teachers and fellow students helped me a lot," reports added.