Sushri Anusuiya Uikye, former governor of Chhattisgarh was sworn in as the 18th governor of Manipur on February 22 at the Darbar Hall of Raj Bhavan in Imphal in the presence of Chief Minister Nongthombam Biren and his Council of Ministers, Speaker of Manipur Legislative Assembly Thokchom Satyabrata, State Chief Secretary Rajesh Kumar, DGP P Doungel and senior officials.
The oath of office and secrecy was administered by the acting chief justice of Manipur High Court justice MV Muralidaran. The appointment letter of Anusuiya Uikey as the governor of Manipur by President Droupadi Murmu was read out by Chief Secretary Rajesh Kumar during the oath-taking ceremony.
After the oath-taking ceremony, the new governor Anusuiya Uike inspected the guard of honour inside the Raj Bhawan and also interacted with the chief minister, cabinet ministers and other officials.
Anusuiya Uikey was appointed as the new Governor of Manipur by the President of India on February 12, succeeding La Ganesan, who was appointed as the Governor of Nagaland.
She is a senior leader of the BJP and the former governor of Chhattisgarh. She had also served as an MLA and a Rajya Sabha MP of Madhya Pradesh. She has completed her MA in Economics and holds an LLB degree and is also an agriculturist and a social worker.
Vehicles Scrapping in Manipur not to be by Age but Fitness
Manipur Transport Minister Khashim Vashum on February 22 informed the Manipur Legislative Assembly that there are a total of 1,10,674 vehicles, including 6,965 diesel vehicles and 1,03,709 petrol vehicles that have crossed 15 years, as per data collected from VAHAN. However, scrapping of vehicles depends on the fitness of the vehicle issued by the authority concerned, the Transport Minister added.
He was informing the House responding to the starred question raised by opposition MLA Kangujam Ranjit, on the second day of the third session of the 12th Manipur Legislative Assembly session. Seeking information through the assembly floor, opposition MLA Kangujam Ranjit asked how many vehicles (diesel and petrol vehicles) are there in the state that have crossed 15 years, the validity of a vehicle to be scrapped, and how many vehicles are running in the state by January 2023.
For privately owned vehicles the validity of the vehicles can be extended for about 5 more years if the vehicle has a fitness certificate, Khashim Vashum added. He said according to section 52A of Central Motor Vehicle Rules, vehicles that are utilized for government/PSU/Autonomous bodies/State Transport undertakings/Municipal Corporation or Municipality or Panchayat should be scrapped after 15 years of manufacturing.
The Transport Minister said there is no provision for reselling those government vehicles that have crossed 15 years from the date of manufacture to the public.
He further said as per data collected from VAHAN there are a total of 4,22,753 vehicles registered under the state till January 2023.
SoO Agreement Extended by a Year
The tripartite Suspensions of Operations (SoO) agreement between the Government of India (GOI), the Government of Manipur (GoM), two umbrella UG groups of Kuki militants – the United People's Front (UPF) and the Kuki National Organisation (KNO) has been further extended for another 12 months, to be effective from March 1, 2023 to February 29, 2024.
The current SoO agreement between the government and the Kuki militant groups is effective up to February 28, 2023. The agreement was extended for 12 months at a meeting on February 17, 2023 in New Delhi where Ketheos Zomi and Joshua Thadou signed for the UPF, Seilen Haokip signed for the KNO and Resident commissioner Devesh Deval signed for GoM while Union Home Affairs Ministry Additional Secretary (NE) Piyush Goyal signed on behalf of the Government of India.
The two erstwhile proscribed underground umbrella groups, United People's Front (UPF) and Kuki National Organisation (KNO) signed the first tripartite SoO agreement with the GoI and GoM on August 22, 2008 and have been extended from time to time through the agreement from the three parties involved, reports added.
CM Reacts to Budget Criticism
In a sharp reaction to a general observation on Annual Budget 2023-24 made by the opposition MLAs led by opposition leader Okram Ibobi, Manipur Chief Minister Nongthombam Biren on February 22 said that with the change in development and price hike, the budget estimate 2023-24 was presented as Rs 35022.21 crore and urged the House not to term the budget as "unrealistic."
As a general observation on annual budget 2023-24, opposition leader Okram Ibobi; opposition MLAs Keisham Meghachandra and Thokchom Lokeshwor gave their comments, stating that the budget is unrealistic and the budget estimated amount was placed on the assembly floor to gain cheap popularity.
Clarifying the general observation made from the opposition bench, leader of the House Chief Minister Nongthombam Biren who is also in-charge of finance informed the House that there are different concepts between the present leader and past leader.
He said that the annual budget was presented on the assembly floor after considering each section of the people of Manipur in order to bring equal welfare irrespective of caste, creed, gender and others.
Regarding the delay in conducting local body election, the leader of the House calriefied that the election to local bodies was not conducted due to delays in the delimitation process, but the election has been scheduled to be conducted in April 2023.
Chief Minister Biren said the state government has been taking steps with strict discipline on financial management. The annual budget 2023-24 will bring welfare and development in Manipur which people can witness after a year, Biren added.
CM's Appeal on Eviction Works
Manipur Chief Minister Nongthombam Biren in the ongoing Assembly session on February 22 appealed not to mislead the public with regards to the ongoing eviction works which could lead to communalism.
Chief Minister Biren informed the house that the eviction works are being undertaken at various places across the state in the interest of the public and the state. He also said the 17 houses were evicted at K Songjang Village in Churachandpur and it was conducted under the required procedures.
He said the houses were found constructed in protected forest area and due to the reason; the concerned authorities issued a show cause notice to the affected house owner on August 10, 2022. However, the authorities did not receive any response to the show cause notice and another reminder was issued and sent to the 17 houses on January 30, 2023, the Chief Minister added.
The department received a reply on February 6 from the 17 houses which did not have a valid reason. Later, a notice for eviction was issued on February 10 to vacate the house within 7 days from the date of eviction notification. After the notification the concerned authorities evicted the houses on February 20, CM Biren informed the House.
He appealed to the people not to set up any structures including houses in the protected government land and not to mislead the public which could encourage communalism among the community, a statement which the House unanimously agreed.
Assault on MLA Rajen's Family
The Judicial Magistrate First Class Imphal West-ll on February 22 remanded accused person Nicholson aka Naoba in judicial custody for 15 days in connection with the assault on family members of Lamshang Assembly Constituency MLA Sorokhaibam Rajen.
On Monday, February 20, the investigating officer of the case SI Kh Premjit Singh of Patsoi Police Station had issued a prayer for five-day police custody but the court gave only three-day custody remand.
In connection with the assault on Lamsang MLA Rajen's family on February 16 night, Asem Nicholson alias Naoba, 24, son of A Jugindro of Luker Mayai Leikai, Imphal West, was detained at the spot and arrested.
A complaint was lodged by MLA Rajen's son, Sorokhaibam Jayananda, stating that on February 16 at around 7.10 pm, an unknown person entered his house located at Salam Maning Leikai, Lamsang, Imphal West and started assaulting every person he met without any reason. The unknown person hit his sister, mother and even MLA Rajen, who got injured, reports said.
Meitei Pangals Wants ST Status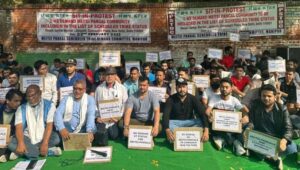 The Meitei-Pangal Scheduled Tribe Demand Committee (MPSTDC) on February 22 staged a Sit-in-Protest at Jantar Mantar, New Delhi demanding enlistment of the Meitei Pangal community in the ST list.
The Meitei-Pangal community is very different from other Muslims residing in the rest of the world in aspects of culture, tradition, language and others, co-convenor of MPSTDC Moichingmayum Abdul Razaque said while speaking to the media. He said that unfortunately the Meitei Pangal community is living in the lowest and downward deprivations in terms of socio-economic and political, besides being the most educational backward community in Manipur, reports said.
It becomes imperative on the parts of Meitei Pangal as a distinctive community to preserve and protect its identity which is on the verge of extinction, he said, adding deliberating all the remedy, the ST status has become the only hope for the community to protect themselves from extinction using the constitutional means.
It may be mentioned that the MPSTDC had submitted representation for recommendation of enlisting Meitei Pangal in the ST list to the Union Ministry for Tribal Affairs, National Commission for Scheduled Tribe and National Commission for Minorities.
MSPP Members Protest Over Pending Wages
Manipur State Panchayat Parishad (MSPP) members on February 21 clashed with police in front of the Imphal East SP Office during a protest rally. The MSPP members were demanding clearance of pending funds of the Mahatma Gandhi National Rural Employment Guarantee Act (MGNREGA) for the year 2021-2022.
The protest rally began at Khurai Changamdabi Leikai and passed through Acatren Kongpal. However, while passing the Imphal East SP office gate, a large number of police personnel blocked them, leading to a clash which the police personnel were able to control and the protesters made to return to Khurai Changamdabi Leikai, reports said.
However, Panchayati Raj Institute (PRI) members, who were already in front of DC Imphal East gate, continued the protest rally. Again, the police personnel stopped the protest by blocking both sides.
Protesters holding placards which read, "Release fund already sanctioned by the Centre under MGNREGA", "Conduct Panchayat election in time", "Establish National Electronic Fund Management System in Manipur" and "Handover the devolution of power to Panchayat" demanded their pending wages.
MPCC Wants Drug Cartel Suspects Probed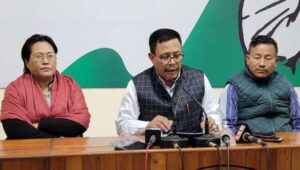 Manipur Pradesh Congress Committee (MPCC) on February 23 alleged that the status of Manipur's government war on drugs is in "vacillation" while citing the numerous drug haul cases outside the state which were reported to be smuggled from the state.
Amid the intense war on drugs, Manipur witnessed increase of poppy plantation, increase of drug cartels and increase in seizure of drugs originating from Manipur outside the state, MPCC vice president Hareshwar Goshwami said while speaking to the media at Congress Bhawan in Imphal.
Talking about the seizure of 50-kilogram opium worth Rs 10 crore at the national capital from the possession of two individuals from Manipur on February 17, he informed that the Special Cell of Delhi Police, in a statement, had established that they are gang of international drug carter under the banner of "Itocha International Drug Cartel", reports said.
Reading out the police statement which says, "There has been widespread illegal cultivation of opium and manufacturing of heroin in Manipur for the last 5-6 years," Goshwami said the aforesaid duration is just one year after BJP came to power in Manipur. "May be this is just a coincidence," he added.
Taking on the identity of one of the arrested persons (Loyangamba Itocha) whose identity is yet to be established, the vice-president said, "Loyangamba Itocha is said to be a close relative of a well-known person in the present BJP circle (subject to confirmation). His father's name may be Itocha. However, he manipulates by giving his name as Loyangamba Itocha".
As the seizures are from members of an international drug cartel, he stressed the need for a deep investigation as there could be a lot of people connected with it.
Recalling the seizure of Yaba tablets worth Rs 20 crore in Guwahati on July 25, 2022; heroin and morphine worth Rs 15 crore at Guwahati on August 2, 2022; heroin and yaba tablets worth Rs 175 crore at Cachar on December 18, 2022; brown sugar at Odisha on December 3, 2022 and heroin worth Rs 25 crore at Assam on February, he said all those drugs were reportedly smuggled from Manipur.
"The smuggling of drugs from Manipur to outside states when the radar of the state police are on high alert proved the involvement of big shots having government support from Manipur in such illicit drug business", Goshwami alleged.
Taking account of all the facts, he drew the attention of the chief minister to investigate all links to the drug seizure cases originating from Manipur to establish the source, destination and identity of all drug traffickers.
The MPCC vice-president also demanded handing of all sensitive drug cases like February 17 case to an agency like CBI and to establish the identity of Loyangamba Itocha who is said to be a resident of Laipham Khunou, Imphal East and placed in public domain, reports added.
Meanwhile, The Times of India on February 21 published that Delhi Police Special Cell has recovered 50 kg opium valued at Rs 10 crore from the secret cavities of a car near Sarita Vihar, officials said on Monday (Febraury 20). A Delhi-based receiver and a Manipur-based supplier were arrested in the case, they added.
Special Commissioner HGS Dhaliwal tasked a team, comprising ACP Attar Singh and inspector Shiv Kumar, to crack down on the cartels smuggling drugs from northeastern states. The team developed intelligence about a group, which sourced the contraband from Manipur and supplied it in Punjab and Delhi for over five years.
Acting on a tip-off that the cartel had picked up a huge consignment of opium from Imphal and two of smugglers had arrived in Delhi to supply the contraband to their contacts, police laid a trap near the Badarpur Border area and arrested Ranbir Singh, who hails from Punjab and Loyangamba Itocha, who is a native of Imphal. During a search, 50 kg of opium packets were found in secret cavities under the back seat, the report added.
Mao-Dimapur MST Bus Service Via Peren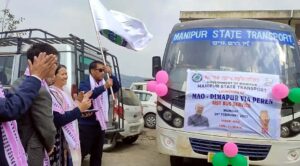 Amid the travel restrictions imposed on Mao people in Southern Angami area in Nagaland by the Southern Angami People's Organisation (SAPO), Mao Assembly Constituency MLA L Dikho flagged of the first ever Mao to Dimapur via Peren bus service of Manipur State Transport (MST) at Mao on February 20.
Dr. Nivedita Lairenlakpam, Director, Transport, Govt of Manipur stated that the MST service was introduced into the new route to ease the hiring charges of a private taxi to go to Dimapur. Seeing the hardships the common people have been facing with sky rocketing fares, the service was introduced on the day in public interest, she mentioned.
Speaking as the chief guest, MLA L. Dikho expressed gratitude to the Manipur Chief Minister Nongthombam Biren and Transport Minister Khashim Vashum for the concern the State Governmentt have for people of the region when such facilities are needed most.
Jt. Director, MST, Manipur, Laishram Delina in her speech mentioned that Manipur State Transport was proposed under Chief Miniser's 100 days programme in 2017 when its service was abolished in the past. Under Transport department, 24 MST bus services have been launched till date on different routes. Mao-Dimapur via Peren would be the first inter-state bus service.
According to the department, the bus service will operate from Mao to Dimapur on Mondays, Wednesdays and Fridays starting from 6:30 am and from Dimapur to Mao on Tuesdays, Thursdays and Saturdays from Manipur Parking, Dimapur.
Very recently, the department had already launched MST bus service between Imphal and Tamphung village in Senapati district which is the last border village adjacent to Peren district in Nagaland. The bus service is stated to operate from Imphal to the state border village via Maram and Bendramai in Senapati district.
Rs 2 Crore for Government-Run Old Age Home
Manipur Social Welfare Director Ngangom Uttam on February 23 said the government has included Rs 2 crore in the annual budget for construction of government-run old age home, exclusively for people with disability (PWD) elderly persons.
He was speaking during inauguration of two-day Continuation Rehabilitation Education (CRE) programme on management of childhood disorders and behaviour problems for special educators held at the Conference Hall of Spastic Society of Manipur, Tapokpi Bazar, Langthabal Kunja in Imphal West.
Speaking on the occasion, Uttam said in the state there are many government-funded old age homes but run by private NGOs where PWDs can stay. As of now, there is no government old aged home for PWDs and theregore, the government is planning to construct such homes, funded and run by the state government. For the construction of such homes, Rs 2 crore has been sanctioned, he added.
393 Illegal migrants From Myanmar in Manipur
Manipur Chief Minister Nongthombam Biren on February 24 said that there are a total 393 illegal migrants from Myanmar in Manipur while responding to a starred question of Sugnu MLA Kangujam Ranjit during the third session of the 12th Manipur Legislative Assembly. In 2022-23, 210 illegal migrants from Myanmar entered Manipur, the Chief Minister said.
Responding to the starred question of MLA K Ranjit, the Chief Minister Biren replied that out of the 393 illegal migrants, one was deported, 107 are in judicial custody, 105 are at detention centres and 180 released on bail.
The Chief Minister said that 393 are identified illegal migrants but there are suspicious and unidentified illegal migrants in the state. As a means to identify, a biometric system has been opened at five districts for Aadhar house-to-house survey, Biren said, adding that it has started at Kamjong, Tengnoupal and Chandel districts.
Repsonding to Ranjit's supplementary question if the migrants are dteaind in refugee camps, the Chief Minister replied: "India is required to sign a charter for opening refugee camps to the UN. So, as a means to keep them, a detention centre has been opened in the state." The Chief Minister also added that Assam Rifles are posted in border areas but they act more on insurgents. Therefore, the state government initiated to post police at 34 police outposts for security as well as to identify illegal migrants at borders.
Due to the unstable situation of neighbouring country Myanmar, the illegal entry might not stop. So, detention centres are opened in Tengnoupal and near Sajiwa jail, the Chief Minister informed.
"Those illegal migrants in judicial custody are arrested under Foreigners Act. So, they are kept under judicial custody", the Chief Minister added.
Four NSCN (I-M) Leaders Arrested
Four leaders of the NSCN (IM) were arrested from Inter State Bus Terminus (ISBT), Khuman Lampak Imphal West by a team Special Commando Unit, Khabeisoi at 10.30 am on February 23.
The team acted on a tip-off from 16 Assam Rifles regarding presence of the four suspected persons of NSCN (IM) at the said area while routine frisking and checkings are being conducted as precautionary measures in connection with the ongoing Manipur Legislative assembly session 2023, reports said.
During the said operation, four unknown suspected persons coming on foot were detained for verification. They disclosed themselves as Pfoziio Kayina aka Thohri Kayina, about 35, son of  late Eheni Kayina from Tadubi Senapati district, Manipur; Setoi Yeptha, about 32, son of Zhevukhu Yeptha from Zunheboto, Sarmi district, Nagaland; Arippo Zelang, about 30, son of  late Motrong from Machecum Dimapur, Nagaland and Khareiting Mung, about 39, son of  Phungpha from Ajungtag, Ukhrul district, Manipur.
On further verification they disclosed that Pfoziio Kayina joined the outfit in the year 2010 and got basic military training at general training field HQ Kaphire district Nagaland and his Army No. 42382 while his rank is lieutenant of the NSCN (IM). Further, he was working under the command of one Temjen Brigadier of NSCN (IM).
Khareiting Mung joined in the year 2002 through one major Unaopem Tangkhul and got basic Military training at Hebron while his army is No 0P2431145 and his rank is lieutenant of NSCN (IM). He is working under the command of one colonel Ayo of the outfit.
It was disclosed that Setoi Yeptha joined in the year 2009 and got basic military training at Hebron Training center Dimapur.  His army number is 80829 and his rank is 2nd lieutenant of NSCN (IM).
Arippo Zelang joined in the year 2021 through one Sumoil Zelang and got basic military training at Hebron training centre Dimapur while his army number is 44061. He holds the rank of a corporal, reports added.
Two arrested with Drugs in Tengnoupal District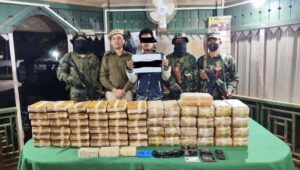 Two persons found in possession of suspected drugs have been apprehended while the suspected drugs were seized on February 22 and 23 at Moreh in Tengnoupal district.
Reports said a combined team of 5th Assam Rifles and Moreh Police arrested one Lenzo Lenchinjang Zou alias Philips, 29, son of Longlenhao Zou from Moreh Ward II, Tengnoupal district, Manipur. As many as 82 packets containing suspected WY tablets weighing a total of 56.255 Kg, including the packaging materials were seized from his possession.
Meanwhile, a team of Tengnoupal Police Station detected and seized 55 soap cases of different colours containing suspected brown sugar, weighing 2.347 Kgs, (including the weight of the soap cases) from a Maruti Alto Car bearing registration No MN01AS 9469 on Febraury 22. The driver identified as Thangkholun Haokip, 23, son of Lhunkhosei Haokip from New Shijang Village, PO and PS Moreh, Tengnoupal district, Manipur has been arrested, reports added.
Media Workshop on HIV/AIDS Held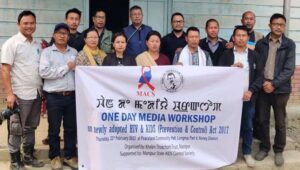 A media sensitisation workshop on the newly adopted 'HIV/AIDS (Prevention and Control) Act 2017' organised by the Khelen Thokchom Trust (KTT), Manipur was held at Peaceland community hall, Longmai Part IV of Noney district on February 23.
A release said the workshop was organised by KTT, Manipur in collaboration with Noney District Working Journalists' Union (NoDWJU) with the support of Manipur State AIDS Control Society (MSACS) in a move to sensitise the media persons to have a good grasp of new issues related to HIV/AIDS.
The event was attended by KTT advisor Irengbam Arun, Assistant Director of IEC and Mainstreaming Phanjoubam Lanngamba of MSACS, and NoDWJU president D Pouhoilung, the release added.
It may be mentioned that KTT has been organising such a kind of media workshops on various topics and issues for the journalists working in different districts of Manipur for the last few years.
COCOMI & UNC Reiterate Demand for Population Commission, NRC
Expressing grave concern over continuous influx of outsiders and threat posed to the imbalanced demography in Manipur, Coordinating Committee on Manipur Integrity (COCOMI) and United Naga Council (UNC) demand the Government to set up State Population Commission and initiate relevant process for conduct of National Register of Citizens (NRC).
In a statement jointly issued on February 24 by COCOMI Coordinator Jeetendra Ningomba and UNC Information and Publicity Secretary Heutwalung James Hau, the two organisations highlighted the various issues that have impacted the state at present including loss of forest covers, massive deforestation, smuggling of drugs from across the border and unidentified and accounted influx of outsiders from all directions and expressed that all these issues are enough evidence that the state should pull up its socks and take some real action before it 's too late.
UNC and COCOMI have been pursuing the Government of Manipur and the Government of India for taking up action regarding the matter and had submitted several memoranda demanding initiation of NRC exercise, constitution of Population Commission which the present state cabinet had already approved and to not recognise any new villages without proper verification and scrutiny at the government level, the joint statement said.
It further mentioned that it would be wise to take note of the private member motion moved by MLA Th Joykisan during monsoon session of Assembly on August 5, 2022 and unanimous resolution adopted by the House on the matter of NRC and Population Commission.
Despite these given facts, there has not been any visible action from the state government that would show its seriousness and concern over such serious issues, it contended, while adding that the task of rectifying the problem is magnifying with each passing day.
It is high time for the state government to initiate some immediate action to save the future of the land and its people from all forms of impact arising out of the demographic imbalance and ever continuing pressure from illegal immigrants and migrants.
The two powerful civil societies further urged the government to act right away as the future of Manipur is likely to be doomed very soon. If the government fails to act as an urgent matter then there would be no other option than to come forward and take its own course to save the future of the land and its people by all possible means, the statement added.