The Bharatiya Janata Party (BJP) and its allies returned to the power in the three Northeastern States of Tripura, Nagaland and Meghalaya according to the State Assembly election results declared on March 2, 2023.
In Tripura, although the BJP retains its power by overcoming the new alliance of Left Parties and Congress, the BJP could not block the emergence of just two years old Tripraha Indigenous Progressive Regional Alliance – TIPRA Motha as an insurmountable political force in Tripura.
In 2018 elections the BJP had changed the political landscape of Tripura by ending 25 years rule of Left Front led by Communist Party of India (Marxist) – CPI (M) popularly known as CPM. Even though the BJP retains its power in Tripura, the total number of seats in the 60-member Assembly has come down to 32 this time from 36 in 2018. Of the Left-Congress Alliance, CPI (M) won 11 and its partner Congress 3 while BJP's ally Indigenous People's Front of Tripura (IPFT) won 1 TIPRA Motha won 13.
In Meghalaya, the BJP's strengh remains the same as was in 2018 with two MLAs and their leading ruling ally National People's Party (NPP) has emerged as the single-largest party with 26 seats and they are going to continue as ruling allies even though they fought the elections separately.
The 45 year old Conrad Sangma is set to become Chief Minister of Meghalaya for the second consecutive term when his party NPP with 26 seats is going to forge a post poll alliance with previous partners – UDP (11), BJP (2), HSPDP (2), PDF (2) while TMC (5) and Cong (5), VPP (4), Ind (2) were not in alliance in the previous house.
In Nagaland too, the BJP retains the same strength of 12 seats as was in last five years in the 60-Member Nagaland State Legislative Assembly and their leading ally Nationalist Democratic Progressive Party (NDPP) has won 25 seats. While NDPP won 25 (up from 18 in 2018) and BJP won 12 seats, the same number it had won in 2018 the NDPP-BJP alliance has increased its tally from 29 in 2018 to 37 in 2023 and Neiphiu Rio is set to return as Chief Minister of Nagaland for the fifth term.
The NDPP-BJP had fought the elections on 40:20 seat sharing arrangement. According to 2023 election results, of 25 newly elected NDPP members 13 are new comers while BJP has six newcomers out of 12 who won recently.
Since the NDPP-BJP alliance already has the number: 37, way beyond the half-way mark of 31; it may not need to form post-poll alliance with other parties.
However, it is said that the LJP (RV) has been insisting that since it has an alliance with BJP at the national level, the same will be maintained in Nagaland. Even NPP will continue its alliance with BJP in Meghalaya and the same political equation in Nagaland could be maintained. The NCP is not an alliance partner with BJP but there is no hard and fast rule that the same applies in Nagaland. All would depend on Neiphiu Rio's sense of priority and political necessity which BJP would also have to be taken into account.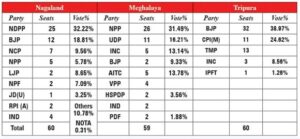 In Nagaland, according to the election result declared on March 2, the NDPP won 25 seats out of the 40 seats it contested; BJP won 12 of the 20 it contested; INC 0, NCP 7, NPP 5, NPF 2, RPP 10, JDU 1, LJP (RV) 2, RPI (A) 2, RJD 0 and Independent four of the 19 seats contested.
Meanwhile, another significant political development in the 2023 State Assembly elections of the three Northeastern States is the election of 17 new members including some former legislators to the Nagaland Legislative Assembly, while only three sitting MLAs have retained their seats from Eastern Nagaland's 20 seats.
According to the election results, sitting MLAs P Paiwang Konyak from 41 Tizit, Noke from 43 Tapi and CL John from 45 Tehok retained their seats, while former MLAs who contested – K Konngam Konyak from 44 Phomching, A Nyamnyei Konyak from 48 Moka, Naiba Konyak from 55 Tobu, P Longon from 56 Noklak and C Kipili Sangtam from 59 Seyochung Sitimi were also elected this time.
The new faces included W Chingang Konyak from 42 Wakching, Y Mankhao Konyak from 46 Mon Town, C Mapon Konyak from 47 Aboi, B Bangtick Phom from 49 Tamlu, A Pongshi Phom from 50 Longleng, Y lima Onen Chang from 51 Noksen, Sethrongkyu from 52 Longkhim Chare, P Bashangmongba Chang from 53 Tuensang Sadar 1, Imtichoba from 54 Tuensang Sadar 2, Benei M Lamthiu from 57 Thonoknyu, S Keoshu Yimchunger from 58 Shamator Chessore and S Kiusumew Yimchunger from 60 Pungro Kiphire.
Out of the 20 seats, NDPP won five, BJP four, NCP three, Independents two, RPI (A) two, NPP three and LJP (RV) one.
The more significant outcome of the State Legislative Assembly elections has been the rise of the TIPRA Motha led by royal Pradyot Bikram Manikya Debbarma. That a party which was formed in 2019 could win 13 seats with a 20 per cent vote share is an extraordinary achievement.
More significantly, the TIPRA Motha won all 13 seats in tribal-dominated assembly constituencies and managed to heavily dent the ruling saffron party's hold in the state.
Notably, the BJP and IPFT alliance in 2018 won 18 out of the 20 seats reserved for Scheduled Tribes.
However, this time, the BJP-IPFT alliance managed to win only seven of those seats. The rest went to the TIPRA Motha. In fact, it received 17 per cent more votes than the BJP alliance in these reserved seats according to election results.
Eventhough the BJP has retained its powers in Tripura Pradyot Debbarma's TIPRA Motha could be a insurmountable political force in Tripura if the party will be able to maintain the present political momentum they have accelerated in the last two years for the protection of Tripraha indegenous people and their democratic rights.
Senior Editor: Imphal Review of Arts and Politics