The exceptional effort extended by villagers of Tokpa Kabui Village in greening their once barren hillsides is an invaluable demonstration of the necessity of locals to be made stakeholders in forest management and forest policy formulation.
Tokpa Kabui Village which is under the Churachandpur district is one of the villages that lies in catchment areas of Ningthoukhong and Potshangba rivers both of which drain into Loktak lake, and constitutes of the forested hillsides west of Loktak Lake. About decades ago, forest around the village had a deserted look where even the paddy land become barren. However, the venture carried out by Loktak Development Authority, LDA, in association with the villagers in 1999 to rejuvenate the forest has started bearing its fruit. The place is now rich pine forest, rendering the landscape not only beautiful but also the ideal home of many floras and faunas.
Aiming to save Loktak Lake from its deteriorating ecosystem pose by various factors, Ministry of Environment, Forest and Climate Change, Government of India, constituted a Technical Advisory Committee, TAC, in 1994 to figure out the problems related to Loktak Lake. On the advice of TAC, a Management Action Plan, MAP, of Loktak Lake was formulated in 1996.
The target of MAP was to achieve survey and demarcation, control encroachment, control soil erosion with extensive afforestation, make efforts towards desilting of feeding channel, weed management, control of Phumdi (floating biomass), bio-diversity conservation, fishery development, data-base creation and awareness generation and involvement of local community.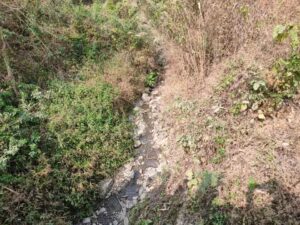 The TAC emphasised on conservation of Loktak catchment. Over 40,000 hectares of land is a direct catchment area which is mostly dominated by the Jhum fallow lands and degraded forests inhabited by around 96 villages at the point of time.
Degradation of nearby forest would impact to Loktak Lake particularly causing siltation, an initiative of the catchment treatment along the Thangjing-Ngariyan-Laimaton Mountain Range was taken up as a long-term measure conservation of Loktak Lake by LDA, a lake listed as Ramsar Site. As a part of this project, rejuvenation of Tokpa Kabui Village was taken up in an area of around 500 hectares.
A team of media person along with official of Directorate of Environment and Climate Change visited the site of Tokpa Kabui recently. The team witnessed changing landscape and ecological situation in and around the village, brought about by consistent hard work put by the locals and LDA.
Speaking to media, scientific officer of LDA, Asem Bidyabushan said that there was very little green cover in surrounding areas of Tokpa Kabiui Khun when LDA came to start the catchment treatment in 2000. To begin the project of forest rejuvenation, a local club named as 'Nature Club' consisting of around 70 local people was formed. Since then, continuous drive and campaign was carried out spreading scientific knowledge about ill impacts of forest degradation such aggravation in climate change, soil erosion, water scarcity etc.
The villagers later realised the value of the campaign and started acting as real custodians of the forest by safeguarding the forest from any kind of damage. In the joint effort the LDA also focus in providing sustainable livelihood means to local people as a part of the project, Bidyabhushan added and stressed the necessity of community participation in forest rejuvenation and management.
While briefing about the changes in landscape of Tokpa Kabui Village, he said "20 years of care and love brought back the lush green environment. It also nourished the spring sheds that are sources of several feeder streams which flow directly into Loktak Lake from its catchment."
He said that many springs and streams which had dried have now become perennial and some retain moisture till the month of May.
As the water began being released from springs and streams, around 10 water harvesting ponds were constructed with the vision of keeping the streams alive throughout the year. Besides, villagers had reported about seeing many new floras and faunas in the village. These are clear indications that the forest has been restored to some extent.
He pointed out that a tree takes around 30 years for crown formation. It consumes lots of water to reach that stage. Observing this, people should not bother only about tree plantation to conserve forest, rather they should give more stressed in protection trees already growing from being chopped down.
While informing the ultimate goal of the project is to reduce silt deposition in Loktak Lake, he said that streams from Tokpa Kabui confluence with Ningthoukhong and Potshangba rivers and finally drain into Loktak Lake. "Siltation is another major issue of Loktak Lake. Consequently, our project was taken up to stop downstream siltation from Tokpa Kabui Village," he explained.
He continued that to achieve the mentioned goal, aided regeneration of forest and cultural operation are also another LDA intervene apart from tree plantation.
"As afforestation process is completed in the village, the current focus is aided regeneration and cultural operation. Aided regeneration is all about reviving dead forests around the village and cultural operation is the prevention of wildfire and promotion of balanced plant growth," he explained.
Meanwhile, village secretary of Tokpa Kabui Village, Athon Pamei said that there was lots of inconveniences and sufferings in their villages inhabited by around 500 population due to absence of proper connectivity and livelihood means.
But with the launching of the above project, various changes have been brought. As creating sustainable livelihood is also another key features of all their efforts, people in the village now can live with ease, he added while informing that poultry farming and cultivation of various seasonal fruits such as pineapple, banana among others is the main occupation of the villagers.
He further said that with the intervention of catchment treatment project in their village, water harvesting ponds are successfully constructed. The villagers can also generate income from ponds by developing eco-tourist spot. "It would be an immense pleasure if state government develops a tourist spot in the newly constructed water bodies," he urged to state government.
He also highlighted that three major springs in Lamdan and Charoi Khullen are the source of water in their village. However, with the increase of population, the village is facing water scarcity despite the fact that forest has been rejuvenated. Nevertheless, the joint venture will address the problem in near future, he said.
At one point of time, there was a bone of contention between state agencies and local community on forest conservation and management. With the realisation of essence of community involvement for successful forest conservation, various global platform has started focusing on community participation.
In the state of Manipur where impact of climate change is being witnessing alarmingly, a greater number of local communities like Tokpa Kabui are needed to make conservation of forests in the fight against climate change a success story. It must be remembered that a great number of environment degradation issues can be dealt when forest health improves.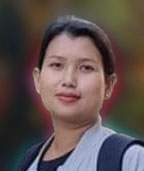 The writer is an award winning reporter