Lungnila Elizabeth Killers
After the sentence hearing on March 13, 2023, the Session Judge, Imphal East, sentenced two convicts – Letkhosei Haokip and Ningombam Rome Meitei – to life imprisonment for kidnapping and killing of Lungnila Elizabeth in 2003.
The two–Letkhosei Haokip aka James Kuki and N Rome Meitei–were convicted after a span of 20 years in the case on February 28. Letkhosei Haokip aka James Kuki and Ningombam Rome Meitei aka Romen aka Micheal aka Ramesh aka Loyalakpa are the only two convicts alive now as the other two accused Thokchom Nando and Okram Deben aka Arnold died before completion of the trial. The main accused of the Lungnila Elizabeth murder case, Thokchom Nando Singh alias KCP Nando was killed by an underground outfit on March 3, 2021.
During the sentence hearing on March 13, Session Judge, Imphal West, W Tonen Meitei heard the submission of the Public Prosecutor and counsels of the convicts.
The court opined that the judge did not find enough materials to put the case in the category of 'rarest of the rare'. After taking into consideration, the court sentenced Letkhosei Haokip alias James Kuki and Ningombam Rome Meitei to life imprisonment under section 364A, 120-B and 302 of the Indian Penal Code.
Further, the court recommended providing victim compensation under the Manipur Victim Compensation Scheme.
Eight-year-old Lungnila, daughter of former Power Minister Francis Ngajokpa, was kidnapped from outside her school on November 4, 2003 and was murdered on November 12, 2003, despite the ransom demand being met. Her body was found on the outskirts of Imphal.
It may be mentioned that Imphal East Sessions Judge RK Memcha, on her last day before retirement, delivered justice for Elizabeth and convicted main accused Letkhosei Haokip aka James Kuki, Ningombam Rome Meitei of Bashikhong, Thokchom Nando Singh of Khangabok Part-III and Okram Deben aka Arnold of Langthabal.
Khamasom, Phungdhar Pledge Support War on Drugs
The villagers of Khamasom Phungdhar in Ukhrul district have pledged to support the "War on Drugs" effort being spearheaded by Chief Minister Nongthombam Biren.
Khamasom Phungdhar village chairman, in a release, stated that the villagers have made two plans – a short-term plan and a long-term plan – to support the "War on Drugs" campaign. Their goal is to safeguard their village's future while preserving their natural resources and cultural heritage.
The communities are aware that encouraging and aiding alternate forms of livelihoods is essential to deter poppy farming and the economy of Khamasom Phungdhar is primarily based on agriculture and horticulture, the release added.
Cultivation of agriculture and horticulture crops including millets, maize, vegetables and rearing of honeybees and indigenous pig breed of Khamasom known as Hao Hok are all part of the short-term strategy. Planting sustainable crops like avocado, coffee, bamboo, and others is part of the long-term strategy, the release said.
Villagers have decided to eradicate the use of poppy from their community and take aggressive measures to deal with the problems. They have already begun growing alternative crops in an effort to make this short-term strategy a success.
The villagers appealed to the government, NGOs, and other stakeholders to support their cause and aid them in achieving their objectives. They have also resolved to impose a fine of Rs 50,000 for anyone caught participating in illegal plantation, the release added.
Manipur students stage demonstration in New Delhi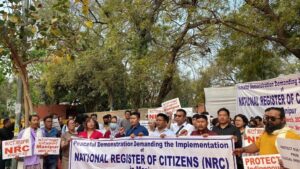 Student bodies of Manipur stage demonstration at Jantar Mantar in Delhi on March 17 demanding implementation of National Register of Citizens (NRC) in Manipur.  Members of All Manipur Students' Union (AMSU), Manipuri Students' Federation (MSF), Democratic Students' Alliance of Manipur (DESAM), Kangleipak Students' Association (KSA), Students' Union of Kangleipak (SUK), Apunba Ireipakki Maheiroi Sinpanglup (AIMS) and All Naga Students' Association, Manipur (ANSAM) took part in the sit-in demonstration in collaboration with the Manipur Students Association, Delhi (MSAD).
Earlier on March 13, the six student bodies of Manipur – AMSU, MSF, DESAM, KSA, SUK and AIMS staged a massive protest in Manipur's state capital Imphal demanding the implementation of the National Register of Citizens (NRC) and the setting up of the Manipur State Population Commission.
CM Meets Amit Shah on SoO Withdrawal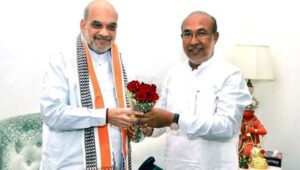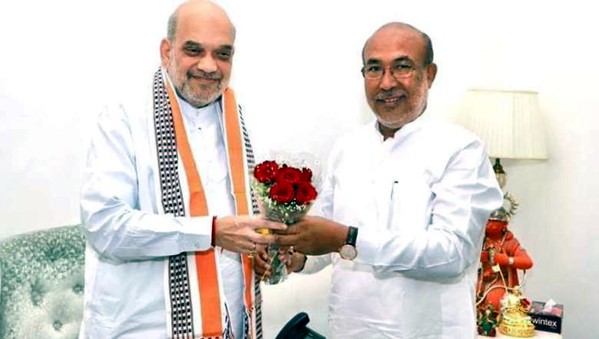 Manipur Chief Minister Nongthombam Biren met Union Home Minister Amit Shah in New Delhi on March 13 and discussed the state's welfare and security issues with the Union Home Minister.
"Delighted to meet Hon'ble Home Minister Shri@AmitShah Ji in New Delhi today. We discussed about various issues pertaining to the security of the state as well as the welfare and development of Manipur," Biren captioned a photo post of him meeting Amit Shah on Twitter.
Before attending the event, Biren met Union ministers Sarbananda Sonowal and G Kishan Reddy, and Union Ministers of State Dr Munjpara Mahendrabhai Kalubhai Ji and Meenakshi Lekhi, in New Delhi, reports added.
Manipur Chief Secretary Rajesh Kumar, Home Commissioner T Ranjit Singh, Principal Chief Conservator of Forests (PCCF) AK Joshi on March 12 left Imphal for New Delhi to discuss issues pertaining to the recent cabinet decision to withdraw from the tripartite Suspension of Operation (SoO) Agreement.
Women of Substance Awards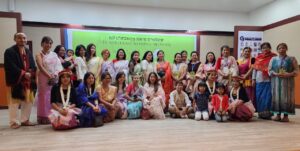 ETA Northeast Women's Network has awarded Women of Substance Awards 2023 to 21 women achievers in Manipur at an event held in celebration of International Women's Day (March 8) 2023 in Imphal on March 12 at Sangai Hall of Hotel Imphal.
Speaking at the Annual ETA Manipur Women of Substance Awards 2023, Wangkhei Assembly Constituency MLA Thangjam Arunkumar said, "Women need not beg for their rights; they should claim it by asserting themselves intellectually and physically on par with the rest of their competitors in every field".
Sophia Rajkumari, Chairperson of ETA Northeast Women's Network, said ETA was started in 2019 with the objective to provide a healthy platform for all genders to air thier grievances and thoughts on gender equality. Gender empowerment is a long process which requires time and patience on the part of all stakeholders. Empowerment is a social movement which requires dedication and sacrifice, she added.
Sophia further highlighted the various online initiatives undertaken by Eta to create awareness in various fields which includes understanding entrepreneurship programmes, mental health, legal awareness, zero interest microfinance programmes among others.
Ex-MLA of Patsoi AC Akoijam Mirabai participating in the event said, "How politics can be a tool of empowerment for women and marginalized communities."
The 21 awardees of Eta Northeast women's Network 3rd "Women of Substance" Award 2023 are – Sharda Adhikarimayum, in Inspirational Woman Leader of Manipur Award,
Young Achiever Award – Dr. Sujata Wangkheirakpam, Excellence in Social Service Award -Santala E Ronglo, Changemaker in Education Award – Thanga Danla Asheim, Environmental Changemaker Award – Khumukcham Tombisana Devi, Entrepreneur of the Year Award – Tongbram Bijiyashanti, Differently-abled Women Achiever Award – Wahengbam Purnima, Literary Achiever Award – Angom Sarita, Folk Art/Culture Achiever Award – Dr. Nganbi Chanu Leima, Extraordinary Woman Achiever Award – Moirangthem Muktamani, Lifetime Achievement Award – Ema Huidrom Achaobi, Amazing Mother Award – Irom Thoibi Devi, Sports Achiever Award – Jojo Rajkumari, Exemplary Service in Uniform Award – Bidyapati Thingbaijam, Excellence in Journalism Award- Valley Rose, Excellence in Broadcasting Award – Keisham Kabita, Excellence in Film & Visual Arts Awards – Naorem Bimol (Trans), Exemplary Civil Service Award- Akoijam Dallilma Devi, Exemplary Service in Healthcare Award – Dr. Rajkumari Rosie, Young Changemaker – Elcy Sharma Shamurailakpam, Leiyami Tontanga -Exemplary Service in Education Award- by STAR Education.
Officials Held For Tampering Land Records
Five government employees have been arrested for their alleged involvement in the fabrication of government land and gift deeds. The arrested persons have been remanded in police custody, Khumanthem Daina, District Commissioner of Imphal East, said on Sunday, March 12.
Speaking to the media on March 12 at the Conference Hall of DC, Imphal East, Khumanthem Daina said that the officials were arrested after the Imphal East district commission lodged two complaints regarding the fabrication of government land records without examining the facts of the land.
According to the DC, the gift deed of the land was done against the provisions of the Manipur Land Revenue and Land Reform Act 1960 and warned that the government will not spare anyone who goes above the laws.
Three persons namely, one G Chinglensana Kabui, 51, Moirangthem Sanatomba, 48, and Leishangthem Bishwanath, 48 were arrested and produced before the Duty Magistrate, Imphal East with a prayer to remand them into police custody for five days; they have been remanded in police custody until March 15, 2023.
Consequently, another complaint was also received at Porompat Police Station from the additional deputy commissioner of Imphal East district, Shamim Ahamad Shah, about two gift deeds being registered by the then sub-registrar of Porompat, S Ibomcha Singh, and his staff on June 8, 2022, in defiance of government order. And two persons namely Sagolsem Ibomcha Singh, 62 and Khundrakpam Damayanti Devi, 59 were arrested on March 11.
They were produced before the Duty Magistrate of Imphal East and have been remanded in police custody till March 13, 2023.
EEVFAM & HRA Condemn
Extrajudicial Execution Victim Families Association, Manipur (EEVFAM) and Human Rights Alert (HRA) have strongly condemned the denial of prosecution sanction against some police personnel while granting the same for some others involved in the same extrajudicial killing.
EEVFAM and HRA recalled that on August 29, 1998, Major Shaiza and four others were killed at Kwakeithel Akham Leikai, Imphal West District in broad day light. Following the direction of the Supreme Court of India, a CBI/SIT investigated the case and submitted charge-sheet against accused police personnel.
Out of the accused persons four accused namely, Khondongbam Inaobi Singh, Thangkhongam Lungdim, Md. Akhtar Hussain and Thokchom Krishnatombi Singh were already granted prosecution sanction by the state government in the same incident.
Subsequently, CBI gave an observation the four accused persons are hiding and created false story to screen their team members from the offence committed by them, which is also an offence under section 201 IPC. On further investigation, CBI filed supplementary chargesheet against four Manipur personnel of the then Rapid Action Police Force / CDO, Imphal West for the offence punishable under section 302, 307, 201 and 34 IPC. They are namely: Nongmaithem Rameshwor Singh (A-6); Baremron Khamjai (A-8); Khundrakpam Ranjeet Singh (A-9) and Leitanthem Sharat Singh (A-10).
However, the Government of Manipur denied prosecution sanction against the four accused vide letter no. 2/8(5)/2018-H(CBI) (EJK) 25 dated 05.12.2022 by Rehanuddin Choudhury, Joint Secretary (Home) Government of Manipur, said a joint press statement of EEVFAM and HRA.
MPCC Against NDA Govt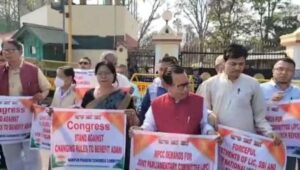 Manipur Pradesh Congress Committee (MPCC) on March 13 staged a protest demonstrated in front of Raj Bhawan in Imphal Condemning the Modi-led National Democratic Alliance government for suppressing the public voice on demand for a Joint Parliamentary Committee (JPC) on the infamous Hindenburg's Adani Scam.
The protest is a part of the massive "Chalo Raj Bhavan" march decided by the 85th Plenary Session of the Congress party held at Rajpur.
The protest demonstration started with a rally kicked off from the Congress Bhawan in Imphal under the supervision of MPCC president Keisham Meghachandra.
During the protest the demonstrators chanted slogans like, "Modi government, down-down;" "Down-down BJP"; "Down-down Adani".
Speaking to the media, senior spokesperson of MPCC N Bupenda said it is unfortunate that the Modi-led NDA government has withdrawn all statements related to Adani scam from the floor of both the Rajya Sabha and Lok Sabha.
"Suppressing the demand of a JPC on Adani scam from all corners by the Modi-led NDA government is proof of perishing democracy from the country during the Modi regime," he added.
SC on SAPO Ban on Mao Tribe
In a significant development, a three-judge bench of the Supreme Court on March 13 has asked the Government of India (GOI) to look into the issue of complete ban on settlement, residency, trade & commerce and movement of the Mao Tribe members in areas under the control of Southern Angami in Nagaland including National Highway No.2 (Asian Highway No.1).
The directive followed a Public Interest Litigation (PIL) filed Khurajam Athouba, current Convener of the Mao-Imphal Market Co-Ordination Committee and Vice President of IPSA. The PIL was filed in connection with the current blockade and quit notice imposed/served by the Southern Angami Public Organization (SAPO) of Nagaland on the Mao Community of Manipur. It was filed under Article 32 of the Indian Constitution.
The three-judge bench comprising of the Chief Justice of India, Justice DY Chandrachud, Justice PS Naramsimha and Justice JB Pardiwala has asked the Union of India through its Solicitor General Tushar Mehta to look into the issue.
It may be recalled that since December 15, 2022, the Southern Angami Public Organization (SAPO) and the Southern Angami Your Organization (SAYO) had imposed a blockade on settlement, residency, trade & commerce and movement of Mao Tribe members through Southern Angami Tribe settled areas in Nagaland. There were reports of various incidents of violence including the burning of vehicles, harassment to Mao Tribe members and other unsavoury experiences.
The PIL was filed in the backdrop of such a blockade and incidents of violence purportedly linked to Southern Angami Tribe members' supposed traditional rights over the 32.29 sq km Koziirii Forest and to two-third of the Dzuko valley (11.28 sq. kms.). On record, it had been documented that areas falls under "the undisputed constitutional boundary of Manipur" as per the PIL.
Consumers' Club Manipur

Consumers' Club, Manipur joined the rest of the world in observing World Consumer Rights Day 2023 on March 15 under the theme, 'Clean Energy Transitions'. Consumers' Club, Manipur organised the observation at Manipur Press Club, Majorkhul, Imphal.
Lamlai Assembly Constitutency MLA Khongbantabam Ibomcha, president of Consumers' Club T Phulchand Sharma and former president of Consumers' Forum Redressal Forum Ch Narendra among others attended the event.
Imphal-Kasom Khullen Bus Service Launched
The long-awaited Imphal to Kasom Khullen state bus transport service was launched in Manipur State Transport office complex on March 16.
Launching the Imphal-Kasom Khullen bus service, Manipur Transport Minister Khashim Vashum said the Imphal to Kasom Khullen MST bus transport service is a long-awaited service. There were issues of road blocks or any other every week. However, the road condition is well and good now and we hope there will be no more roadblocks, the Transport Minister said.
Transport Minister Khashim also informed that travellers will have to get a ticket and pay tax for the service provided. Though most people in Kamjong district have their own private vehicle to travel, this service has been launched for those who don't have conveyance, he added.
Digital Transformation of School Education in Manipur
Union Minister of State for External Affairs and Education, Dr. RK Ranjan Lauds Prime Minister Narendra Modi for Digital Transformation of School Education in Manipur.
In a press release issued on March 17, Dr. Ranjan said the Government led by Shri Modi and Amit Shah is giving prime importance to the development of the Northeast India for the simple reason that it has been neglected since long; and it is lagging behind in all sphere of development.