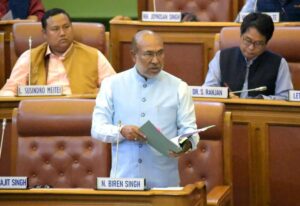 Manipur Chief Minister Nongthombam Biren on Friday, March 3 informed the Manipur Legislative Assembly that an expert committee had been formed to investigate the legalization of liquor and the committee is expected to submit a report by the end of March.
Chief Minister Nongthombam Biren's announcement was made in response to a question raised by MLA Kangujam Ranjit on the final day of the third session of the 12th Manipur Legislative Assembly. Opposition Congress MLA Ranjit's questions also referred to steps taken after the state cabinet decided to partially lift the ban on the sale, consumption and brewing of alcohol.
Manipur officially became a "dry state" when the Liquor Prohibition Act was passed in 1991, with an exemption granted to Scheduled Caste and Scheduled Tribe communities to brew liquor for traditional purposes.
Chief Minister Biren further said that Indian-made foreign liquor (IMFL) sold in the canteens of security forces was not meant for civilians. "If any civilians are found purchasing IMFL from the canteen, police will book them and take necessary action," Biren said. In 2021-22, the state collected Rs 15.52 crore in excise tax. No civilian, however, was found purchasing IMFL from the canteen, he added.
Drug Accomplices Will Be Punished
Manipur Chief Minister Nongthombam Biren on March 3 informed the House that individuals involved in drug-related cases will be treated equally and will be punished according to law irrespective of political parties, caste, creed and any others.
Chief Minister Biren informed the House, clarifying the opinions made by the members of the House regarding the government resolution moved on the Assembly floor on March 3. Opinions from both the opposition and treasury bench were made before taking the resolution.
Opposition leader Okram Ibobi expressed in the House that the government needs to take stringent action against those who are arrested in connection with drug-related cases. He said if any culprits are on bail, then the 'War on Drugs' will be meaningless.
He further said the porous international boundary is also another factor for the increase of drug-related cases in the state.
12th Manipur Legislative Assembly Ends
The third session of 12th Manipur Legislative Assembly summoned by the governor was adjourned sine-die on March 3. Speaker of the Manipur Legislative Assembly Thokchom Satyabrata informed the House that the session was conducted from February 21 to March 3.
During the whole session, there were 12 sittings; obituary reference on seven persons; discussion on governor address was held; 78 starred question; two starred question was withdrawn; 20 unstarred question; 21 papers laid; nine calling attention; two business advisory committee reports; three committee reports; one discussion of matter on public interest; eight government bills were presented and passed and one government resolution was adopted.
Speaker expressed appreciation to the staff of Manipur Legislative Assembly, police personnel, other government staff and media personnel for cooperating while conducting the session before he declared the third session of 12th Manipur Legislative Assembly adjourned sine-die.
Nagas Call For Third-Party Intervention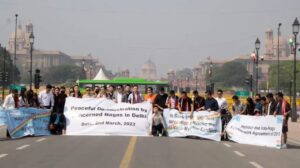 The Nagas in Delhi spearheaded by the Naga Students' Union, Delhi (NSUD) on March 2 staged a peaceful demonstration at Kartavya Path, near the Rashtrapati Bhawan in New Delhi, during the G-20 Foreign Ministers Meeting in the national capital to seek third-party intervention in the protracted Indo-Naga-Myanmar political conflict.
The demonstrators sought the attention of prominent international organisations, including the United Nations (UN), and European Union (EU), and powerful states such as the United States, Germany, China, and the United Kingdom, etc. to intervene in the Indo-Naga conflict, a release said.
"The Naga people, one of the indigenous communities in the northeast region of India and the northwestern region of Myanmar, have been fighting for their self-determination and sovereignty for over the past 70 years. The ongoing conflict between the Nagas and the Indian Government and Myanmar Government has resulted in the loss of thousands of lives, displacement of millions, and a severe impact on the socio-economic development of the region," the release stated.
The release further stated that in light of the prolonged conflict and the lack of progress towards a peaceful resolution, the Naga people residing in Delhi have called for a third-party intervention to help resolve the protracted Indo-Naga conflict. The Naga people believe that a neutral third-party mediator could provide an unbiased platform for negotiations between the Indian government and the Naga leaders, leading to a sustainable peace agreement, the release added.
Machine-Mining of Minerals Banned
Manipur Chief Minister Nongthombam Biren informed the House that the cabinet has decided to prohibit all activities associated with mineral mining in the state, including the use of machinery for sand mining in riverbeds. However, manual mining will be regulated to support the livelihoods of manual labourers, he added.
In response to a calling attention motion from opposition Congress MLA Surjakumar Okram regarding the deterioration of Thoubal River due to illegal mining, Manipur Chief Minister Nongthombam Biren stated during the Seventh Day of the 3rd Session of the 12th Manipur Legislative Assembly that manual workers can continue their work with prior permission from the Commerce & Industries and Forest Departments.
However, earlier, the Manipur High Court had ordered a complete ban on illegal sand mining, stone quarrying, and other polluting activities in all rivers of the state to prevent river pollution.
Prof Amar Yumnam Clarifies on SK Sharma's PhD Thesis
Professor Amar Yumnam reiterates that he has nothing to do with the contentious portions of Brig Sushil Kumar Sharma's Ph.D thesis entitled "Socio-economic roots of insurgency in North East India".
In a statement, Prof Amar who is now a Visiting Professor at the Centre for Economic and Social Studies (CESS), Hyderabad after his retirement as Vice-Chancellor in-charge from Manipur University said he was informed that a group of members of the Meitei Lipun had come to his home at Malom Tuliyaima on February 28. "I have also been informed of strong and harsh words in connection with the content of the Thesis submitted by Brig SK Sharma to the Indira Gandhi National Open University, New Delhi," he added.
Reiterating what he had already said in public domain about the controversy, Prof Amar said, "I am only a Co-Guide while the Main Supervisor is at the University Headquarters. A Co-Guide would only be consulted on selected areas as desired by the Research Scholar. There is no imperative that the Co-Guide should be consulted on every aspect of the issues being written. If the Research Scholar feels, he/she can go ahead without ever consulting anything with the Co-Guide. The examination and approval of the Co-Guide is not mandatory for Submission."
Prof Amar in maintained that the present issue was first raised by the united group of students' organizations in Manipur and that is exactly when he came to know of a content being objected. "In fact, I had shown to them, in my computer, the complete papers submitted to me by the Research Scholar when they visited my home. The particular terms of objection were just not there in the papers submitted to me for examination when we jointly went through the pages," he said.
Prof Amar further maintained that he is an Economist concerning with contemporary development concerns. "It must be because of this that the Research Scholar did not show me any argument that involved the terms being objected to by the Meitei Lipun. The Research Scholar submitted the Thesis to his Main University and I did not write the Thesis. The question of my approving or not approving the controversial terms does by no means arise," he added.
Prof Amar was caught in a controversy over the contentious assertions in the PhD thesis entitled, "Socio-economic roots of insurgency in North East India" that Merger of Manipur to the Dominion of India was only 700 Square miles and the Maharaja of Manipur had no Suzerainty over Tribal Chiefs of hill areas in Manipur.
It may be mentioned that Prof Amar Yumnam and Dr Sadananda Sahoo of IGNOU were the supervisors of the thesis, which, some section of Manipur society alleged that the thesis distorts the history of Manipur thereby misleading and poisoning the minds of people so as to create schism in the symbiotic harmonious relationships amongst various communities living together in the state.
Construction Worker Injured in Bomb Blast
A construction worker from Bihar was injured in a bomb blast near the residence of a Public Works Department (PWD) engineer in Manipur's Imphal West district on February 26.
The incident happened on February 26 when the bomb went off near the Public Works Department executive engineer's house in Thangmeiband Meisnam Leikai area, reports said.Top of FormBottom of Form
Vikash Kumar, the construction labourer, was working in the residential complex when the bomb blast occurred near a gate of the engineer's house, and the worker suffered leg injuries, reports quoting police sources said.
A vehicle parked near the gate of the engineer's residence was also damaged due to the explosion. The police along with forensic officials have initiated an investigation into the incident, reports added.
620 Cases Registered in Manipur Under ND&PS in 2022-23
Manipur Chief Minister Nongthombam Biren on March 3 said that 620 cases were registered during 2022-23 under the Narcotic Drugs and Psychotropic Substances (ND&PS) Act while 724 were arrested of which 474 are in judicial custody, 250 released on bail and that no person has been convicted.
Replying to opposition Congress MLA Thokchom Lokeshwar's question on the last day of the third session of the 12th Manipur Legislative Assembly, the chief minister said that no person arrested with drugs during 2022-23 has been convicted as the investigation of ND&PS cases and subsequent trial of the cases in the special courts is not complete. It generally takes more than two-three years for completion and subsequent conviction, he added.
However, 217 accused persons have been convicted in 636 judgements pronounced by the courts from 2018 till date, Biren informed the House.
Quantity of drugs seized during 2022-23 are heroin powder (No.4)- 86.015 kgs; brown sugar- 535.36 kgs; opium (kani)- 544.811 kgs; WY tablets- 412.118 kgs; ganja- 1,036.615 kgs; ICE crystal (methamphetamine)- 9.117 kgs; N10 tablets- 1342 tablets; SP capsules- 34.391 kgs; Pseudoephedrine- 151 kgs; poppy seeds- 25.935 kgs and cough syrup- 40,362 bottles.
Manipur Has 2,28,520 Hectares of Arable Land
Manipur Chief Minister Nongthombam BIren on March 3 said that there are 2,28,520 hectares of arable land under paddy cultivation in the state of which 1,07,630 hectares are in the hills and 1,20,890 hectares in the valley.
On the last day of the third session of the 12th Manipur Legislative Assembly, Chief Minister Biren said that from 2017 to January 2023, 3,017 cases have been registered under Conservation of Paddy Land and Wetland Act for violation.
Under the act, petrol pumps and LPG godowns were relaxed for public purpose and in January 2019, multi storey complex and commercial shopping malls were also relaxed for public purpose. Again, in November 2029 private hospitals were relaxed for public purposes, he said.
Chief Minister Biren responding to opposition Congress MLA Kangujam Ranjit's starred questions and in a supplementary question regarding mushrooming of private schools, the chief minister said that, if necessary, it will also be relaxed.
Replying to a question raised by MLA Paolienlal Haokip, the Chief Minister said that a district boundary commission headed by Justice Mutum Binoykumar was constituted for recognition and delimitation of the disputed boundaries of the administrative district on October 4, 2017.
Chief Minister Biren also said that 18,500.6 acres of poppy plantations have been destroyed since the inception of 'War on Drugs' campaign and added that the government will extend all possible assistance to poppy planters on humanitarian ground even if there is no definite plan to provide livelihood means for them.
Woman Arrested With 4.270 Kg Drugs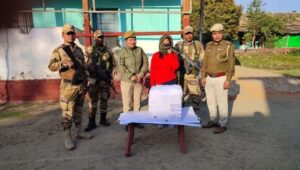 One woman possessing 104 soap cases suspected to contain Heroin No 4 weighing 4.270 kg was arrested by a team of Moirang Police Station at Tronglaobi Makha Leikai in Bishnupur district on March 1.
The team was conducting frisking and checking at Tronglaobi Makha Leikai along Tiddim road NH2 under the supervision of additional SO (LO) Bishnupur district of Satyam Takhellambam and the overall supervision of senior superintendent of Police Bishnupur district N Herojit Meetei at 9.20 am, as per sources.
One vehicle (Tata Winger bearing registration no. MN02A/8676) was stopped for checking. One woman was acting suspiciously and she was checked for verification, during which she identified herself as Khupsian Kim alias Kimboi, 33, wife of Khupkhanhau from Lal Zakham Road, Gouchinkhup Veng New Lamka in Churachandpur.
On searching her bag, 104 soap cases weighing about 4.270 kg, including the weight of the soap cases, suspected to be Heroin No. 4 powder were detected.The suspected drugs were seized and she was arrested for further necessary procedures, reports added.
Punish Not Reward Poppy Planters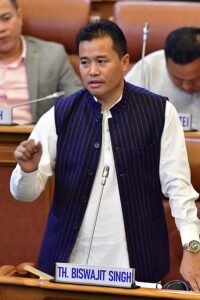 Manipur Forest Minister Thongam Biswajit on March 2 in the House of the third session of 12th Manipur Legislative Assembly opined that it is better to punish poppy planters rather than giving opportunity and suggested that the state government announce a strong punishment for poppy plantation.
The minister said this in response to a starred question put up by MLA Paolienlal Haokip regarding alternative livelihood of poppy planters.
Biswajit further informed that the forest department is taking up afforestation programmes in degraded forest lands including the barren lands affected by the poppy plantations. However, there is no specific programme for afforestation of barren areas affected by poppy plantation at present, the minister added.
The minister said that the horticulture and soil conservation department has submitted a project proposal 'Alternative livelihood for poppy farmers with permanent (terrace) cultivation on jhum lands through integrated approach in the hill districts of Manipur' to DoNER which includes plantation of high value crops or fruits.
Forest department has also carried out plantation over 142 hectares of barren lands affected by poppy plantation, he said, adding that the project 'Alternative livelihood for poppy farmers with permanent cultivation on jhum lands through integrated approach in the hill district of Manipur' includes plantation of high value crops or fruits over 10,000 acres in poppy affected areas as an alternative livelihood to poppy farmers.
Poppy Plantations Destroyed in Tml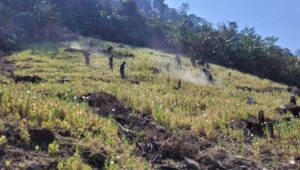 About 21 acres of poppy plantations consisting of approximately 4,20,000 poppy plants were completely destroyed at Kaimai Kuki village under Tousem subdivision in Tamenglong district by a joint team on March 2.
The joint team comprised of additional SP Highway Imphal-Jiribam John Lokho, OC Tousem Manatha Kamei, Tamenglong Forest Division, NAB Manipur, 39 AR Kaimai CO, 7 IRB Kaimai, 5th MR, Tamenglong, 87 CRPF was led by Tousem SDO Paul Nangsha.
The SDO told the media that the total value of opium from the plantation will be approximately Rs 10,2,90,000 if calculated at the rate of Rs 70,000 per kg at the local market.
SDO Tousem warned the village authorities and villagers that stringent action will be taken up as per law against those who are engaged and involved in the poppy plantation. He asserted that anyone involved in poppy plantations in the region will not be spared, reports added.
Poppy Cultivation Destroyed in Saikul
Kangpokpi Forests Division carried out destruction of illegal poppy cultivation in the hill ranges of Tolthang, near M Ngamneh, Saikul subdivision on March 3 destroying a total of 2.5 acres of illegal poppy cultivation. The team, led by Nitesh Khullem, Forester, Saikul Range of Kangpokpi Division, included a total of 15 Forests personnel in the poppy destruction drive.
Reports quoting the Divisional Forest Officer, Kangpokpi Forests Division, N Ganesh said, the Division acted swiftly on a clip that was circulated in social media regarding an unidentified area under illegal poppy cultivation, by launching an investigation. Once the site was located, the destruction drive was planned and the concerned DC was requested to depute a Magistrate to oversee the destruction process. Thereafter, the destruction was carried out as per law and under the supervision of the deputed Magistrate.
He continued that as a part of the government's effort in the "War on Drugs", the Division has been carrying out destruction of illegal poppy cultivation from the month of November last yeast till date and so far, the destruction drive has been carried out at 36 (thirty-six) sites at different hill ranges under the Division.
The DFO also pointed out that a total of 350.75 hectare of area under illegal poppy cultivation, including 62 hectare inside Reserve Forest, 206.3 hectare inside Protected Forest, and 81.43 hectare under Unclassed Forest has been cleared till date.
Manipur Local Body Elections by April
Manipur Rural Development and Panchayati Raj Minister Yumnam Khemchand on March 2 informed the House that the state government has taken the decision to conduct elections to local bodies, namely ADC, Rural Panchayat and IMC, by April if no legal complicacy is found.
The policy cut motion was raised by opposition Congress MLAs Kangujam Ranjit and Keisham Meghachandra on the demand of Panchayat on account of delay of Panchayat Election.
Clarifying the policy cut, Minister Yumnam Khemchand informed that in October 2022, the Zilla Parishads had tendered their resignation after the state cabinet's July 21, 2022 sitting decided to conduct local body elections by April, 2023.
Leader of the House, Chief Minister Nongthombam Biren, supplementing the clarification, informed that the state government was planning to conduct elections to local bodies that included ADC, Rural Panchayat and IMC on different periods. However, the government has decided to conduct those elections by April if there is no legal conspiracy, the Chief Minster said.
Over 2,484 Show-Cause Notices Paddy Land encroachments
Manipur Chief Minister Nongthombam Biren on March 1 said that to preserve agricultural land and as preventive measures, the government has served a total of over 2,484 show-cause notices for illegal construction on paddy land and over 160 vehicles were seized along with construction materials.
Chief Minister Biren, who is also in charge of revenue, was responding to a motion for disapproval of policy cut raised by opposition Congress MLA Kangujam Ranjit on March 1 in the 3rd session of the 12th Manipur Legislative Assembly.
MLA Ranjit raised the motion for disapproval of policy cut during 'discussion and voting on demands for grants in Land Revenue, Stamps and Registration and District Administration on account of inability to preserve agricultural lands.
Clarifying the disapproval of policy cut motion, Biren, who is also leader of the House, said Manipur Conservation of Paddy Land and Wetland Act 2014 was formed in order to conserve the paddy land and wetland and to restrict the conversion or reclamation thereof in order to promote growth in the agricultural sector in Manipur.
However, due to improper implementation in the field the government found many cases of constructing illegal structures in paddy fields which leads to decreasing in paddy fields. He said, in the entire geographical area of the state, there is approximately 8 per cent of paddy land. The government formed the Act to conserve the paddy land, he added.
In continuation of necessary steps taken under the Act, the government has seized a number of vehicles, and served many show cause notices to over 2,484 in the last few years, he added. He said to conserve the paddy lands of Manipur support is needed from the MLAs and public as the concerned department might not be able to save paddy lands.
Lungnila Elizabeth killers convicted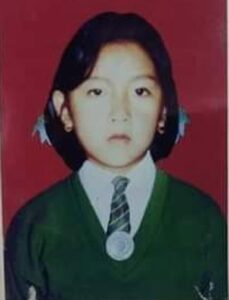 Twenty years after the incident took place, the Session Judge, Imphal East on February 28 convicted the two accused who had kidnapped and subsequently murdered Lungnila Elizabeth in 2003 November.
Eight-year-old Lungnila Elizabeth, daughter of former Power Minister Francis Ngajokpa, was kidnapped from outside her school. A week later, despite the ransom demand being met, her body was found from a place in the outskirts of Imphal.
The accused, N Rome Meitei and Letkhosei Haokip aka James Kuki, were convicted under section 120-B IPC, section 364-IPC and section 302 IPC.
The Central Bureau of Investigation (CBI) had filed chargesheets against four accused namely Thokchom Nando Singh, 25 of Khangabok Part-III, Ningombam Rome Meitei, 35 of Bashikhong, Okram Deben, 28 of Langthabal and the prime accused Letkhosei Haokip alias James Kuki, 34.
The main accused of the Lungnila Elizabeth murder case, Thokchom Nando Singh aka KCP Nando was killed by an underground outfit on March 3, 2021.
On February 28, Letkhosei Haokip was produced from judicial custody and N Rome Meitei was present with his counsel.
After hearing the submission from counsels and perusal of the materials on record, the court opined that the evidence inspired confidence of the court that the accused, in conspiracy with co-accused persons, kidnapped the child on November 4, 2003, took ransom and murdered her on November 12, 2003.
However, the court also stated that no evidence of rape committed by the accused is found. The prosecution could bring home the charges under section 120-B IPC, section 364-A IPC and section 302 IPC home.
Therefore, the accused, Ningombam Rome Meitei aka Romen aka Micheal aka Ramesh aka Loyalakpa, was on bail but his bail was cancelled and remanded into judicial custody till March 13, 2023. Moreover, Letkhosei Haokip has also been remanded to further judicial custody till March 13, 2023. The court convicted them and directed the CBI to produce them on March 13, 2023 for sentence hearing.