Humans find varieties of meaning in their lifetime. The 'purpose of life' is one of the riding powers making us face the uncertainties of life. The arrival of spring season, Easter season and lunar New Year celebrations worldwide are but invitations for us to find newer meanings for life. There is not one big cosmic meaning for all; there is only the meaning we each give to our life, an individual meaning, an individual plot, like an individual novel, a book for each person" (Anaïs Nin).
Logotherapy, developed by Viktor Frankl (a neurologist and psychiatrist) is based on the principle that the primary motivational force for any individual is to find meaning in life. More than power or pleasure, logotherapy drives humans to find purpose in life. Therefore, logotherapy is "healing through meaning", a meaning-centred approach to life. Each person is a unique and irreplaceable human being whose existence is characterized by freedom of choice, personal responsibility, and a human spirit. The core principles of logotherapy are: (1) Freedom of Will – We can choose how we respond to life and are personally responsible for our choices. (2) Will to Meaning – We are motivated to find meaning, and when this search is upset, we experience existential frustration and feelings of meaninglessness. (3) Meaning of Life – We are called moment-to-moment to answer the demands that life places on us. The focus is not on what we feel we deserve from life but on our responsibility to give to life. We have the ability and the ultimate necessity to self-transcend to improve humanity.
The Japanese concept "ikigai" which translates roughly as "the happiness of always being busy," is like logotherapy, but it goes a step beyond. It also seems to be one way of explaining the extraordinary longevity of the Japanese, especially on the island of Okinawa, where there are 24.55 people over the age of 100 for every 100,000 inhabitants – far more than the global average.
Ask these questions yourself, "Am I adding meaning to my life? Is life adding meaning to me?" Life is a constant search for meaning. Some find it early, while others don't. Life is a gift from God, and what you do with your life will be a gift to God in return. No one of us deserves life, but God has given us as a gift. We should be grateful for this most beautiful gift on earth. Life is a stage between non-existence and death. Death can become the beginning of our non-existence. Life is a brief period. We need to give meaning to this short life. We don't know when the death knell will call us. It is an unpredictable journey. Therefore, we have to make meaning with this short time.
We constantly daydream. We continuously create a world that doesn't exist. When some external force offers meaning, we become mere slaves to that definition of life. However, life becomes meaningful when we create, re-create, invent, re-invent, find, re-find, define, and re-define our lives through the up and down experiences.
The meaning of life is to give sense to whatever happens to self. This is accepting what comes and dealing with it. If you see life as a problem, then you have only problems. If you see life as a programme, you have plenty of time to attend all the programmes and enjoy the fun. It depends much on how you look at life. On all these ordinary occasions, you need to reaffirm and reassert yourself.
Shad Helmstetter challenges us, "Do you want to live with a bad programme? Do you want to go through the rest of your life literally at the mercy of a programme you don't want? You don't have to. You can override almost any conditioning you have ever received in any part of your life. It makes absolutely no difference how, where, what, why, or how you have been in the past. It makes no difference what you believe about yourself or what others have believed about you. It makes no difference what circumstances life may have tossed in your lap. You can put yourself in control. Now it's your turn. You can re-programme. You can erase the old negative, counter-productive, work-against-you programming and replace it with a healthy, new positive, productive kind of programming. And it's easy. Erase and replace. All you have to do is learn how to talk to yourself." Now, learn to talk sensible things to yourself. Do not speak negative things to yourself. Consciously try to say positive things to yourself. Feel positive vibes, remember encouraging experiences, and think about the people supporting you.
Exercise: You can stop reading now and consciously tell yourself what you should be in the next minute, next hour, next day, next month, a year from now. If you want to grow in life, you need to have a frank and straightforward talk to yourself and open your life's good and not-so-good chapters. Remember, the programming you have received from enemies, rivals, or unsound sources affects you subconsciously. You need to remove them one by one, intentionally and steadily. This is a process. Don't expect to overcome within a day or two. It would be best if you had time. You need to fruitfully use your time and employ your vision to eliminate harmful programming. The most significant wall you ever have to climb is the negative programming you have received. You add more meaning to your life when you un-learn negative programming you have so far received and retained. At this springtime, New Year time, Easter season, let us reflect: What is the meaning I give to my life; Let me not live in the wrong programme; I decide to re-programme my life; I shall get help if necessary; I shall learn to talk about positive things to myself; I need time to re-programme myself.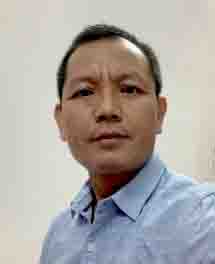 The author is a PhD research scholar, Department of Sociology and Social Work, CHRIST (Deemed to be University), Bangalore, Karnataka, India. Email: [email protected]