Protest Rally at Kangpokpi Turns Violent
A protest rally on March 10 organised by the Kuki Students Organisation (KSO)-GHQ and the Indigenous Tribal Leaders' Forum (ITLF) in Kuki dominated districts over the government's move to evict those it considers encroachers in government reserved forests turned violent in Kangpokpi district.
Several protesters and security force personnel got injured in Manipur's Kangpokpi district as violent clashes broke out after police tried to stop the rallyists who were protesting the alleged injustice of the state government against the land rights of the tribal population. The Protestors alleged encroachment of tribal lands by reserved forests and wildlife sanctuaries.
At least five protestors were injured as security forces threw teargas shells at the locals. A few police personnel including Superintendent of Police (SP) of Kangpokpi district also sustained injuries after being hit by stones from the protestors, reports said.
Earlier, defying restrictions orders, a large number of people from across the district converged at Brig Thomas Ground at Kangpokpi district headquarters to take part in the rally. The rally started at around 11.20 am and when they reached the DC office to submit a memorandum, a strong police force stopped them from further proceeding informing the rallyists of the restriction under section 144CrPC promulgated by the DC.
When the participants ignored this warning and tried to forcibly march forward, a commotion broke out between the police and rallyists.
Similar protests were reportedly carried out in Manipur's other districts of Churachandpur, Chandel and Tengnoupal as well but were peaceful, reports added.
Drug Manufacturing Unit Busted In Imphal East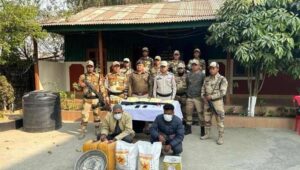 A drug manufacturing unit at Yairipok Changamdabi, Imphal East was busted early March 9. At least two persons were arrested along with large quantities of drugs by the Thoubal police. While the police was trying to sieze drugs unknown persons fired a round at the police, reports said.
According to police, on March 9 at about 4.45 am, Thoubal district police reeceived a tip off regarding concealed illegal drugs at Yairipok Changamdabi Mayai Leikai. As per the information, teams of Thoubal commando and Women Police arrested one Khulakpam Abdul Ali aka Raghu, 32, son of Late Md Suyeb Ali of Yairipok Changamdabi Mayai Leikai, Imphal East at 6:20 am and seized a large quantities of drugs from his house.
The drugs included suspected Heroin No 4 powder weighing 906 gm, suspected opium weighing 936 gms, suspected Ammonium Chloride powder weighing 279 gm and suspected brown sugar weighing 5 gm, all weighed including the weight of the plastic, the police source disclosed.
'Manipur Tops in Non-Issuance of Utilisation Certificate'
Manipur has once again come out on top in the list of states failing to issue utilisation certificates for various works in different departments, said social researcher Serto Tondang Kom. Addressing the press meet at the Manipur Press Club on March 5, Serto said that in comparison to the entire Northeast India, excluding Assam, Manipur tops in awaiting utilisation certificates since 2009.
According to the State Finance Audit Report – 2022, which is audited till March, 2021, it is reported that 6,664 utilisations certificates are awaited and the amount is Rs 11,331,76 crore, he said. For 2017-18, the number of awaited UCs are 4,288 with amount Rs 6365.17 crore; 2018-19- 5,399 UCs with amount Rs 8685.15 crore; 2019-20- 6664 UCs with Rs 11331.76 crore, Serto Tondang said.
Tondang further said, from 2009 to 2020, utilisation certificates awaited in RD&PR is 635, development of tribal affairs and hills development-2377, education (S)- 1078, power-148, medical and health-90, MAHUD-273, Planning-156, education (U)- 335, horticulture and soil conservation- 188, forest department-103, art and culture department-474, social welfare-114, general administrative department-154, labour department-17, agriculture department-44.
Compared to 6,664 utilisation certificates awaited in Manipur, Mizoram has 151 utilisation certificates awaited, 1,436 in Sikkim; 630 in Tripura; 251 in Nagaland; 259 in Arunachal and 393 in Meghalaya, Serto Tondang added.
Four Houses Gutted in Fire in Churachandpur
Four houses were gutted in a fire which broke out at Tuibong, Churachandpur around 12.30 pm on March 7. Fortunately no casualties were reported.
An electric short circuit at a rented house is suspected to have caused the fire. The rented house occupied by tenants is owned by one Ingocha and David Suondinglien. An estimated cost of Rs 1 crore was damaged by the fire.
A fire brigade team rushed to the spot but the congested road gave obstacles as the incident happened near the busy Tiddim Road of Churachandpur where the traffic remains busy and moves slowly at peak hours, reports added.
Local Contractors Hold Protest
The Manipur government is draining the economy of Manipur by ways of handing contract works of the Water Resource Department to outside-based companies instead of awarding the contract to local contractors, alleged the Water Resources Department Contractors' Association (WRDCA).
Opposing the government's action, WRDCA members on March 6 staged a sit-in protest in front of the Water Resource department at Khuyathong in Imphal West, demanding to provide contract works to local contractors instead of giving it to the non-local firms.
Speaking to the media, WRDCA president Th Debendra claimed that most of the local contractors have been side-lined on excuses of not fulfilling the criteria to meet the targeted bids and the contracts have been handed over to non-local companies BIPL, Key Stone and others. As a consequence, the local contractors including their work forces which include local labourers and engineers are facing hard times in running their families.
"Awarding of contracts to outside companies may bring infrastructure development in the state, however in other aspects, the economy of the state is draining away," said Debendra.
13th Journalists' Sports Meet 2023 Concludes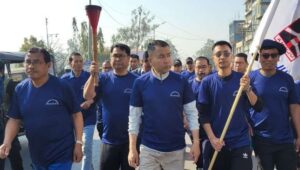 The 13th Journalists' Yaoshang Sports Meet 2023 of the All Manipur Working Journalist Union (AMWJU) was held this year too.
The opening ceremony was held on March 7 at the Manipur Press Club Imphal with Health and Information and Public Relations (IPR) Minister Dr. Sapam Ranjan lighting the ceremonial torch.
Sacred fire of Kangla was collected for the torch by the IPR Minister Sapam Ranjan and AMWJU president Wangkhemchan Samjai accompanied by the fellow journalists and proceeded towards the Press Club as a torch rally.
CSOs call for halt to large dams
Various civil society organisations (CSOs) in India's Northeast have called upon the government to stop all false projections of large dams as climate change friendly in the region, and to stop illegal mining and oil exploration.
The civil society organisations include the Centre for Research and Advocacy, Manipur; Affected Citizens of Teesta, Sikkim and the Borok Peoples Human Rights Organization, and the Tripura and Civil Society Women Organization, Meghalaya.
The serious concern was raised during the North East India Consultation on protection of Indigenous Peoples' Land and Human Right from March 4 to 5 in Imphal. The consultation programme was organised by the Centre for Research and Advocacy, Manipur, in collaboration with the Affected Citizens of Teesta, Sikkim and the Borok Peoples Human Rights Organization, and the Tripura and Civil Society Women Organization, Meghalaya.
During the consultation, the CSOs called on the Government of India to revoke plans to build the 520MW Teesta IV Hydroelectric Project in Sikkim, the 2880 MW Dibang dam, the 3097 MW Etalin Hydroelectric Project in Arunachal Pradesh, the Umngot dam in Meghalaya, the 1500 MW Tipaimukh dam, the 190 MW Pabram dam, Irang dam, etc. in Manipur.
Expressing concern over mega dams built and proposed over the rivers for submerging land and displacing people for desecrating cultures, causing flood and loss of biodiversity, the CSOs has called to stop all false projection of large dams as climate change friendly in North East India.
MR Sentry Guns Down Liquor Customer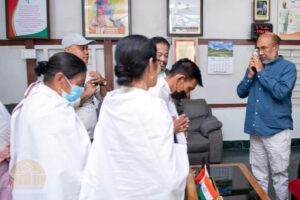 A havildar of 2nd Battalion of Manipur Rifles (MR) situated at Kabo Leikai in Imphal East, on sentry duty, reportedly gunned down a 37-year-old man at the main gate of the battalion on the night of March 9 following a heated argument.
Five persons, including the victim, were coming in a car purportedly to buy liquor from the Battalion's canteen around 9pm, when the havildar, identified as N Priyokumar, barred their entry, reports said.
Following a heated argument, Priyokumar from the Lilong area in Thoubal district who was on duty shot at Lukram Monsieur from Uripok Khumanthem in Imphal West district, with his licensed gun, reports said. Subsequently, Monsieur was rushed to a nearby private hospital where he succumbed to his bullet injuries, reports added.
Meanwhile, the JAC members formed against the death of Lukram Monsieur Singh of Uripok Khumanthem Leikai in Imphal West called on the Chief Minister Nongthombam Biren on March 11 demanding punishment of the murderer. A case has been registered on the unfortunate incident and further actions will be taken up.
IED Planted At Wabagai Lamkhai
An improvised explosive device (IED) was reportedly planted outside the gate of an oil pump at Wabagai Lamkhai in the Kakching district of Manipur by suspected insurgent cadres. On March 9 afternoon a bomb disposal team was dispatched to the area, and the IED was safely defused.
A joint team of police and Assam Rifles discovered the explosive device on March 9 around 9AM in the Wabagai Lamkhai section of the Waikhong police station, according to the police.
Traffic was stopped and public movement was limited shortly after the IED was discovered.
The bomb was defused after around five hours of work by the Manipur police bomb detection and disposal squad, who were on the scene immediately, reports added.