Thirty contestants of the Miss Femina India 2023 Grand Finale were accorded a warm welcome with traditional Leirum lengyan ang Kajenglei upon their arrival at Bir Tikendrajit International Airport in Imphal on April 7.
Just after their arrival at Imphal International Airport, the leaders of various organisations especially the women organisations welcomed the contestants. They also handed over the traditional clothes to them as a gift. Each of the contestants was honoured with Kajenglei, traditional head gear of woman by the well-wishers.
The grand finale of the 59th edition of India's coveted beauty pageant contest is scheduled on April 15 at the Khuman Lampak Indoor Stadium in Imphal East.
It is for the first time in the entire Northeast Region that the Grand Finale of Femina Miss India will be held in Imphal.
The beauty pageant which will feature 30 state winners who will be competing for the coveted title and the winner of the pageant will represent India at the Miss World pageant.
The Tourism Ministry and the Times Group had signed an agreement to officiate the partnership and exchanged the agreement to hold the beauty pageant in Imphal, in the presence of Chief Minister Nongthombam Biren and Vineet Jain, Managing Director of Times of India.
According to an official release, the glamourous evening of the beauty pageant will witness the attendance of many celebrated personalities. The star-studded night will also feature performances by entertainment industry's biggest names Ananya Panday and Kartik Aaryan. The show will be anchored by the magnetic Maniesh Paul and the stunning Bhumi Pednekar.
The state winners will be walking the ramp in gorgeous ensembles designed by the iconic designers Rocky S and Namrata Joshipura, and a special showcase by Robert Naorem, featuring traditional costumes, the release said.
This special segment will aim to promote the textile, art and culture of the state and the 30 state winners shall be judged by a panel consisting of Femina Miss India Universe 2002 and Mentor Neha Dhupia, boxing icon Laishram Sarita, and designers Rocky S and Namrata Joshipura.
Some of the former and the reigning Miss India winners will also be putting up a dance performance through a fashion segment, besides the overall event will be graced by Chief Minister Nongthombam Biren as chief guest, the release added.
It is worth mentioning that the Femina Miss India is the country's most sought-after glamorous beauty pageant that turns dreams into reality. The talent hunt involves a careful search for the most promising candidate, poised with beauty, confidence, elegance, and intelligence, to represent India at Miss World.
Miss Manipur 2017 Thounaojam Strela Luwang, who is representing Manipur in the Femina Miss India 2023, has already bagged two subtitles, namely Colorbar Miss Glamorous Look and Trends Miss Style Icon, during the top 30 round of the ongoing beauty contest on March 22, 2023.
SC Notes Mao-SAPO case
The Government of India has assured the Supreme Court that it would look into the issues and grievances raised in the Public Interest Litigation (PIL) with regard to the "ban on entry and movement of Mao community members by Southern Angami community members namely Southern Angami People Organisation (SAPO) and Southern Angami Youth Organisation (SAYO)".
The Solicitor General of India, Tushar Mehta on April 5 assured the Supreme Court that the issues/grievances raised in the PIL are being discussed and looked into at the appropriate level and some decision is likely to be arrived at within three weeks.
The PIL was being heard before the Supreme Court of Chief Justice of India, Justice DY Chandrachud and Justice JB Pardiwala. The Solicitor General sought three weeks' time and accordingly, the Supreme Court fixed the next hearing of the matter on May 4.
SC unhappy with Manipur HC
The Supreme Court (SC) has expressed displeasure with the Manipur High Court (HC) for not complying with the judgment of India's highest court. The Supreme Court had set aside the proceedings of a DPC of Manipur HC determining appointment to the post of assistant registrar.
The SC had directed for considering the promotion of an employee of the High Court on the basis of two years' Annual Confidential Report (ACR) instead of conducting fresh DPC.
The apex court of India on February 24 set aside the HC's DPC proceedings stating failure to accord sufficient time for an employee to challenge the assessment of their performance for a particular year in an ACR before the departmental promotion committee is convened.
The SC had passed the judgment in connection with a writ petition filed by an employee of the high court, RK Jibanlata Devi who claimed that she was entitled to be promoted to the post of assistant registrar on the basis of a seniority-cum-merit calculus.
23 Myanmar Nationals Detained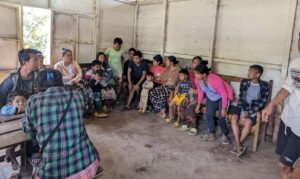 At least 23 Myanmar nationals were apprehended from Kawnpui village in Churachandpur district by Churachandpur police, following a search operation on April 6.
Police sources said two large teams of police personnel led by two additional SPs conducted a search operation at Kawnpui village in Churachandpur district. During the operation, the police detected and apprehended 23 Myanmar nationals from two locations. The illegal immigrants were apprehended, following order vide No.04 /215/2023-DC /CCP dated March 31, 2023 issued by district magistrate Churachandpur.
The detained Myanmar nationals include six males, 10 females and seven children (five boys and two girls). They will be temporarily shifted to the Sadbhavna Mandap, Khominthang in Churachandpur for some days, sources added.
Manipur Police Destroyed 4305.1 Acres of Poppy Plantations in 2022-23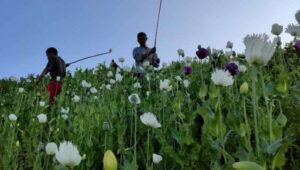 Manipur Police destroyed 4305.1 acres of illegal poppy cultivation in 2022-23. Destruction of poppy plantations was initiated as a part of the state government's 'War on Drugs' mission in order to root out drugs for a drug-free Manipur.
Manipur police department has destroyed 787.3 acres of poppy cultivation since January to till March 30, 2023 and similar drives will continue to destroy more poppy plantations.
According to a report from Manipur Police, in the year 2022-23, the state police department carried out the destruction of poppy plantations in various districts of Manipur and destroyed 4305.1 acres of illegal poppy cultivation.
From 2017-2022, drugs worth Rs 317.97 crore were seized while in 2022-2023, drugs worth Rs 136.93 crores were seized.
During 2017-2022, around 14,359.4 acres of poppy cultivation were destroyed and 20 acres of Cannabis cultivation was destroyed too. And during the same period, 1,960 persons (1,594 males and 366 females) were arrested with 720 persons (582 males and 138 females) arrested in 2022, the report said.
In 2022, drugs worth Rs 122.78 crore were seized, 625 persons (512 males and 113 females) arrested and 3,517.8 acres of poppy cultivation destroyed.
In 2023 till March 30, drugs worth Rs 25.36 crore were seized, 165 persons (132 males and 33 females) were arrested in 175 cases and 787.3 acres of poppy cultivation were destroyed, the report added.
Moreover, 116 persons have been detained under NDPS Act. During the period from January 1, 2020 and till date, 80 people, including 16 village chiefs, 62 cultivators and two investors were arrested. During the period from 2017 till date, 44 persons were convicted in 28 cases.
The Manipur government also destroyed a total area of 212 acres of poppy plantations by using drones and spraying herbicides in Kangpokpi, Chandel and Churachandpur districts, the report added.
Woman Arrested With Heroin Powder
A team of Sugnu police on April 6 arrested a woman and seized 139 grams of suspected heroin number 4 from her possession.
According to sources, the Sugnu police team was conducting a routine patrol at the Zou Veng Village in Kakching district, Manipur around 3 pm. The team spotted two suspicious women who ran away on seeing the police, a release said.
The two women ran into the residence of one Nengsuan Zou, 60, wife of late Pausuan Zou from Zou Veng Village. The police team rushed to the house and detained one woman while the other managed to escape, leaving behind two bags, it added.
It continued that the detained woman identified herself as M Carolyn Chinkholhing Haokip, 22, wife of Lalpi Zou, 23, from T Zoumun Village near Sugnu Pamang Leikai. She identified the other woman who had escaped as Nengsuan Zou, 60, wife of late Pausuan Zou from Zou Veng Village, it stated. She also admitted to supplying heroin to the youths in and around Sugnu, it said.
It maintained that the team arrested the detainee and searched the two bags which were carried by the two women and found 19 tobacco cans containing suspected heroin powder which weighed 139 grams along with Rs 47,330 in cash.
Couple Arrested With Heroin Powder
A team of district commando, Kakching seized 1.426 kg of suspected heroin powder, while a drug peddling couple was arrested on April 6.
The arrested couple has been identified as one Mang Khup Haokip, 36, and his wife Lamkhoneng Haokip, 29, from Toitung village, Chakpikarong, Chandel district, a police report said.
A police report stated that acting on information of drugs being smuggled from Chakpikarong side to Sugnu, a district commando team led by subedar S Birla along with sub-inspector Th Robindro Brown conducted a random frisking and checking near Serou Lamkhai.
A four wheeler (Mahindra Bolero) bearing registration number MN 07D-1206 was detained. On verification, the driver and occupant were identified as Mang Khup Haokip and the occupant as Lamkhoneng Haokip and they were a couple. On checking the vehicle, as many as 110 soap cases suspected to be containing heroin powder concealed in the side door of the vehicle were detected.The suspected heroin powder was found to weigh 1.426 kg in total.
CADA Continues Protest Against Liquor Legalisation
Coalition Against Drugs and Alcohol (CADA) and Nupi Samaj continue its protest against State Government's legalisation of liquor. CADA along with the locals of Takhel demonstrated a sit-in protest at the Ching Tam Community Hall of the Panthoibi Bazaar, Takhel in Imphal East at 11.30 am on April 3.
A release by CADA stated that CADA along with All Manipur Women Social Reformation and Development Samaj (Nupi Samaj), Takhel Chaokhat Khongthang Nupi Lup and CADA demonstrated the sit-in protest along with the locals against the legalisation of liquor in the state.
Drug Awareness Campaigns in Educational Institutes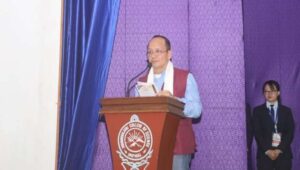 Manipur Education Minister Thounaojam Basantakumar on April 3 stated that awareness campaigns against drugs will be initiated at schools and colleges across the state to protect students, who are main targets of drug abuse.
The Education Minister was speaking at the inaugural event of the second Continuing Medical Education (CME) programme organised by DDU Kaushal Kendra Dhanamanjuri Community College, which will be held for three days, at central hall D M College of Science, Imphal. The CME programme has been organised under the theme 'Advances in Allied Healthcare Sciences'.
Seigunlal Murder Case Handed Over To NIA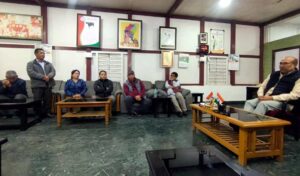 Manipur Government has decided to handover the case of Seigunlal Misao, the Class 12 student who was shot dead by unidentified gunmen in Kangpokpi district last month, to the National Investigating Agency (NIA) to expedite justice.
In a statement issued on April 2 by the Manipur police, the state government has decided to hand over the investigation of Case FIR No.11 (3)2023 of Gamnom Sapermeina Police Station to the National Investigating Agency for expeditious investigation and early disposal of the case in public interest.
At about 8:30 pm on March 25, 17-year-old Seigunlal Misao was shot dead by unidentified miscreants, including a woman, near his residence at Sharon Veng, Motbung model village.
Then, a joint action committee (JAC) formed in connection with the case demanded the state government to book the culprits at the earliest and handover the crime case to the national agency.
Later, the rebel group National Revolutionary Front, Manipur (NRFM) claimed responsibility for killing Misao alleging him as a drug peddler.
MPP Interim President's Term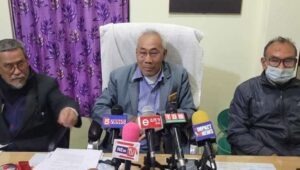 The Civil Judge Senior Division, Imphal West, on April 5 vacated an ad-interim injunction order passed by the same court which stayed the operational of MPP election order (Order No 4/MPP/GA/2022) and allowed extionsion of MPP interim president's term for six months.
Following a Judicial Misc case filed by four individuals (including two members of MPP) against MPP interim president Ch Shamjai, and two others as OP defendants and ECI as proforma defendant, the court, in an order issued on March 31, had stayed the MPP election order and denied extension of the office term of MPP interim president.
The development of vacating the ad-interim injunction order dated March 31 comes after the court learnt that the petitioner counsel did not disclose that there is a caveat petition filed against the petitioners.
Meanwhile, the court had issued notice to all the defendants for appearance with written objection (if any) of April 14 which is fixed as the date of the next hearing of the case.
Imphal-Ukhrul Road Widening Hurdles
Union Minister for Road Transport and Highways, Nitin Gadkari on April 5 said the delay in land acquisition and forest clearance had hampered the upgradation and widening work of National Highway-202 from Yaingangpokpi to Finch corner in the Imphal-Ukhrul road.
The Union Minister for Road Transport and Higways gave the statement on the floor of Parliament in reply to an unstarred question raised by Rajya Sabha MP Leishemba Sanajaoba.
The MP from Manipur raised concerns on the unsatisfactory progress of the road construction even after completion of three years.
Replying to the unstarred question, Nitin Gadkari informed that the work is targeted for completion by May 2024 and elaborated that the work is being executed in two packages of 17 km and 14 km respectively.
Nitin Gadkari said, of the total length of 17 km in package one, land in 16 km has been handed over by the state government and compensation estimate for 860 metres is under finalisation by the deputy commissioners of Ukhrul and Kangpokpi districts.
In respect of package two, land in the entire 14 km has been handed over, he said, adding that the forest clearances for both packages have been accorded by the Forest Department on March 1, 2023.
At present, the physical progress achieved in package one is 52.03 per cent and in package two is 43.52 per cent, the Union minister said in his reply.
Police Commando Rush to Ukhrul After Bomb Blast
A commando team led by DSP (Ops) Imphal West Md Riyaj from Imphal rushed to Ukhrul on April 4 to investigate the bomb blast which occurred on April 3 at Viewland Baptist Church near Viewland Community Road under the jurisdiction of Ukhrul police station around 6.23 pm.
Reports said the state government deployed a team of 70 special police commandos from Imphal West and Imphal East combined to be on strict vigil as there were frequent reported incidents of miscreants planting bombs in Ukhrul town.
According to police, the team has not initiated any form of cordon and search operation for now. The team has been collecting information about the blast and about the movement of the unknown miscreants. They have also been looking into the areas where UG groups are dominantly active.
Meanwhile, the number of casualties in the bomb blast has reached six. They are Mangal Mahato, 55, from Bihar; Sanjay Kumar Prashad, 30, son of Laxman Bhagat from Bihar; Arjun Dhan, 26, son of Prakash Dhan from Leimakhong Kangpokpi District; Sanjay Uprety, 27, son of Krishna from Charhajare Kangpokpi District; Satynarayan Gupta, 36, son of Devakumar Gupta from Bihar and Neeraj Kumar, 26, son of Devendra Mandal from Balia Indrajit Muzaffarpur, Bihar, reports added.
'Doctorcare' Mobile App Launched
'DoctorCare', a mobile application, which allows anyone to schedule a doctor's appointment, was launched on the occasion of 'World Health Day' at Sangai Hall of Hotel Imphal in Imphal East on April 7.
The mobile application, which is claimed to be the first of its kind in the state, was launched by Thangjam Dhabali who is the chairman and managing director of Babina Healthcare and Hospitality Industries Pvt. Ltd. under the theme 'Health for All'. The mobile application will be beneficial to patients from far flung areas of the state.
'DoctorCare' is a platform where anyone can schedule a doctor's appointment via the mobile app and it is available at Google PlayStore or by calling toll-free number 1800 889 3431.