The state government on January 13 celebrated with fanfare Manipur being awarded "The most improved state overall" in India Today's "state of the states" survey for three years consecutively. The state level celebration was organised by Department of Planning at the City Convention Centre Imphal East.
The program was attended by ministers, MLAs, high ranking officials and they jointly took stock of various developmental program taken up so far during this government. Recognising the contribution made by every department to achieve the award, all the high-ranking officials were honoured on behalf of their respective departments.
Police performance
A power point presentation in connection with the activities of the Manipur Police department was also given by the Director General Police, P Doungel. Along with this, Chief Secretary of Manipur, Rajesh Kumar also highlighted some projects which are underway.
The India Today had presented its "Most improved small state overall" awarded to Manipur based on some of the key factors. They include identifying roots of problem, sportsmanship, mass outreach like Go to hill, Go to Village, reduced insurgency, developing rural and local economy and infrastructure development.
Doungel pointed out that during January 1, 2022 to January 11, 2023, 512 case was registered and 715 persons were arrested under ND and PS act and drug worth Rs 1,23,24,61,305 confiscated. The number of persons convicted under the said act stands at 32. The total poppy cultivation area destroyed by state government was 3517 acres.
Regarding enforcement of ILP, he said that there are now six entry points to the state, namely Jiribam, Mao, Airport, Sinzawl, Jesssami and Khongsang. The temporary permit issued was 2,61,350, revenue collected was Rs 3,71,33,600, number of permits verified was 40,461, arrested person was 1,013 and number of people sent back was 109.
Rajesh Kumar said that many externally aided projects worth Rs 9,141 crore are in pipelines and externally aided projects worth Rs 5,712 crores are already under implementation. About connectivity, Jiribam-Imphal Railway would be completed by December 2023 and construction of new airport terminal building of Bir Tikendrajit International Airport estimated to cost Rs 357 crore is targeted for completion by March 2024.
Addressing the function as chief guest, Chief Minister N Biren Singh highly appreciated all the officials of the state government and people of the state for their parts in bagging this prestigious award. "Without support from people of the state and government department, we cannot bring change in the state," he said.
Biren also said keeping in mind that public health is primary, super specialty facilities will now start providing service to the public in most district hospitals of the state. Roads will also now be constructed with concrete instead of tar for longer durability, he added. He said construction work for a new Manipur Bhawan at Dwarka, New Delhi has begun. He added that a statue for Maharaj Gambhir Singh will also be erected at Moreh Town soon.
Advising all officials not to misuse their power and follow their service rule strictly and sincerely, he said that role of officials is immense in the state's march towards peace and development. As such they should not go by pressure from anybody including MLAs and ministers.
On the question of massive destruction of forest, he said that at present state is facing acute shortage of water as an impact of deforestation. There is a need for rigorous effort to stop this trend by any means available specially on the part of the forest department, he added.
"Seeing the aerial survey of forest in Thangjing range, Saikul range and Sajik Tampak is disheartening as most of these ranges are almost completely denuded. The state is facing serious threat cause by forest damage. We should take this matter seriously," he stated.
He ordered police official to nab village chief of any place where poppy cultivation is still continuing.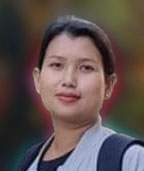 The writer is an award winning reporter