Irengbam Chaoren, President of Revolutionary People's Front (RPF) which has been outlawed by Government of India and one of the most powerful armed political groups in Manipur passes away. He died at 10.30 on February 10 after braving a battle against Terminal Brain Tumour.
Irengbam Chaoren led the RPF as its president from 1990 till his last breath for restoration of the independence of Manipur. In honour of the departed leader, the RPF decided to fly its flag at half-mast for 15 days from February 10 to February 24 as a mark of honour to the departed leader, said a statement issued by the Deputy Secretary, Publicity, Roben Khuman on February 11.
Irengbam Chaoren, who hailed from Khagempalli Huidrom Leikai in Imphal West, was also the convenor of the proscribed CorCom, a conglomerate of seven armed outfits in Manipur since its formation in July 2011. He was 65, the release added.
Drone-Bomb Attack at Camp of Manipur-Based UG Groups in Myanmar
One died and seven others, including a woman, of a Manipur-based underground group were injured in a bomb attack using drone at Thongren, Sagaing Region in Myanmar. The bomb attack was allegedly carried out by a combined team of People Defence Forces (PDFs) of the National Unity Government (NUG) of Myanmar and Kuki National Army (B) around 12.45 pm on February 9, reports said.
According to reports, it is said that the drone first dropped an incendiary bomb but did not go off. However, the second bomb exploded, killing one cadre belonging to a Naga community on the spot and leaving seven others, including a woman cadre, injured. Among the injured, three persons are said to be in critical condition.
On receiving information about the bomb attack on a Manipur based underground group and that some sustained injuries, Police Commando teams and AR personnel are on high alert as the injured underground cadres might try to cross the borders, particularly at Moreh area, reports added.
Border Fencing BRTF Worker Injured in Mine Blast at Kwatha
A Border Road Task Force (BRTF) labourer engaged in the fencing work at Indo-Myanmar border in Tengnoupal district at Kwatha sustained injuries in a mine blast that took place early February 10.
Reports said incident occurred around 9:40 am near Kwatha Khunou in Tengnoupal district, Manipur. The blast took place between subsidiary pillar No16 and 17 which are located between India-Myanmar border pillar No 80 and 81.
The injured has been identified as one Jerom Birla, 36, of 82 RCC, BRTF, son of Nawash Birla from Simdega district, Jharkhand. He sustained injuries in his legs, fingers and face. The injured BRTF labourer is stationed at B Bongjang village BRTF Camp, as per the sources. He was rushed to Moreh Hospital and referred to Imphal for further treatment, reports added.
MP Leishemba's appeal
Rajya Sabha MP Leishemba Sanajaoba on February 8 drew the attention of the Upper House of Indian Parliament in "special mention" saying the candidates should be allowed to write both Bengali script and Meitei Mayek in Manipuri literature as optional papers in UPSC Civil Services examination.
MP Leishemba Sanajoba informed the House that Manipuri Literature has two optional papers in UPSC examination, and both the two papers I and II have 250 marks each with a total of 500 marks. Since 2006, the Manipur government has been trying to replace Bengali script into Meitei Mayek as a state policy, he said. Following the replacement, many students have passed BA and MA courses with Meitei Mayek script, he added.
He pointed out that students who passed BA and MA Manipuri in Meitei Mayek script are not able to appear the UPSC examination as Manipuri optional papers are still in Bengali Script.
He appealed to the House to change the instruction of the optional papers as "answer must be written in Manipuri (Bengali or Meitei Mayek) only" instead of the current instruction which read as "answer must be written in Manipuri (Bengali Script)."
One Held With Brown Sugar in Tengnoupal
A drug peddler along with 8.127 kg of suspected brown sugar was arrested at Tengnoupal police station check post along Imphal-Moreh stretch of Asian Highway-1 on February 8. The seized drugs were detected by the Tengnoupal police team from one Shani Joypaul, 29, son of M Shani of Laii village of Senapati District at around 3:30 pm.
Reports said the police team, while conducting frisking and checking in front of the Tengnoupal police station check post along the highway, detained a four-wheeler (Tata Xenon) bearing registration number AS02BC 9238; and on verification, the driver identified himself as Shani and on further checking of the vehicle, 204 soap cases with suspected brown sugar were found.
However, the information regarding where the consignment was made and to whom it is to be delivered is yet to be known, reports added.
40 Gold Bars Seized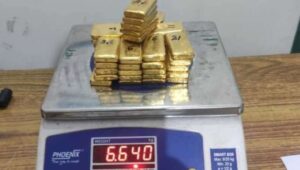 Besides drugs smuggling of gold continues in Manipur. The Imphal Customs Division seized as many as 40 gold biscuits of foreign origin on February 7 from an individual (driver) who was caught trying to smuggle it in a Bolero Pickup truck at Thamnapokpi area in Chandel district. The total weight of the confiscated gold bars is 6.64 kilogram and is worth around Rs 3,81,40,160.
The gold smuggler identified as the driver of the vehicle, Md Umar Farauqe, 32, son of Nure of Porompat Muslim Road No 2, Imphal East was arrested under Section 104 of Customs Act, 1962. Acting on specific inputs regarding smuggling of gold at Thamnapokpi area along the National Highway-102, sleuths of the Customs intercepted the Bolero Pickup truck (bearing registration No MNO6-LA-9593), a release of the Imphal Customs Division stated.
It stated that the driver along with the pickup truck was taken to the Customs office at Sangakpham, Imphal East for checking and the gold biscuits were found wrapped in an adhesive tape in the pickup truck.
Opium Transporter Arrested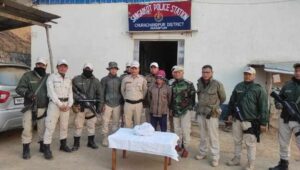 A man transporting illegal drugs along with opium weighing 6.167 kg was arrested at Jangmun village under Sangaikot Sub-Division in Churachandpur district on February 8.
Reports said the arrested person has been identified as one Holngam Haokip, 50, son of Holkholun Haokip from Govajang village under Sangaikot Sub-Division in Churachandpur. He revealed that he collected the suspected opium from one Kappu, a Myanmar national, at the border and he was hired for transporting the illicit drugs.
Following a tip-off that drugs were being transported from Khuangkhai side towards Sangaikot area, a team of Churachandpur Police Station and Sangaikot Police Station rushed to Jangmun village and conducted frisking and checking of all vehicles coming towards Sangaikot area.  A Tata DI Pick Up and a person suspected to be in possession of contraband substances were detained. On thorough checking, suspected opium concealed in a black bag covered in a black plastic was detected from his possession. On weighing, the suspected opium was found to weigh 6.167 kg, reports added.
One Arrested With 3 Kg Brown Sugar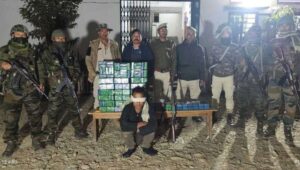 One person was arrested with 3 kg of brown sugar packed in 275 soap cases and worth around Rs 6 crore by the Chakpikarong police at Aishi village in Chandel district on February 8.
Reports said the Chakpikarong Police team spotted the man walking in a suspicious manner in front of the Church of Aishi village carrying two green plastic sacks on his back. The team was on a poppy cultivation field survey in the general areas of Aishi and Khongtal village.
The man was identified as one 40-year-old Khailam Haokip, son of Lamsat from Ngamun village under Kangpokpi Police station. He was taken to Chakpikarong Police Station for further verification as there was no civilian available around at the moment for independent witness. Therefore, he was searched before the magistrate and found carrying the suspected brown sugar which weighed approximately 3 kg and was worth around Rs 6 crore.
A white colour mobile keypad handset (itel) without sim card, one SSBL gun bearing gun No BE-2389-2004, 12 G-70 mm Chamber/Shaktiman guns, one high velocity 70 mm bore cartridge and a cash money of Rs 1610 was recovered from him, reports added.
Woman Arrested With 5.115 Kg Brown Sugar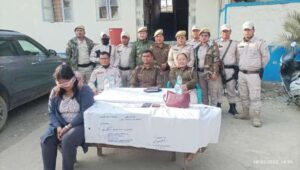 In another biggest drug seizure made by the Churachandpur police in the past two years, 5.115 kg of suspected brown sugar packed in 440 soap cases was seized from a woman in Churachandpur district, Manipur on February 10.
Reports said the brown sugar, suspected to be sourced from Myanmar, was being transported in a dark-grey KIA Seltos car, bearing registration No AS 27D3880 and driven by the woman identified as one Vahhoihlhing Baite (41), wife of one Paokholal Baite of T Lailoiphai village, Sangaikot sub-division, Churachandpur.
On receiving reliable information at 9:30 am about a huge quantity of contraband drugs being transported along Sugnu-Churachandpur road in a vehicle, a team of Churachandpur police conducted surveillance along Sugnu-CCPur Road. A dark-grey KIA Seltos (AS27D3880) was seen plying in a very suspicious manner and was signaled to stop at Rengkai Road but the vehicle sped off without stopping.
The vehicle was chased and finally intercepted at Bijang Vengpi, Churachandpur where four black bags, suspected to contain brown sugar, were found inside the vehicle, the SP Churachandpur said, adding that the consignment was suspected to be sourced from Myanmar through Khuangkhai area of Sangaikot and investigation was being carried out.
The four bags were opened in the presence of the Executive Magistrate and civil witnesses from the locality and it was found to contain 440 soap cases of suspected brown sugar. On weighing, the suspected brown sugar was found to weigh 5.115 kg without the weight of the soap cases, reports added.
Governor Visits Kasom Khullen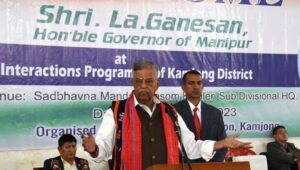 Manipur Governor La Ganesan visited Kasom Khullen Sub-Divisional headquarters in Kamjong district on February 8 and interacted with the district level officers (DLOs), representatives of civil society organizations (CSOs), village chiefs and villagers. The governor heard the grievances put up by them and assured to extend all possible help in the larger interest of the people.
The governor inspected Kasom Khullen Higher Secondary School and interacted with students and teachers. He also inspected the ongoing construction works of the school. The governor also enquired about the prevailing condition of the Primary Health Centre, Kasom Khullen, the only health facility in the area.
Speaking at the interaction programme held at Sadbhavna Mandap at the Sub-Divisional headquarters, the governor said, he has come to the sub-division to know the problems faced by the people and to explore the ways and means to address the genuine problems. The governor said issues related to education, healthcare, connectivity, power, etc., should be taken care of and he will look into it, reports said.
MMSUUO Condemns 'Communal Remarks'
The Manipuri Meitei-Pangal Social Unification and Upliftment Organisation (MMSUUO) has strongly condemned the "communal remarks made by a few individuals with vested interest". The MMSUUO expressed their extended support to the demands of the Meitei-Pangal Scheduled Tribe Demand Committee (MPSTDC).
The MMSUUO stated in a release, "The organisation strongly condemned the baseless communal statements, made by vested interest individuals, which are meant to provoke and marginalise the Meitei-Pangal community."
It expressed support to the demands of the MPSTDC, adding that the demand for the inclusion of the Meitei-Pangal community in the Scheduled tribe is a just cause. It also accused the "vested interests" of distorting historical facts and stating skewed statements which they said are based solely on "biased opinions".
15 Illegal Migrants Found Hiding in Truck
At least 15 illegal migrants were detected and deported by the city police during an Inner Line Permit (ILP) drive conducted at the Nagamapal area, Imphal West, Manipur at around 8 am on February 7.
Reports quoting police sources said the 15 persons were found hiding inside one Tata Truck bearing the registration number AS25FC-2075 during an ILP drive conducted at the Nagamapal by a city police team under the supervision of officer-in-charge. During the verification, the driver identified himself as one Harman Singh of Amritsar. On further verification, the 15 persons failed to produce any valid ILP documents. They were detained and brought to the police station.
Later, the illegal migrants were produced before sub-divisional magistrate, Imphal West the same day. The accused persons were imposed a total fine of Rs 15,000 for violation of government's order and further directed to deport outside the state.
The 15 illegal migrants were deported outside the state as per direction of sub-divisional magistrate, Imphal West, reports added.
BJP Spokesperson, BJYM Member Assaulted
Armed miscreants allegedly assaulted Manipur BJP spokesperson Mayanglambam Sureshkumar and Office Secretary of Bharatiya Janata Yuva Morcha (BJYM) of Manipur,  Ningombam Alex near Lamphel police station, Imphal late February 9.
Reports quoting police sources said Sureshkumar and Alex were physically assaulted allegedly at gunpoint by some persons who were reportedly armed with deadly weapons. The incident occurred around 9 pm on February 9 near Lamphel police station, and the perpetrators appeared to be waiting for them.
Sureshkumar and Alex were returning to the rented room of Sureshkumar after attending a meeting at the state BJP head office located at Nityaipat Chuthek, Imphal. After assaulting both of them, the unidentified persons fled from the spot immediately in a four wheeler by taking advantage of the darkness, reports added.
A team of Lamphel police and Imphal Police station rushed to the spot and the injured were admitted to Raj Medicity. Both the injured persons were declared out of danger by hospital authorities. However, Sureshkumar was further admitted to the ICU of the same hospital late at night due to health complications, reports added.
Earlier on February 8, BJP spokesperson Sureshkumar was involved in a heated argument live on air with Manipur Pradesh Youth Congress leader Ningthoujam Popilal during a discussion programme of a local TV channel. Editor of The Imphal Times, Khumukcham Rinku also took part in the discussion that was held on the topic, '60 MLAs as warriors of War on Drugs'.
Following the heated argument, some of the BJYM volunteers who rushed to the studio allegedly got into a confrontation with Popilal, reports said.
Man held with illegal gun
A team of Imphal West district commandos arrested one person from Mayang Imphal Konchak Yangbi near District hospital on February 10 for illegal possession of a pistol. The arrested person has been identified as Asem Bomcha Singh, 33, son of A Manglem Singh of Mayang Imphal Konchak Mamang Leikai, Imphal West.
Reports quoting police said that acting on information the commando team arrested Bomcha for illegal possession of arms and ammunition. One 9mm pistol along with a magazine loaded with four bullets of 9mm was seized from his possession. During verification, Bomcha disclosed that he used the said pistol (9mm) for threatening the general public in and around the Imphal area.
Demand for Manipur Loktak Protection Act Scrapping
All Loktak Lake Area Fishers' Union Manipur (ALLAFUM) and Champu Khangpok Floating Village Welfare Committee on February 10 demanded the Manipur government to scrap the Manipur Loktak Protection Act, 2006 and replace it with an updated act which prioritizes the conservation of Loktak Lake.
Speaking to media at the office of Indigenous Perspectives in Imphal, ALLAFUM Secretary Oinam Rajen denounced the Manipur Loktak Protection Act (LPA) 2006 and stated the act has only allotted destructive powers to authorities with no mention of preserving the diverse ecosystem of Loktak Lake, reports said.
ALLAFUM Secretary Rajen further said the regulations included in Loktak Protection Act, 2006 was 'anti-social' in nature and that the fishing community of Loktak had been against the atrocious act since its inception. "LPA has become a protective shield for Loktak Development Authority officials to carry out unwarranted destruction to the diverse ecosystem of Loktak Lake," Rajen said.
Pointing out that Loktak Lake had been listed as a Ramsar Wetland site since 1990, Rajen maintained that not a single of Ramsar guidelines have been implemented since the lake's inclusion in the list. "Not only Ramsar guidelines, authorities have failed to properly implement even the Wetland (Conservation and Management) Rules 2017 for protection," he added. Rajen exuded confidence that proper implementation of both Ramsar guidelines and Wetland rules will suffice in protection and conservation of Loktak Lake, reports added.