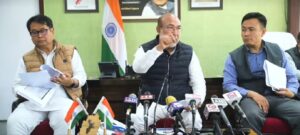 Manipur Chief Minister Nongthmbam Biren on March 31 said his government has set up a State Population Commission to identify "illegal immigrants", adding that the government was ready to implement the National Register of Citizens (NRC) once it gets the approval from the central government.
However, "we need the Centre's approval for NRC to be implemented in the state but with the enactment of the population commission we will be able to detect legal and illegal residents," the Chief Minister said.
The Chief Minister's announcement comes in a wake of massive protests by the student bodies, civil society organisations and women groups of Khwairamband Nupi Keithel against the government's alleged "delaying tactics" in implementing the National Register of Citizens to keep in check the increase in the population of illegal immigrants causing a demographic imbalance in the State.
Two PDF Cadres Held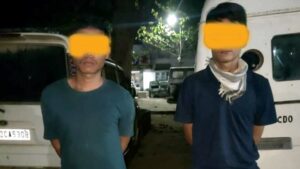 Two active cadres of the Myanmar's militant group, People's Defence Force (PDF), were arrested in Manipur on March 26. Two vehicles, one pistol, some live rounds of ammunition and Myanmar currencies were seized from the arrested militants, sources said.
The militants were arrested while frisking and checking at the Border Pillar Number 79 near Kwatha Khunou in Manipur's Tengnoupal district by a combined team of special CDO/MR Moreh, under the supervision of Th Krishnatombi, MPS, Superintendent of Police, Railway and in-charge Special Commando Unit, Khabeisoi, reports said.
They are identified as Neipaing, 38, son of Utaschai of Tamu Thauyuwate, and Yeyint Aung, 35, son of Uphapha of Tamu, both in Myanmar and they are active members of PDF. They are presently working under the command of Usonai of PDF who had assigned them at H Mongyang village along with their colleague to perform a task, including information collection of the movements of security forces.
Nine Revenue Officials Suspended
In a major action against corrupt practices in Manipur, the State Government has suspended as many as nine officers/officials of the Revenue Department including two Manipur Civil Service (MCS) officers for manipualting land records.
Speaking to mediapersons on March 31 at his office, Chief Minister Nongthombam Biren said that nine officials of the Revenue Department had been suspended for manipulation of land records.
The officials of the Revenue Department are Kh Goverdhon Singh MCS, Samson Huidrom MCS, G Chinglensana Kabui SDC in-Charge, M Sanatomba Singh Mandol, L Biswanath Singh Mandol, Md Hassan Mandol, T Hemjit Singh Mandol, O Munal Singh, Retd Mandol and Md Jahangir Retd Mandol.
Interestingly, a medical officer of the State Health Department has been suspended and senior resident of JNIMS also is being suspended for conniving with two Revenue officials pretending to be sick to avoid arrest.
Chief Minister Biren briefed the media on issues pertaining to illegal transfer of land, issue of patta at forest and government land, at Thoubal and forest fire at the hill range of Kongba Maru Laiphamlen.
The Chief Minister said that the State Government has been taking up various measures to address certain issues, which have been major causes of deteriorating condition of the State.
He emphaised governance is not just development of infrastructures but also taking up activities for the betterment of the future generations and preservation of the environment.
Chief Minister Biren with a strong and clear message said that the government officials to run the administration efficiently and transparently and those who committed such misuse of power, manipulation and fabrication for illegal allotment and mutation of land to come forward and confess or face legal action.
The Chief Minister further appealed to the public not to lobby to any government official for getting their work done.
Urea Policy
Manipur Agriculture Minister Thongam Biswajit on March 27 called on the farmers of the state to start adopting the method of natural farming concerning the various health hazards arising out of using chemical fertiliser.
To encourage natural farming the State Government is planning to introduce nano fertiliser and reduce the allocation of urea (chemical fertiliser), he added.
Agriculture Minister Biswajit said this while delivering his speech during the launching of assistance for off-farm inputs through DBT to 7,000 registered organic farmers of Mission Organic Value Chain Development for North Eastern Region (MOVCDNER) Phase-III (2020-23) amounting to a total of Rs 2,62,50,000 at New Secretariat in Imphal West.
The minister also informed that a series of training programmes on natural farming by collaborating with successful famers from outside states will also start in the state soon.
MPCC Protests Near Assembly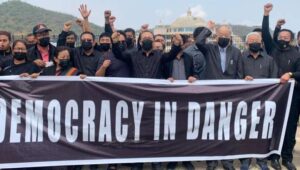 Manipur Pradesh Congress Committee (MPCC) on March 27 walked from the Congress Bhavan to the Manipur Legislative Assembly, staging a "black" protest as a fight to save democracy from the hands of Modi-led BJP government.
The protest also witnessed eminent Congress leaders of Manipur namely CLP leader and fomer chief minister Okram Ibobi, CWC member Gaikhangam, MPCC president, MLA Keisham Meghachandra and other Congress MLAs and office bearers wearing black dress and black mask.
"Disqualifying Rahul Gandhi or other Congress MPs, MLA or jail will not suppress the Congress move to preserve democracy," said former chief minister Okram Ibobi while speaking to the media.
Indian democracy, which is considered as the largest and the most successful democracy in the world, is now under threat as there are no more rights to Freedom of Speech and Expression and the rights of the legislatures to criticise, comment or question the government in the House, the former chief minister Ibobi said.
Recalling the expulsion of Rahul statement on Adani scam from the floor of the Parliament, he said if there is democracy, the ruling party might have ended the argument with just a clarification. Such a dictatorial government would not last long; it will fall once the patience of the public crosses its limit, Ibobi said, adding, "Democracy is under attack. It is the urgent need of the hour to save democracy from the dictatorial rule of the Modi government".
Two Held With 5.148 Kg Brown Sugar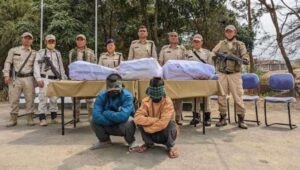 A team of Churachandpur Police Station arrested two persons along with 5.148 Kg of suspected brown sugar at Sumchinvum village in Churachandpur district on March 30.
Reports quoting Churachandpur police said a team of police under OC Singngat Inspector Thangpu Tonsing, acting on information, started frisking and checking at Sumchinvum village where an executive magistrate was also requisitioned for the purpose.
Around 11.30 pm, two suspected vehicles i.e. a DIO Black colour and one Activa Red colour without registration numbers were accosted and they were checked thoroughly in the presence of the executive magistrate and civil witnesses.
Two white jute bags containing 286 and 143 soap cases respectively of suspected brown sugar were found. The suspected items weighed 5.148 kgs and they were sealed at the spot.
The two persons, namely T Thangmuanlal, 28, son of Tuanson of Dailon village, Thanlon, Pherzawl District and Thangsonmuan, 36, son of Goukhozam of Vengnuam, New Lamka, Churachandpur district were arrested.
4 Kg Opium Seized in Kakching
A team of Kakching commando seized 4 kg of opium from a two-wheeler motorbike coming from Pallel but lost the miscreants in a chase around 1.10 am on March 26.
Police stated that a team of Kakching commando led by Kakching commando unit head constable L Rohit was posted as a Quick Response Team (QRT) at the check post at Laimangai Chingjin when the two-wheeler vehicle with two riders, a driver and a pillion rider, was approaching from Pallel.
The team attempted to stop the vehicle but the vehicle sped up and evaded the team, it informed. The police team chased the vehicle but lost them near the Tribal market of Nungurok Village owing to the narrow and deteriorated roads, the release continued.
During the chase, the miscreants threw out a bag which, upon inspection by the Pallel police team, was found to contain suspected opium, it stated. The suspected opium weighed 4.784 kg and was packed in seven separate packages, it mentioned. The seized items were handed over to Kakching police station, it added.
Illegal IMFL Manufacturing Unit Busted at Khongjom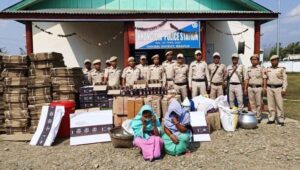 A team of Khongjom Police station busted illegal Indian Made Foreign Liquor (IMFL) processing factory at Khongjom Maning leikai in Thoubal district and seized several items on March 26.
According to the police, Khongjom Police Station received a tif-off on March 26 at about 9.30 am from specific input that illegal IMFL are being manufactured at a house located at Khongjom Maning leikai area.
Reports said as per the sources, police team rushed to the said spot and conducted a search operation at the residence of one Thokchom Bobo Singh, 43, son of late Thokchom Nokul Singh from Khongjom Maning Leikai.
Kangpokpi Students Protest Seigunlal Misao Murder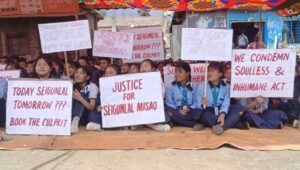 The student community of Kangpokpi district under the aegis of Jojn Action Committee (JAC) began a sit-in-protest on March 31 against the murder of Seigunlal Misao at the victim's native village Motbung in Kangpokpi district.
Hundreds of students from different schools within the Motbung area participated in the sit-in-protest which began in the heart of Motbung model village around 9:30 am.
The protesting students held placards and shouted slogans such as, 'Solve the crime before it's too late', 'we don't feel safe anymore', 'arrest militant outfit NRFM', 'a mother's only hope, you have destroyed', 'no justice, no peace', 'justice delayed is justice denied', 'we condemn soulless and inhumane act', 'the death cry out for justice', etc, reports said.
Earlier, Manipur Chief Minister Nongthombam Biren Singh on March 27 said that necessary inquiries will be held.
The Chief Minister also announced that the State Government will provide an ex-gratia of ₹5 lakh and a job to the next of the kin of the deseased student.
Seventeen-year-old Seigunlal Misao, appearing in the ongoing Class XII examination conducted by the Council of Higher Secondary Examination Manipur (COHSEM), was reportedly shot dead by unidentified miscreants a few metres away from his residence at Sharon Veng, Motbung model village in Kangpokpi district on March 25 around 8.30 pm.
Later, the National Revolutionary Front, Manipur (NRFM) claimed the responsibility of killing Seigunlal for alleged drug peddling, which the JAC and the student community denied and condemned strongly.
Protest Held Against Assault on Students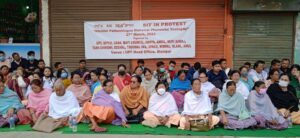 Members of fourteen Civil Society Organisations on March 27 protested against the assault on students who were sheltering at the office of the United People's Front (UPF).
Condemning the attack, a sit-in-protest was staged in front of the UPF office on Monday demanding arrest of the armed assailants. The sit-in protest was jointly organised by 14 CSOs namely UPF, NIPCO, CADA, MAPI COUNCIL, AMPFA, AMKIL, NUPI SAMAJ, TAMI-CHINGMI, EECHAL, THOUBAL IMA, UPACO, NIMPAL, NLANL and ANUL.
Four unidentified armed miscreants on March 26 night reportedly turned up at the office of UPF in Imphal and assaulted eight students who were stationed at the office for preparation of their examination.
Reports said at around 7.30 pm the four unidentified miscreants came in two mopeds, entered the office showing their pistols and started assaulting the students under duress with canes on the grounds of taking shelter at the office.
Soon the armed miscreants left the spot on their mopeds towards the western road of Raj Bhawan, reports added.
Speaking to the media, president of UPF, N Rupachandra, said such an attack on the innocent students who are sheltering at UPF office is unfortunate. If anyone has an issue with the UPF they can appraise the matter to the official of UPF, he added.
NRC Demand Rallies Held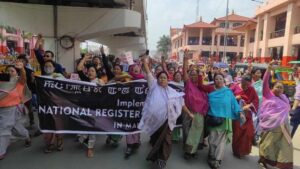 Hundreds of women vendors from Khwairamband Nupi Keithel and students on March 29 took out a rally from Kwairamband Keithel, BT Road towards CM Bungalow after a meeting was convened at Khwairamband Keithel, demanding the implementation of National Register of Citizens (NRC) and safeguard the indigenous people of the state.
The protest was carried out by six student bodies (AMSU, MSF, DESAM, KSA, SUK and AIMS) and several women vendors of the Ima market. However, police intercepted the protesters and they had to take a U-turn.
Earlier, representatives of seven student organisations of Manipur- All Naga Students' Association Manipur (ANSAM), All Manipur Students' Union (AMSU), Manipuri Students' Federation (MSF), Democratic Students' Alliance of Manipur (DESAM), Kangleipak Students' Association (KSA), Students' Union of Kangleipak (SUK) and Apunba Ireipakki Maheriroi Sinpanglup (AIMS) had staged a protest at Jantar Mantar in New Delhi and submitted a memorandum to the Union Home Minister Amit Shah demanding implementation of National Register of Citizenship (NRC) in Manipur on March 20.
Liangmais Rally Against Konsakhul Violence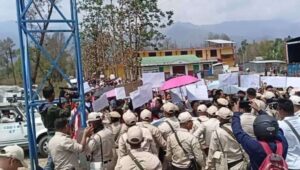 Amid the rising tension between Leilon Vaiphei and Konsakhul under Leimakhong Police Station, a large number of people under the aegis of the Liangmai Naga Students' Union (Eastern Zone) on March 30 took out a rally in protest against the vandalizing of a JCB and detention of Konsakhul villagers by Leilon Vaiphei village in Manipur.
The peace rally started from Indira Gandhi Tribal University at Makhan Village and went through National Highway and concluded at the Makhan village main gate, reports said.
A large number police team led by additional SP operations of Imphal west police, M Amit and OC of Sekmai PS rushed to the site and took up extra measures to prevent any unwanted incident. A confrontation took place between the police team and those villagers attending the rally after the police tried to control the route of the rally to prevent any untoward incidents.
It may be mentioned that following the vandalizing of a JCB and abduction of villagers on March 26, fresh violence had erupted again in which six Konsakhul villagers were allegedly assaulted by Leilon Vaiphei while 22 others villagers of Konsakhul were severely injured in police action.
A New Case of COVID-19
IMPHAL, APRIL 1: After maintaing zero positive case of COVID-19 for a long time in Manipur, a new case of COVID-19 positive is detected on April 1, 2023.
A first year Post Graduate student of Jawaharlal Nehru Institute of Medical Sciences (JNIMS) without recent travel history has been diagnosed as COVID-19 positive at JNIMS Laboratory by RT PCR, Health Services Director, Dr. Khoirom Sasheekumar Mangang said.
The PG student was complaining of fever, headache and cough, sources added.
Consequently, the total number of COVD-19 positive cases in Manipur has reached 1,39,925.
It may be mentioned that till March 31, the total number of COVID-19 positives cases in Manipur were 1,39,924 while the total numbere of recovered cases and deaths were 1,37,775 and 2,149 respectively.