Empathizing with the trauma that displaced children are going through, trans man football team of Ya_All took a step with compassion to ease out their suffering, pain, emotional detachment
United Nations recognized first LGBTQI+ Youth led and focused organization based in North East region of India, Ya_All has launched a noble campaign under the theme "Football for Heal, Football for Peace" since June.
This remarkable initiative to provide free football coaching not only to heal and empower displaced children with skills but also give them a beacon of hope and inspiration.
The ongoing civil unrest that the state has been grappling with since May hit hard the mental well-being of numerous tender age children, mostly taking shelter in relief camps. Sensing such impacts which state will face for sure, India's first all-trans football team of Ya_All which came to the fore in 2020 has been running football coaching camps since June tirelessly for youth under 18 years.
Speaking exclusively with this reporter, founder of Ya_All, Sadam Hanjabam said that in the initial days his organisation visited relief camps carrying relief material. After visiting for more than 100 camps, they have realised the essence of providing at least some comfort space to conflict affected children. With this idea, the organisation started a campaign for the first time in Sagolmang in Imphal East district under the theme "Football for Heal, Football for Peace" in the month of June.
"The conflict is all of sudden bringing everything a grinding halt. In early days of the crisis, we travelled to relief camps located in far flung areas distributing relief materials. During these visits we realised how badly traumatized children these relief camp were. This realization motivated us to take up step for free coaching with their available limited manpower and resources," he shared.
Explaining about their initiative, he said that the team of five players from Ya.All take turns journeying to districts, scouting relief camps close to playgrounds and then carry out the training for at least two hours in a day for around one week to 10 days duration. Once a playground is identified, the team clear the ground to create football turf.
He said that parents and local people are overwhelmed with their initiative. So far, they have provided such coaching in four places such as Sagolmang in Imphal East, Wangoo Ahalup in Kakching District, Wangoo Laipham in Bishnupur district, Lamboi Khongnangkhong in Imphal West district. The latest coaching session is going on at Oinam relief camp under Bishnupur district. Till date around 200 children took part in their camp.
"Most of the camp we visited are in far flung areas. We had faced many challenges in visiting all such places primarily due to frequent shut downs and curfews. However, the enthusiasm and interest we have witnessed amongst the children, we are enthused to beat all such challenges. Nowadays it is little better as the curfew hours are extended. Due to limited resources, we face financial constraints. But the support they received through crowd fund raising, enable us to sustain our activities effectively," he said.
As the reason for choosing football as a means to alleviate mood of traumatized children, he said that everyone has emotional connect with football and it has no religion nor language. "At this point of time, we don't want to assert any religion, language nor community. We only hope for peace," he stated.
Admitting this initiative also received positive result amongst the transgender community, he asserted that the transgender football players previously faced criticism, social stigma and were underrated when they stepped into this sport. But now they are receiving accolades for their compassionate service and dedication to the displaced children.
One of the coach, Rita, a trans man from Langthabal said that most of children in relief camp happily came out to take part the free football coaching. Some children hesitated to join despite having showing interest due to lack of basic needs like clothes. However, they motivated them and encouraged them to come forward.
"You know we have seen many heart-wrenching incident while dealing with displaced children. Some of these kids refused to join our football coaching initially because of the lack of appropriate clothes other basic gears. We also came to know this after we enquiring with them. From their faces, we noticed that many children are traumatized, distressed. We cheered them up with our best effort by delivering motivational conversation," she said.
She said that as the team began accompanying the children for a week or more, they came to notice that many children have enough potential to even pick up football as a career.
"We spend at least one week to 10 days in a relief camp just to provide basic skills of football. Once these children have reached a position to play independently, our team moves to other districts. We notice many talented children who can make careers as football player in the near future," she noticed.
One of the displaced children from Churachandpur whose house was completely vandalized during crisis said "It is a great privilege for me to attend this free football coaching. This has really helped me to keep me at least happy for some time and to kill the boredom of being confined within the relief camp. Yes, school has started reopening, yet I cannot give any concentration to my studies. I wish we avail such motivating program in days to come."
According to a report of the government's Social Welfare Department, there are 12,694 displaced children living in relief camps across the state. Out of them 100 are severely traumatized needing professional counselling.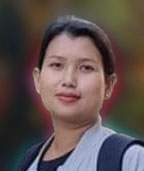 The writer is an award winning reporter