Manipur is regarded as powerhouse of sports in India, and not many doubt this considering the long line of national and international sportspersons the state has produced and continues to produce. But as the ongoing communal conflict which erupted in Manipur on May 3 has affected every section of society directly or indirectly, players of state are no exception.
The present lingering turmoil has compelled Indian professional footballer Konsam Chinglensana not to participate in two international tournaments. The tournament that Chinglensana decided not to participate are Inter-Continental Cup and South Asian Football Federation Championship held in the month of June and July respectively.
Chinglensana, who had played as a defender for Indian Super League club Hyderabad and Indian national team, hails from Khumujama Leikai of Churachandpur district had which too had to live through a violent nightmare, to join the long list of colonies and villages which suffered, pain and agonies, losing many precious life and damages to thousands of properties and houses.
When Manipur was struck by communal tension, many houses and properties were turned into ashes in various places of Manipur between May 3 and May 4. Amongst those affected victim, Chinglensana's family is one. His house and footfall turf located at Khumujama Leikai in Churachandpur district were completely vandalised by armed miscreants. This heart wrenching incident has made Chinglensana completely devastated and decided to be with his family instead of taking part in the tournament.
Football as a sports discipline that requires a lot of energy, stamina and power, and most of footballers usually retire in their 30s. Thus, missing two international tournaments by a footballer is great loss.
While interacting with this reporter, Chinglensana recalled, "On the 3rd of May, I was playing a match in Kerala as I remember. My family members rang me up several times which I missed. I was really surprised to see all those missed call. Without any delay I immediately called them back. My mother responded in a sobbing voice and informed arson attacks on their locality was in progress and there were guns fired towards them too. I was really scared after receiving the information. At that very moment, I thought that it will be my last phone call with my family member. But fortunately, my family members were evacuated safely from Churachandpur. Now we are taking shelter in my friend's house in Bishnupur district."
Chinglensana said that apart from his house, his football turf was also completely burnt down. "I had opened a football turf with facilities of gym with an objective to shape many youngsters to become a footballer. But in this communal tension, this turf was also burnt down. It is really distressing yet I will never give up this dream of shaping youth."
Chinglensana said that he has been playing for national team. Got the selection for participation in international tournament Inter-Continental Cup 2023 and South Asian Football Federation Championship 2023 to be played in June and July. However, because of prevailing scenario, he decided not to take part.
"Every player doesn't want to miss even a single opportunity. Taking part in international tournaments representing country at global platforms is much coveted. My mind and thought now however is completely disturb because of this crisis, so I thought not to take join the tournaments as I would like to give my time to my family," he lamented while expressing his gratitude to his coach and teammate for their encouraging word in this tough situation.
The 27 year old national team footballer Chinglensana is the son of Konsam Amu and Konsam Memcha. He appealed to state government and central government to douse the burning situation in Manipur and take up necessary security measures for the displaced victims to return to their respective original places.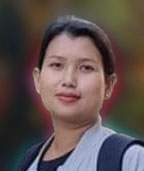 The writer is an award winning reporter