Advent of festive season triggered emotional stress and depression among affected victims of ongoing crisis bringing back memories of good old days that the once cherished before the turmoil.
Like in other parts of India, onset of autumn season heralds many spectacular festivals in Manipur. Usually, people are filled with joyful vibes during this much anticipated season. One of the biggest festival of the Meiteis, Ningol Chakouba also falls in this period. But this year, as a show of solidarity with victims of the ongoing crisis, this endearing festival of sibling reunion was foregone by everybody.  Stuck with gloom, pain and agonies of displaced populations, people opted to refrain from celebrating these festivals.
After sombre and silent Diwali on November 13, people witnessed the gloomiest Ningol Chakouba on November 15. Observance was made on these days as an act of extending solidarity to people who had lost their lives and share the pain of displaced victims. On the day of Diwali, instead of decorating houses and lighting candles and bursting fire-crackers, people turn off even the electric light for 10 minutes from 6 PM to 6.10 PM. Even on the day of Ningol Chakouba, people abstained from celebrating and rather came out on the street and staged sit-in protests in most of valley areas.
As there is saying that memories are always beautiful and painful, nothing can suppress the emotional pain of remembering.
One of the displaced women from Churachandpur currently staying at Samurou Relief Camp said that on the auspicious day of Ningol Chakouba that comes once in year, the decision of women organisation, civil society organisations unanimously to forgo the Ningol Chakouba sharing the pain, trauma of affected victim. She said is very grateful for this public gesture. However, no one can ease the pain felt recalling all the memories of past Ningol Chakouba.
"It is beyond my imagination that I will become a homeless person and stage sit in protest like this on this auspicious day of Ningol Chakouba. But my faith has made me to reach this level which I am compelled to embrace boldly and face any kind of challenge bestowed upon me," she said while reasoning about staging sit-in protest on Ningol Chakouba with the demand to resolve the conflict and resettle them in their original home.
She said married women eagerly awaited the day of Ningol Chakouba. But that curiosity has been replaced by anger, anxiety and apprehension driven by longingness to go home. The arrival of festive seasons triggered them to recall past memories and make them to shed more tears.
"The tears which I shed today is not about not getting opportunity to celebrate Ningol Chakouba. Coming of Ningol Chakouba festival flashes back all those good memories which i cherished with my families before the crisis. Reliving all those beautiful moments really disheartened me and frightened me with the fear that whether I will be able to go back to my hometown and begin our live there again," she expressed with teary eyes.
Sharing that parents are frustrated thinking about their children, she said that responding the query of her children that when will they go back home has become a most challenging task. The state government should have some sympathy at least to the displaced children and resolve the crisis.
"See these small kids, instead of enjoying on this auspicious day of Ningol Chakouba going to their maternal home, they are taking part in sit-in protest. They came out willingly and voluntarily to join the protest. What kind of life we are giving to such young age, how their future will be," she questioned expressing her painful emotion of children taking part in sit-in.
She urged state government to bring lasting peace by ending this war at earliest.
One of the Meira Paibis who was taking part in sit-in protest held at Wangoi Bazaar by blocking half of the road, Asha Sagolsem said that when so many brothers and sisters are homeless and many precious lives were lost, there is no point of celebrating Ningol Chakouba. Rather people should stand by side of affected victims solacing their pain and sorrows.
She further said that Ningol Chakouba is a special day for Meitei community as women used to wear beautiful traditional clothes and have chit chat with their brothers. But sadly, women opted to stage sit in protest wearing black clothes as a sign of showing solidarity to affected people.
People are really disheartened with damage given by crisis. The state government should at least find out pragmatic solutions and end this conflict as a Ningol Chakouba gift so that people can begin their normal life, she added.
Another protestor who were taking part in hunger strike protest on the Ningol Chakouba at Phougakchao Ikhai Awang Leikai, T Kegesana strongly condemned the state government for their utter failure to complete to bring normalcy. The government will announce that there is normalcy whenever there is no clashes for few days instead of finding out a ever lasting peace.
While expressing her deep concern on displaced people's curiosity to return to their home, she said that many people are still unable to resume normal as they couldn't return to their home.  She also expressed her firm stand not to take part any festival until and unless all the displaced people are resettled.
It may be mentioned that Ningol Chakouba is a festival of family reunion and one of the biggest festivals of Meitei community where married women are invited for a luncheon by their parents and siblings. However, this year several groups of women were seen staging sit-protest, hunger strike on this day as an act of extending solidarity to victims of the alleged Kuki aggression.
Road was completely deserted unlike previous years on this special day. Market places like Paona Bazar, Thangal Bazar and Khwairamband Bazar were eerily quiet as all the shops were shut.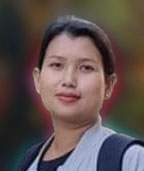 The writer is an award winning reporter