Bamboo price increase has come as a big set back for bamboo artisans of Manipur. Yet Khwairakpam Ibomcha who bagged title of 'Bamboo Pioneer of Manipur' in 2019 is coping with the new situation collecting used-bamboo running door to door to continue his artistic works unhindered.
Considering the significance of bamboo plant in addressing Environmental issues, experts are encouraging bamboo plantation and bamboo made items. Bamboo which is the fastest growing grass can play a great role in carbon sequestration. As per expert, bamboo plants can absorb carbon 30 times more than other trees. Besides this, its root can hold soil very firmly and also possess high water retaining capacity. To tap all these benefit so as to replace timber by bamboo, many advance countries have started developing highly sophisticated technologies and machineries.
Even in India, steps had been taken up to increase dependence on bamboo made items. The government of India had launched National Bamboo Mission in 2018 under ministry of Agriculture. In 2017, government of India allowed felling and transportation of bamboo from non-forest areas.
Manipur which has 90 percent of geographical area under forest cover is progressively losing this green covers. Even in valley areas, bamboo are not grown any longer though once it was used as natural fencing material in every household. Because of all these factors, bamboo artisans in the state are encountering lot of challenges to carry on their artistic works.
A bamboo artisan from Sega Road Khwairakpam Leikai who had been an expert in making bamboo made furniture from 30 years, Khwairakpam Ibomcha said that surge of bamboo price has become one major problem for many bamboo artisans of state. But he is still continuing his work by just making two items namely long stick broom oorum shumjit and walking stick cheisu.
Sharing his means to continue his artistic work, he said that the bamboo used in construction of house are being collected visiting house to house . After that it is being processed and reused it.
"It is beyond my ability to afford the present price of bamboo that cost around Rs 250 to Rs. 300. So I had develop the idea of recycling the already used bamboo. In Manipur, bamboo are commonly used as one of construction materials in building of houses. But it becomes waste material after construction. With the help of these thrown away bamboo, i can continue my work," said Ibomcha.
He said that he used to make many furniture items earlier. Some of them are corner stand, file stand, memento, side table, chair, almirah etc. Though people started liking bamboo made furniture comparing to past some years. However with the increase of bamboo price, unable to fulfill the order placed by his customer.
"Now I used to make only long stick broom and walking stick. I can make around 100 long stick broom in a day and one walking stick per day. As both the items are made from reused bamboo collected in cheaper rate, he is able to sell it in low cost that worth Rs 60-Rs 80 per long stick broom and Rs250 to Rs 300 per walking stick," he  informed.
Ibomcha who in his 70s said that both walking stick and long stick broom are imported from neighbouring country Myanmar. With the view to prevent draining state's money outside the state, he come up the idea of making said two products.
He also said that many new innovative machine are produced for making bamboo made items. Amid this situation, just relying on conventional and outdated tools coupled his problem of making bamboo items.
Assistant Mission Director of  National Bamboo Mission Manipur, N Somorendra said that bamboo cover in forest area of state has been decreasing according to report of forest survey of India. In 2017, area of bamboo cover is 10,687 square kilometres; in 2019 is 9903 square kilometres and in 2021 is 8377 square kilometres. Its main reason is mainly associated with mass destruction of forest for poppy plantation and jhum cultivation.
He continued and said that the under the National Bamboo Mission various steps are being taken up to increase bamboo covers and promotion of bamboo made items. Initiative has started for plantation of varieties of bamboo in all 16 districts of Manipur. For production of bamboo items, four bamboo processing units was set up in different places such as in Churachandpur, Noney, Tengnoupal and Sawombung.
Above this, bamboo handicraft unit has opened up in Imphal West, Imphal East, Churachandpur and Noney. Another three unit will be set up soon in Imphal West, Chandel and Imphal East, he added and further said that there is a need of installing ma y sophisticated machinery to promote bambo made items in the state.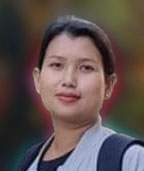 The writer is an award winning reporter