Arms And Ammunition Recovered In Search Operations
Security forces recovered arms and ammunition during a cordon and search operation at Chandrakhong area in Thoubal district while four persons were arrested along with weapons from Churachandpur district, Imphal East and Imphal West districts October 25.
A combined team of Nongpok Sekmai Police station along with Thoubal District Police, Special CDO, 33 AR and A/182 BSF led by IG (Zone-I) including SP-Thoubal, Nongpok Sekmai Police Station team and Yairipok Police Station team. Arms were found hidden at Salam Patong area to avoid detection by security forces during the operation conducted from 2.30 am till 6 am.
The items recovered were one INSAS 5.56mm rifle, two 7.62mm SLR rifles, one 40mm lathode gun, three 9mm pistols, seven No. 36 Hand grenades, one chinese grenade, two magazines for 5.56mm INSAS light machine guns, one magazine for 5.56mm INSAS rifle, two rounds of 5.56mm INSAS ammunition, 25 7.62mm SLR magazines, one tear smoke grenade, one stun grenade, one 40mm lathode shell, three 7.62mm SLR cartridges, six 7.62mm ak-47 cartridges, six .303 Cartridges, one detonator for No. 36 Hand grenade, 13 blank cartridges, one magazine for 9mm pistol, one walkie-talkie set (HTRF) and one bulletproof jacket with plate.
About 160 houses were searched thoroughly and about 600 people verified properly. The foothills adjoining Chandrakhong i.e. Phajakhong and Salam Patong were also searched intensively, reports added.
Cordon And Search Operations Conducted at Different Places In Manipur
Security forces continued to carry out cordon and search operations (CASO) at different parts of Manipur on October 26.
A combined team of OC, Kakching Police Station along with three teams of CDO, i.e., G-45/47/68 including women police personnel carried out CASO at Kakching Moirangthem Leikai, Ibudhou Khamlangba Pareng from 5.50 am till 6.45 am. As many as 67 houses were searched and 78 people of the locality were verified in which no seizure, arrest nor were recovery made.
Imphal West district police also conducted CASO at Kasturi crossing area covering Dharamsala, Ngari gali, Bora gali and Yaima store stretch of Thangal bazar under City Police station. A total of 117 people were verified and three persons were handed over to City PS for further verification during the search which started from 1.50 pm and continued till 2.30 pm.
A combined team of BPR DIST police, 2nd IRB, 2 platoon of B-Coy 128 CRPF and two teams of 2nd Mahar Regt conducted CASO at Toubul Ward Nos. 1 and 2 under Bishnupur Police station. The search, which started from 6:00 am till 7:30 am, searched 150 houses and verified 700 people. No arrest or seizure was made.
A combined team of Kangpokpi District Police, 22 AR, B66 CRPF and G158 CRPF conducted CASO at the general area of Kangchup under Kangchup PS, Kangpokpi district. Trails leading from foothills to the Kuki villages in the hillside were combed to flush out armed miscreants. No arrest or seizure was made in the search which started from 4.30 am till 6.30 am.
Kakching District Police conduct CASO at Kakching Moirangthem Leikai Ibudhou Khamlangba Pareng under Kakching police station. 67 houses were searched and about 78 people were verified during the search which was held from 5.50 am till 6.45 am. No arrest or seizure was made.
Thoubal District Police conducted CASO at Lilong Tharaorok Chingol area under Lilong police station in which about 120 houses were searched and 123 people were verified. No arrest or seizure was made during the search from 4.30 am till 6.30 am.
JAC Demands Action Again Assault, Murder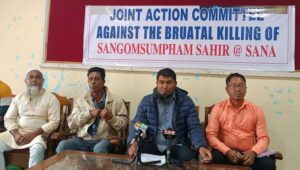 JAC against the Brutal Killing of Sangomsungbam Sahir aka Sana has demanded authorities concerned to capture and punish the culprits involved in the assault and murder of Sahir within 48 hours. The JAC cautioned of intense agitations along with other CSOs if authorities failed to produce the culprits and deliver justice within the stipulated time.
Speaking to media at Manipur Press Club on October 23, JAC convenor Buyamayum Rafi Khan highlighted that Sahir was allegedly assaulted on September 19 at Takhel in Imphal East by unknown miscreants on charges of transporting cattles for certain groups.
"Sahir hails from Kshetri Bengoon Awang Leikai and is a driver by profession and went to transport a few cattles for two women, one Ibemcha and Victoria from Takhel. The two women and one Md Abir Khan from Sora accompanied Sahir," he said.
He reported that the two sisters upon reaching Takhel got into a verbal spat about the cattles during which unknown miscreants from the locality barged in and alleged them of transporting cattles for certain groups. After that the miscreants blindfolded and took them to an unknown location where they were brutally beaten and battered, he claimed.
He mentioned that Lamlai Police rushed to spot and rescued the victims on that day and ever since Sahir and Abir had been receiving medical treatment at various hospitals. Sahir succumbed to his injuries on Sunday at Raj Medicity, he stated.
Hotel Keepers To Submit Arrival Reports Of 'Foreigners'
The Manipur government on October 27 notified the general public and those concerned that keepers of any hotel within the jurisdiction of Imphal East should submit a duly filled Form 'C', which is the arrival report of the foreigner, in the prescribed format.
Office of the deputy commissioner, Imphal East, in a notice, said that the form should be submitted not more than 24 hours after the arrival of a foreigner to the concerned registration officer.
It stated that the same is issued with reference to the Government of Manipur, Secretariat: Home department's letter dated October 13 and the Government of India, Ministry of Home Affairs Foreigners Division's letter dated September 4, according to the terms of para 16(6) of the Foreigners Order, 1948.
Keepers of any hotel including boarding-house, club, dak-bungalow, rest house, hostel, paying guest house, sarai, rented accommodation, hospital or other premises of like nature, furnished or unfurnished, where lodging or sleeping accommodation is provided for reward as well as keepers of premises of religious institutions, charitable trusts, any other trusts, public organisations, or any other organisation or entity of social or religious or of public nature, furnished or unfurnished are required to submit the form, it stated.
The Form 'C' will be required to be furnished mandatorily even in cases where lodging or sleeping accommodation is provided to a foreigner for free or for reward or with or without any consideration, it mentioned. In cases of violation and failure in compliance, suitable action will be initiated under extant laws/regulations including the Foreigners Act, 1946, read with the Foreigner Order, 1948, it added.
Man Gets 10 Year-Imprisonment In POCSO Case
In a significant judgment, the Special Judge (POCSO) First Track Court, Manipur on October 26 handed down a 10-year rigorous prison sentence to K Robindro, a 34-year-old resident of Ngachroupokpi, Bishnupur.
The ruling came as a result of Robindro's involvement in the sexual assault of a three-year-old minor girl in Bishnupur district back in 2018. The case was pursued following a complaint lodged by the victim's mother.
The charges against the convict were made under section 6 of the POCSO Act. The court not only imposed a 10-year imprisonment but also levied a fine of Rs 5,000 on Robindro.
Notably, the period of six months and 20 days that the convict had already spent in custody was deducted from the 10-year sentence. In the event of failing to pay the fine of Rs 5,000, the court's order mandates that Robindro undergo an additional three months of simple imprisonment.
Weightlifter Phamdom Ranibala's Gold Opens Manipur's Medal Tally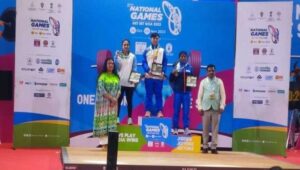 Weightlifter Phamdom Ranibala's Gold opened Manipur's medal tally in the Goa National Games on October 25. People of Manipur celebrated the opening of its medal tally and breaking of the national record in the snatch by Phamdom Ranibala, who lifted 90 kg in the 55 kg category of women's weightlifting at the 37th National Games being held at Goa.
The earlier record was held by Mirabai Chanu with a lift of 86 kg on March 29, 2023. While overcoming 90 kg and creating a new national record, Ranibala successfully lifted 106 kg in the clean and jerk and a total of 196 kg on her way to the gold medal.
Shrabani Das of West Bengal won the Silver while Sneha Soren won the Bronze.
Moreover, as the grand opening ceremony of the 37th National Games at Goa's Pt Jawaharlal Nehru Stadium progresses, S Nirupama Devi struck silver medal on 64kg in the Women's Weightlifting securing the second position.
In her good lift of 85kg and 106 in clean and jerk, she fought her way to win the silver medal. Ditimoni Sonowal of Assam in a convincing lift of 88 kg in snatch and 112 kg in clean and jerk moved through to win the gold medal for her state.
In the newly introduced Pencak Silat, in a well competed bout of men's Ganda Sinam Chingkhei and Sinam won the Gold by defeating Tamil Nadu. In the Women's Ganda, Thokchom Benao Chanu and Thingbaijam Dayalakshmi Chanu won the Bronze. They lost to the Haryana team in the semi final.
Government Forbids CCpur Friday Holiday
The Manipur government on October 27 has issued an order that no one shall or attempt to make any deliberate efforts to follow or enforce any illegal declaration of holiday on every Friday except for those Fridays which are general holidays.
An order issued on October 27 by Chief Secretary Dr. Vineet Joshi stated that the state government has learned from reliable sources about a 'public reminder' by Joint Students' Body (reportedly based at Churachandpur district) and its reported circulation on social media platform like WhatsApp Groups, etc. The content therein mentioned about public for adoption of resolution for observing every Friday as a holiday by all institutions of Government of Manipur including the offices of the DCS/SPs/ ZEO/ADC's, government schools/ colleges in the town of Churachandpur, which is totally illegal, the order stated.
Special Measures For Displaced Students In Relief Camps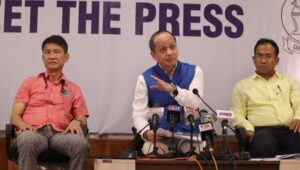 Manipur Education Minister Thounaojam Basanta Kumar on Thursday, October 26 said that the state government is prioritising education to bring normalcy to the state amid the present crisis and to reduce the issues faced by the displaced students.
Talking to the media at the auditorium hall of DIPR, Nityaipat Chuthek in Imphal the Education Minister Basanta Kumar informed that the State Government has implemented several remedial measures especially for displaced students so as to avoid students dropping out of schools due to the crisis.
The Education Minister said, out of 4,617 schools in Manipur, 26 are shut down on temporary basis as they are being utilised as relief camps and accommodation of Central Armed Police Forces (CAPF) or their location are in sensitive areas. Out of these 26 closed schools, 18 are from Churachandpur, three from Imphal East, another three from Jiribam and one each from Kangpokpi and Chandel districts, he mentioned adding that there is cent per cent opening of schools in Imphal West.
Nodal officers and volunteers were appointed to facilitate free admissions and provide essential study materials, textbooks, stationery, and uniforms. Identity cards and certificates were issued to all students without any cost, he added.
Almost 15,915 identity cards were issued to the displaced students registered at 347 relief camps till now, out of which 15,641 students have been re-admitted to nearby feasible schools, he added. He also said that 98.28 percent of these 15,915 students were given admission free of cost and all facilities provided to overcome bottlenecks in their education.
In an effort to secure supplementary financial support for displaced students, a comprehensive proposal has been submitted to the Ministry of Education, Government of India, the Education Minister added.
ANSAM Suspends Agitation
The agitation launched by the All Naga Students Association, Manipur (ANSAM) demanding immediate restoration of mobile internet services in the State has been suspended following an agreement with the Government of Manipur (GoM) on October 26, 2023.
Despite the extension of ban on mobile internet services for another five days on October 26 till October 31, 2023, the GoM has agreed to restore mobile internet services in the state within the next five days.
The agreement comes following an emergency Meeting of Government representatives and ANSAM held at Chief Minister's Bungalow in the presence of Chief Minister Nongthombam Biren, Education Minister Thounaojam Basanta Kumar and State Chief Secretary Vineet Joshi on October 26.
Following the meeting, a agreement was made with assurance of the government to restore internet connectivity in the state within five days (in three working days) subject to assessment of law & order condition and to declare the result of 190 (145+45 ST Special Drive) posts of Assistant Professors to be engaged on contract for one academic session on or before November 2.
The meeting also agreed to suspend the agitation of ANSAM with a condition that it shall be resumed if the agreement as above is not implemented.
The memorandum of agreement was signed by M Luikang Luckson, president, ANSAM; Angteshang Maring, General Secretary, ANSAM; Vineet Joshi, Chief Secretary, Government of Manipur and H Gyan Prakash, Commissioner (Higher Education), Government of Manipur.
Sharda on BJP MLAs Demanding Separate Administration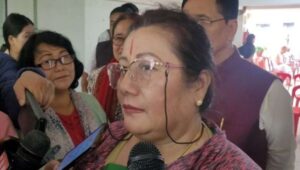 Bharatiya Janata Party (BJP) Manipur unit President Adhikarimayum Sharda continues to reiterate that no BJP MLAs demand Separate Administration. Earlier she made the same statement on October 20 in a pres conference held at BJP office at Nityaipat Chuthek, Imphal.
President Sharda once again claimed to media-persons on October 25 at Khuman Lampak Imphal, while attending a weaning ceremnony of a baby born to parents who are at relief camps due to the violent outbreak on May 3, that it is not BJP MLAs who are demanding Separate Administration.
President Sharda was responding to media inquiries about the party's stance on its seven MLAs, including two ministers, on the controversial demand.
However, she did not mention anything about either suspension or expulsion of the seven MLAs who had joined the bandwagon of separate administration. Instead, she attributed the root cause leading to the demand for Separate Administration by Kuki MLAs to the previous Congress regime.
MPCC  Slams BJP President Sharda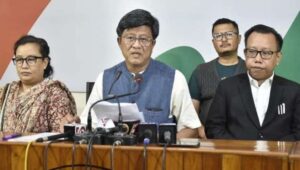 The Manipur Pradesh Congress Committee (MPCC) on October 26 strongly criticised the statement made by Bharatiya Janata Party (BJP) Manipur President Adhikarimayum Sharda that no BJP MLAs demand Separate Administration. The statement from the state BJP President is an attempt to shield the 10 MLAs who are demanding separate administration, and it goes against the interests of Manipur, the MPPC said.
Addressing the media at the Congress Bhawan in Imphal on October 26, the party's Working President Khumanthem Devbrata stated that the state BJP President's statement is meant to divert attention and confuse the public during the present crisis. He pointed out, it's clear that seven BJP MLAs and three MLAs supporting the BJP are demanding separate administration.
While the BJP has blamed Congress, Devbrata emphasised that the BJP and the state government cannot escape responsibility for the ongoing unrest, which has resulted in loss of lives and displacement.
Regarding Sharda's claim that the conversion of four Gram Panchayats into Autonomous District Councils and the renaming of Thanging Hill Range to Thangting by the then Congress government are the root causes of the separate administration demand, the Working President gave a clear explanation.
He explained that the four GPs in Kangpokpi district already fell under Hill Areas, as per a government order issued in 1972, and all actions were taken in accordance with the law of the land. Regarding the Thangjing Hill Range, he clarified that it was a naming error in the subdivision, which was reviewed and corrected and the subdivision was named Kangvai Subdivision.
"Why hasn't the BJP government, during its two terms, rectified any perceived mistakes made by Congress if they considered them wrong?" Devbrata questioned. He urged the BJP to stop playing politics and blame other parties to hide their wrongdoings during this critical situation.
Devbrata called on the BJP government to focus on addressing the present unrest and resettlement programmes which the Congress is ready to offer full support. He also mentioned that the Congress is not interested in forming the government and only requested a change of the Chief Minster if necessary to restore normalcy at the earliest, reports added.
Former BJYM President Barish Arrested
Former President of Bharatiya Janata Party Yuva Morcha (BJYM), Manoharmayum Barish Sharma, who was arrested by the Imphal Police team, was produced in front of district magistrate Imphal West on October 22.
Barish Sharma was arrested in connection with the October 14 incident that took place at Sega Road, Khwairakpam Leikai in Imphal West district, where armed persons, numbering around 20, in an attempt to abduct a person, fired several rounds of gunshots injuring 5 people. Police have already arrested five persons in connection with the crime.
According to police, Barish was arrested at around 11:20 pm on Saturday from his Wangkhei Ningthem Pukhi Mapal residence in Imphal East.
On the night of October 14, at around 10:30 pm, amidst curfew imposed by the district administration, around 20 armed men in civilian fatigues came and tried to abduct a person from Sega Road, Khwairakpam Leikai.
Barish was charged with the Arms Act, violation of curfew, criminal intimidation, and attempted murder.
Three Myanmarese Arrested In Moreh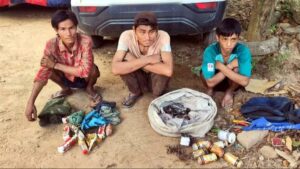 A team of special commando, Manipur Police apprehended three Myanmar nationals while conducting foot patrolling in and around the Moreh town on Sunday, October 22. The three Myanmar nationals were apprehended under the suspicion of looting abandoned houses in the border town that had been left vacant due to the present crisis.
The three persons have been identified as one Khamkhenthang Guite, 25, son of Paochinlen Guite of Namphalong Sawbua II, Myanmar; Aung Mae, 30, son of Mae Aao of Tamu Sawbua X, Myanmar; Aung Aung, 25, son of Uoo Mao Mao of Tamu Sawbua XI, Myanmar.
Police reported that the trio is suspected of stealing furniture items, electric generators from the abandoned houses which were partially burnt down in connection with the present crisis. The apprehended persons were later handed over to Moreh police station for further necessary legal action, reports added.
Chief Minister Nongthombam Biren also shared the same on his facebook page. He posted with a caption, stating that "This happened when some particular organizations were objecting and protesting against the deployment of state police and commandos at Moreh town."
Two Cadres of Non-SoO, CKLA Arrested With Arms and Opium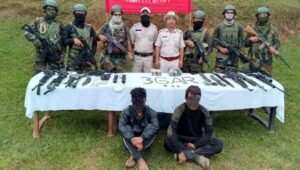 Security forces on Monday, October 23 arrested two cadres of non-SoO group Chin-Kuki Liberation Army (CKLA) from Chaljang, Churachandpur district and seized several arms and ammunition including opium and cash from their possession.
According to sources, security forces have seized two 5.56 Insas Rifle,  one MQ Assault Rifle,  one AK 47, one M16, one Sniper Rifle with telescope,  two AK 47 Mag, one 5.56 Insas Rif Mag,  one M16 Mag, one Sniper Mag, 48 7.62mm Ball Ammunition, 57 5.56 Insas Ball Ammunition, four 7.62mm Sniper Ball Ammunition, one Binocular,  four Radio sets, one Radio set charger, approx 2.5 kg of Opium, Rs 4,86,500 in cash, one Burmese Sword, one Khukri, 3 AADHAR cards, one Veh Registration, one Pan Card, one Purse, one Redmi 10 A Mobile from their possession.
Manipur police posted on X (formerly Twitter) that the cadres of non-SoO group CKLA were apprehended from Chaljang, Churachandpur district along the Indo-Myanmar border.
Reacting to the same, Manipur Chief Minister Nongthombam Biren said the arrest of Chin Kuki Liberation Army (CKLA) members and the recovery of weapons have "yet again underscored a transnational plot aimed at destabilising both Manipur and our nation".
"In a major breakthrough by Manipur Police and Central armed forces, multiple weapons, ammunition, drugs, and cash have been apprehended from Myanmar-based militant group CKLA," the Chief Minister said on X (formerly Twitter).