A leader passed away on the 11th of July 2022. An architect has left us; a foresighted soul who inspired thousands has left us a legacy. You came from Kerala to enlighten, inspire and uplift the people of the Northeast – especially Dioceses of Tezpur and Imphal. As you had a big voice to communicate, you also had a big heart to embrace all types of persons under your loving care. You were a strict administrator with fatherly care. You meant business is business. You never compromised with values and principles. You established numerous educational institutions to enlighten people to know the way, the truth and life on earth. Today, the state of Manipur has gone up in its academic graph with your toil and service. The CMC Hospital and DSSS you have established for the health care and social services stand to continue your dreams of reaching out to the poor and needy.
Vision and Mission for Manipur
You had a vision for Manipur, the corridor of Southeast Asia. To accomplish your vision, you took upon the mission to train many young boys to embrace the priesthood to continue the work of education, health care and social service for the good of all. To enlarge their worldview, you sent them to various states of India for formation in Philosophy and Theology. Many priests and religious who have been annihilated for the interest of Manipur before you will rejoice in heaven as they see their shepherd join them. Manipur remains a thriving ground for vocations to priestly and religious life with the blessings of God almighty and the blood of martyrs. You especially loved and cared for smaller communities and recruited them for various services in the Catholic Church. You encouraged your priests to educate people from the remotest villages of Manipur. The last, the lost and the least, were also crucial to your holistic development perspective.
You got along very smoothly with the Civil Societies, Government officials and your presbyterium to enhance your mission. To continue the task you began, you collaborated with various religious congregations with the sole aim to uplift and enlighten people so that they know what is good and evil. Today, we are what we are because of your vision and mission. We stand eternally indebted to your pastoral proficiency and farsighted dreams.
The majestic St. Joseph's Cathedral in Luwangsangbam, Mantripukhri, Imphal, Manipur, is one of the tourist spots in Manipur. The various educational institutions in the valley and hills of Manipur pay you respect as you depart from us. Thousands of students who passed out from these institutes serve as employees in various offices in the state and other states of India. Their values and quality education gradually raised the education and public administration standard. Love and broader thinking are spreading around us. We hope and pray for peace and growth in Manipur.
You are no more but alive
Archbishop Joseph Mittathany, you will remain an inspiration of hard work and foresight to all of us. We shall try our best to continue the enormous legacy you have left with us. You left your home and became us. You became our forerunner in the educational growth and civic responsibilities. You were a true Indian who came from God's own country to the Jewel of India. True to your patron name, you were a father to us. You embraced hardships, challenges and odds of life just as St. Joseph did. With more educated persons, broad-minded human beings and far-sighted souls, Manipur is moving towards its actual name – "Sanaleipak". You have done your part, and now, it is our turn to contribute to the overall growth of Manipur. Rise, children of Manipur, and let us move towards peace and holistic growth. A visionary leader has left us; now, we need to find more visionary leaders amongst us.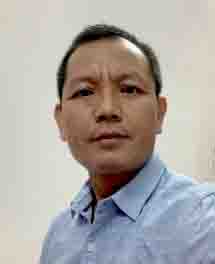 The author is a PhD research scholar, Department of Sociology and Social Work, CHRIST (Deemed to be University), Bangalore, Karnataka, India. Email: [email protected]