49th Foundation Day of AMWJU Observed
The 49th Foundation Day of All Manipur Working Journalist (AMWJU) was observed on Saturday, September 16 at Manipur Press Club, Major Khul in Imphal.
Former President of AMWJU Thounaujam Tarunkumar was the chief guest of the foundation day observation function while founder member of AMWJU Keisham Shyamkishore Singh and President Editors Guild Manipur (EGM) Khogendra Khomdram were guests of honour. AMWJU President Bijoy Kakchingtabam presided over the observation function.
AMWJU & EGM, Govt Restrict Use of PRESS Vests & Stickers
The All Manipur Working Journalists' Union (AMWJU) and Editors' Guild Manipur (EGM) on Sunday, September 10 appealed to those who are not journalists to immediately stop wearing vests that display the 'PRESS' logo and putting up 'PRESS' stickers on their vehicles.
Journalists are facing many challenges and going through various disadvantages while trying to discharge their duties and disseminate crucial information to the public amid the prevailing turmoil in the state, stated a joint release.
Meanwhile, the increase in numbers of unregistered media practitioners has confused the public as well as put hindrances to the real journalists who are sincerely carrying out their duties, the release said.
YouTubers, bloggers and vloggers arriving at a particular site and giving coverage as per their whims has become a familiar experience to all, the release mentioned.
"The AMWJU and EGM have no right to prohibit them from entering conflict zones and spots where an incident has taken place. However, their wearing vests with 'PRESS' logos will not be accepted. We have also learnt that they are putting up 'PRESS' stickers on their vehicles at their own discretion and freely moving around," the joint statement stated.
Therefore, those who are not in the media profession are appealed not to use vests and stickers with the said logos, the MWJU and EGM said.
The police and law enforcing agencies are urged not to show leniency to anyone using these vests and stickers, but rather initiate measures to identify them, the release added.
Meanwhile, the Manipur Government has imposed regulation on uses of 'PRESS' inscripted vests, jackets and stickers and cautioned legal consequences if anyone found violating the regulation.
A recent order issued on September 11 by the home department stated that the state government reportedly acknowledges the misuse of jackets, vest and stickers with wording/inscription "PRESS" in the name of covering various incidents related to the ongoing law and order crisis in the state.
"To avoid any kind of unwanted incident in the near future, the governor is pleased to order that Jackets/Vests/Stickers with wording/inscription "PRESS" will be allowed to be used by only those media persons, journalists, video-journalists possessing identity card/accreditation certificate issued by the DIPR, PIB, AIR, DD News and recognised national and international media firms with immediate effect and until further orders," the order mentioned.
Only persons allowed to use such jackets/vests/stickers with wording/inscription "PRESS" shall be permitted to enter the violence affected zone/area for media reporting, it said, cautioning that if anybody found violating the aforesaid instructions/directions will be penalised/prosecuted under relevant laws of the land in force for the time being without any exception.
The order also directed all district magistrates, state police and security agencies deployed for enforcing law and public order to take up appropriate necessary action for effective implementation of this order.
Barricades Till Kangvai Removed: Police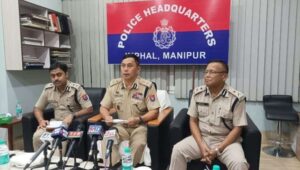 The Manipur Police on September 14 informed through a media briefing that security barricades along the Tiddim Road from Phougakchao Ikhai to Kangvai covering approximately a three-kilometer stretch have been completely removed.
During a briefing on the confidence-building measures undertaken by the security forces amid the challenging situation in the state at Manipur Police Head Quarters in Imphal, IGP (Ops) I K Muivah said that joint operations are being conducted at every designated SoO camp every 15 days.
The IGP (Ops) mentioned that the government is addressing the issue of absence and presence of cadres in these camps and is determining how to deal with those found absent.
He admitted that the state police are well aware of complaints regarding SoO cadres leaving their designated camps and engaging in unprovoked activities.
Regarding reports of miscreants traveling in vehicles with weapons, the IG mentioned that checkpoints have been established at various locations to disarm them, ensuring the safety of civilians.
Furthermore, regular operations have led to the destruction of a significant number of illegal bunkers, he further said, adding of a total of 5,668 arms that were looted, 1,329 arms, 15,050 rounds of ammunition, and 400 bombs have been recovered to date.
Regarding any incidents of firing or attacks in the peripheral regions of the valley, the IG stated that joint operations are launched immediately to apprehend the miscreants, and adequate security is deployed in the bordering areas.
He further informed that the movement of transport vehicles on NH-37 is proceeding smoothly with the deployment of 15 companies of CAPF. The same applies to NH-2, where 10 companies of CAPF, in addition to the Army and Assam Rifles, have been deployed, he added.
Providing a statistical update on the ongoing crisis that began on May 3, IGP (Admn) K Jayanta reported an official death toll of 175, with 166 identified and nine still unidentified.
Among the identified, 79 bodies have been claimed, while 96 remain unclaimed, he said. Unclaimed bodies are being held at RIMS – 28, JNIMS – 26, and Churachandpur Hospital – 42.
MPCC Asks CM Biren To Join Delhi Camp
The Manipur Pradesh Congress Committe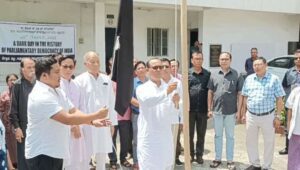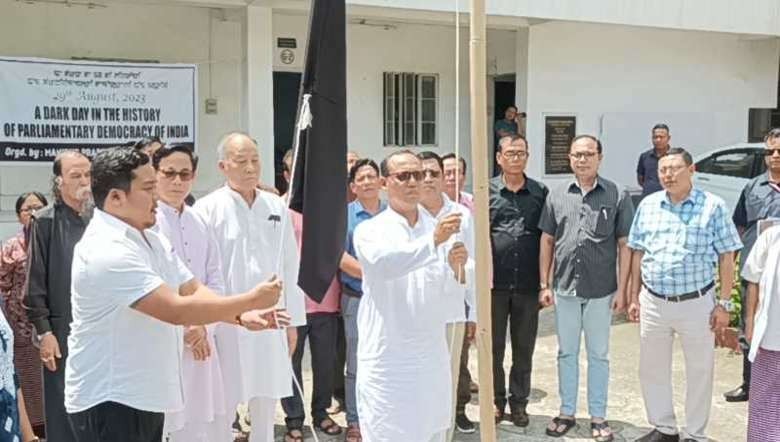 e (MPCC) on September 15 urged the MLAs who are currently camping in Delhi to invite the Chief Minister to join them and consider the Opposition's suggestions for a concrete solution to end the prevailing unrest in Manipur.
The longstanding practice of MLAs camping in Delhi to restore normalcy has yielded no positive outcomes, lamented MPCC President Keisham Meghachandra during a media briefing at Congress Bhawan in Imphal.
MPCC President emphasised that these efforts have failed to secure even a meeting with Prime Minister Narendra Modi. He also noted that the MLAs appear to be in Delhi due to pressure from civil bodies rather than their own intent.
Meghachandra described it as a mere "drama of old wine in a new bottle" and criticized the absence of leadership among the MLAs.
Criticising the government for allegedly disregarding the recommendations and opinions of CSOs, the public, and the Opposition, Meghachandra argued, such behaviour reflects a lack of government's enthusiasm in resolving the ongoing violence that has persisted for over four months.
He expressed deep concern over the consequences of the prolonged unrest, highlighting its detrimental effects on various aspects of Manipur, including the economy and education and continued to state that "the government system is totally paralysed, forget about law and order."
If the unrest persists, crime rates may surge, ultimately leading to the collapse of Manipur, he cautioned.
In light of these pressing concerns, MPCC called for urgent and meaningful dialogue with enthusiastic participation of the MLAs and ministers to bring an end to the unrest and restore peace in Manipur.
Different Sets of MLAs Meet Amit Shah
Different teams of the rulling MLAs camping at New Delhi started meeting Union Home Minister Amit Shah from the evening of September 14.
A team of ruling MLAs led by Speaker of Manipur Legislative Assembly Thokchom Satyabrata reportedly met Union Home Minister Amit Shah at New Delhi on September 14 evening and placed a list of demands to the Central leader.
The charter of demands included immediate steps to bring about lasting peace in Manipur, specific timeframe for implementation of National Register of Citizens (NRC), disarmament of illegal/unauthorised weapons and re-opening of National highways.
The MLAs also made it clear that they would not go back to Manipur until their demands are addressed.
Union Home Minister Amit Shah gave an appointment to the MLAs with a condition that he would meet sets of five MLAs each, reports added.
Two sets of five MLAs each also met Union Home Minister Amit Shah on September 15 and place their demands before him, reports said.
It may be mentioned that the ruling MLAs flew to National Capital Delhi on September 14 following an agreement between the MLAs with the representatives of Youth of Manipur (YOM) on September 11 after YOM members stormed Chief Minister's Bungalow.
Womenfolk Protest Against AR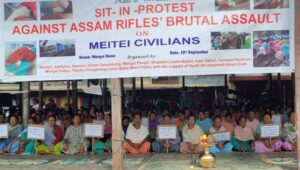 Womenfolk of 14 localities of Wangoi area on Wednesday, September 13 staged a sit-in-protest at Wangoi Bazar in Imphal West district decrying the alleged bias act of Assam Rifles in the present Manipur crisis.
This comes amidst reports that 18 MLAs from the state have left for New Delhi to apprise the centre about the alleged bias acts of the Assam Rifles.
The protest was staged under the banner "Sit-in-protest against Assam Rifles' Brutal Assault on Meitei Civilians" with the support of Youth Development Union Club.
Locals from Wangoi, Samurou, Naorem, Oinam Sawombung, Wangoi Pangal, Khaidem, Leiphrakpam, Laiphrakpam Wangma, Iram Siphai, Yumnam Huidrom, Wangoi Kabui, Thiyam, Thongkhong and Luxmi Bazar participated in the protest.
Protestors demonstrated placards that read, "Remove the infamous Assam Rifles from the soil of Manipur", "We condemn Assam Rifles and their brutalities on Meitei civilians", "No more trips to Delhi, call PM Modi here" and "Enough is enough, no more Kukis, no more AR" and others, reports added.
Kakching Demands AR Removal
Residents of Kakching district on Wednesday, September 13 organised a public meeting in Kakching district during which slogans like, 'Remove Assam Rifles from Manipur'; 'We condemn the killing of civilians'; 'Killing of two civilians in Pallel condemned' were raised.
The public meeting was organised by the People's Protection Force (PPF), Irengband Women Wing at Hawairou in Kakching district. Several women protestors from Irengband, Hawairou and Mairembam raised strong condemnation against the Central forces which allegedly opened fire at civilians.
Meanwhile, a rally was taken out in Kakching, displaying banners which read, 'Highly Condemned the extra-Judicial killing of Civilian Yengkhom Jiten of Kakching' on 8 September 2023,' 'Punish the culprits soon',  and 'Do not arrest Meiteis who are defending their villages'.
The rally began from Kakching Lamkhai and returned to the same spot after passing through Kakching Keithel and reaching Kakching Chumnang parking, reports added.
Three Kukis Killed Near Kangchup
At least three suspected Kuki militants were killed in a suspected ambush on the road between Ireng Naga and Kharam Vaiphei village located 2 km from Kangchup Police Station in Kangpokpi district on Tuesday, September 12.
The three deceased have been identified as Satneo Tuboi, Ngamminlun Lhouvum, both from Pollen village and Ngamminlun Kipgen from Sapermeina.
Sources said the incident occurred around 6.20 am. The three were coming from Pollen village towards Kangpokpi side in a white-coloured gypsy bearing registration number MN03C/0295.
They were reportedly ambushed by unidentified armed miscreants in between Ireng Naga and Kharam Vaiphei village. All three of them were said to be killed on the spot.
Meanwhile, Sapermeina Police Station has registered a case against the incident. Originally, the incident site falls under the jurisdiction of Kangchup Police Station, however, Kangchup Police Station is non-functional at the moment, the case was registered by Sapermeina PS, sources said.
Koutruk Village Shelled
Koutruk village under Lamshang Police Station in Imphal West district, Manipur once again experienced a reign of fear on Tuesday, September 12, following the indiscriminate bomb attacks by suspected Kuki militants.
Kuki militants hurled three bombs at Koutruk Awang Leikai and Maning Leikai around 6 pm. The attack came hours after three Kuki militants were killed in an ambush on Tuesday morning by unknown miscreants in Kangpokpi.
The militants fired the bombs from Koutruk hill, villagers said. The village volunteers of Kadangband, Koutruk and Senjam Chirang were put on high alert over possible terror attacks in the areas, after the ambush.
Responding to the attack by militants, village volunteers, 7th MR and commando personnel stationed at Koutruk retaliated by firing upon the militants, engaging in a fierce fire exchange.
Meanwhile, Kuki militants stopped shooting and instead hurled bombs continuously. The militants lobbed as many as 10 bombs at the village but no casualties or injuries were reported.
Displaced VDF Personnel Dies in Relief Camp
In a tragic incident, a VDF personnel who fled from Moreh when the clash broke out and had been seeking refuge at a relief camp opened in Wangjing passed away after battling a prolonged illness on September 10.
The deceased has been identified as 40-year-old Mayanglambam Inao Singh, son of late Thomba from Moreh Ward No VIII, Bazar Leikai.
Reports said Inao was staying at the relief camp opened by the Social and Cultural Development Centre (SOCDEC) at Wangjing Kodompokpi Sports Complex.
Inao's last rites were performed by SOCDEC at Wangjing. Members of SOCDEC led by its president Thongam Rojen Singh also observed a condolence ceremony and prayed for the departed soul to rest in peace in heavenly abode, reports added.
Mother Appeals Against BT Road Case 2009 Acquittal
The mother of the deceased in the infamous BT Road firing case of 2009 has appealed to the Central Bureau of Investigation (CBI) for a criminal appeal against the judgement which ended with the acquittal of all the accused. The judge said that the prosecution failed to prove the photographs published in the Tehelka news magazine.
The Session Judge, Imphal East, W Tonen Singh on July 26 stated that since the prosecution has totally failed to prove the photographs contained in the Tehelka magazine published on August 8, 2009 as genuine by not producing the required certificate provided under section 65B (4) of the Indian Evidence Act which is mandatory, all the accused are acquitted in the case.
Taratombi, the mother of deceased Sanjit, drew the attention on the judgment of the Session Judge, Imphal East wherein all nine personnel of Manipur Police Commando of the Khwairamband Bazaar killing of Th Rabina Devi and Ch Sanjit Meitei on July 23, 2009 were acquitted.
"It is beyond my imagination as to how such an important case of such public importance can be shot down on such hyper technical grounds. It may be noted that photographs of the sequence of events leading to the killing of Ch Sanjit have been published in Tehelka Magazine clearly showing the cold-blooded nature of the killing by taking him inside a Pharmacy. This fact has been established in the post mortem report of Ch Sanjit," stated the appeal of Taratombi.
It also stated that, the main accused, Head Constable Th Herojit Singh, had publicly confessed the killing of Sanjit on the order of the higher authorities and the media had widely covered the confession and his affidavit was submitted even to the Supreme Court of India in the ongoing EEVFAM v/s Uol case.
Stating thus, she requested the CBI to appeal against the judgement to the High Court of Manipur at the earliest as per the relevant provision of law.
It may be mentioned that after about 14 years of the incident and trials before the court against accused, on July 26, 2023, the verdict acquitted all accused namely, Yumnam Munal Singh; Hijam Devendra Singh; Thounaojam Herojit Singh; Ngangom Toyaima Singh; Wahengbam Binoy Kumar Singh; Thokchom Jagat Singh; Imran Khan; Oinam Keshor Singh; Makan Kanchung Chothe.