Society generally considers physically challenged person as useless. Yet many persons with disabilities contradict such concept by doing incredible works which can even prove that person who is impaired by disabilities has the potential to do the most.
"I am making all these furniture items just with the feet as 85 percent of my body is paralysed including hands. So, people may think I might be very tiring in doing this work but that is not," said Kshetrimayum Lukhoi, 25 years who is suffering from spastic cerebral palsy with dystonia and quadriparesis to this reporter of Imphal Review of Arts and Politics showcasing some items he makes like table, chair. almirah, speaker box etc.
Lukhoi hailed from Singjamei Kshetri Leikai and belonged to a below poverty line family is a physically challenged person by birth. His talent gifted by virtue of God and curiousness of experimenting thing is making his life worthwhile.
Mother of Lukhoi, Anita recalled that his son was born with full paralysed body and completely bed-ridden. After providing therapy when he (Lukhoi) was 5 years old, he was able seat. When he was grown up, the therapy has to be done with modern machine and tools which was not available at that time in any of hospital of Manipur. Being a poverty-stricken family, they are unable to go to other states for treatment that compelled them to discontinue treatment when he was able to seat. "I think my son might be able to stand had therapy was provided," she expressed.
Sharing some of the work he has been doing, Lukhoi said that he is really interested in repairing electronic items like mobile phone, rice cooker, speaker, television, solar lamp, radio etc. As such through experimentation done in discarded electrical items, he had expertise in fixing electrical devices which is not functional.
Despite being physically challenged Lukhoi doesn't limit his interest only in repairing electronic items but also have passion in making furniture.
"I cannot make good income in repairing electronic items. You know people don't want to give money after doing their work. I thought that I am doing it for time pass. I accept that my life would be so boring if I don't engage in such small work. However, their attitude of taking me for granted really demotivates me," he stated while citing the reason of switching to making furniture items.
Lukhoi said that repairing electrical items can be done by himself. However, making furniture items is a challenging task for him that resulted him to depend on his mother. His mother mainly supported him in assembling the wooden flat as he is incapable to stand and use hand.
Showing his hope and expectation, he said that not only for the purpose of earning, the above activities are done but to keep himself motivated and productive. As being humane, generation of income for survival is also something which people cannot neglected irrespective of any categories. With this view, he wished to generate some income as his contribution to his widow mother, who is bread winner of family.
Lukhoi while extending his gratitude to state government for providing monthly financial support worth Rs 1500, he said that it would be more pleasure had state government made some arrangement for sustainable livelihood for differently abled person specially who belong to below poverty line. "I don't have adequate money to construct work-shed or buy tools and equipment. If I had all such support, I think can use my skill in a more efficient and productive manner," he stated.
Anita also said that she used to look after his son round the clock particularly while doing any work to make sure any accident or injury may not happen.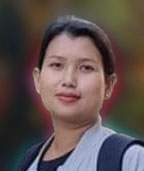 The writer is an award winning reporter