When parents think of choosing a school to admit their children, a suitable academic atmosphere would quite understandably be among their top priorities. Parents of Sunshine Academy in Moidangpok under Imphal West district are however compelled to compromise this inherent wish of every parent by circumstance beyond their control.
This school, now rubs shoulders with a stone crushing unit, therefore students are compelled to attend classes in a very cacophonous environment. The loud sound and air pollution belched out by the unit has led the school become a very unpleasant place, a misfortune all who depend on the school have to bear. Not only this, huge mounds of crushed stone now have begun to lean on several classroom walls, not only deforming them, but also leaving the place unsafe those inside it.
Because of this very reason, many students and teachers decided that leaving the school is their only option left. But many students and employees are financially unsound. Many more are emotionally attached to the school, so they either do not have the means or else the will to look for greener pastures.
Speaking to Imphal Review of Arts and Politics (IRAP), one of the students who is in IX standard, Thoi (name change) said that, they used to attend the classes amid the irritating loud noise and dust coming from the stone crushing unit set up next to the school some years back. The changing environment hugely impacted in their studies, breaking their concentration often.
"Being a student of this school from nursery, I come across many changes in the school. Earlier, ambience of school was so quiet and comfortable. However, with the opening of stone crushing unit literally adjacent to school has made the situation grim and depressing. Many lovely friends of mine have left the school and now there are only nine students left in my class. Sometime, I wish to leave too, but am unable to take the decision because of the emotional attachment I develop for the school," she shared.
She stated that it would be an immense pleasure for all in the school if this stone crushing unit were to be completely closed down by the authorities taking pity on the plight of students' community whom everyone considers as future pillars of the nation.
One of the parents, Th Ingenjao who is a farmer by profession, said that all his three children are studying in Sunshine Academy. The teaching and learning method of the school is satisfactory yet it is really disappointing seeing the atmosphere or environment of school premise degenerating the way it is now. But he cannot think of transferring his children to another school with perfect campus owing to his meagre income.
"I shudder to think my children are exposed to pollution from 9 am to 2 pm (school hour). I am allowing this just so that they get to be enlighten by knowledge. Even the health of my children are deteriorating. One of my children started showing the symptom of child asthma. Besides this, school uniform needs to be washed everyday. Being a helplessly poor father, I am powerless to do anything except to let my children bear the inconveniences," he lamented.
He also said that even local people have formed a JAC against illegal mushrooming up of stone crushing unit in Moidangpok site. This trend is creating lot of other negative impacts in Moidangpok areas, like spoiling farm land, health hazard etc.
The principal who is also founder of the school, Aheibam Anand told IRAP that the school was established way back in 2003 and got recognition in the same year. It was set up with the vision of nurturing and grooming children of poverty stricken family settled in Moidangpok area as there is no government school or private school other than his school in the said area.
He further said that his school which has classes from nursery to X had good number of students earlier. But now the total strength of students drastically dropped to 215, a very unfortunate state of affairs, he reflected. He has no doubt whatsoever that the decline in the figure of students enlistment in his school is directly related to the opening of this stone crushing unit in the immediately vicinity of the school.
"Many of the people settled in Moidangpok area belong to economically weaker section. Yet there is no government school or private school other than Sunshine Academy to get education. As a result, children have to go for school in farther place which meant extra monitory pressures on their poor parents. After the setting up of Sunshine Academy, this problem was address to some extent. But unfortunately, the stone crushing unit next to my school has brought many sad pictures in last couple of years. Though the unit claimed they had stop functioning, it still regularly creates a cacophony. Many students left the school because of changing environment of the school caused by stone crushing unit," he explained.
When asked about any initiative of relocating the institution, he said that the school was set up in the present location as right place after much thought. Students can access the institute without spending extra money for transport charge as it lies at a walkable distance for residents of Moidangpok.
The school was established much earlier than setting up of stone crushing unit. The legal status of the stone crusher is also uncertain. He said the school will not shift to any other place at any cost and he will fight tooth and nail to have the stone crushing unit shifted elsewhere instead with the legal support, he added.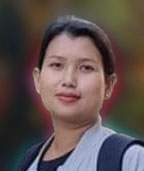 The writer is an award winning reporter